---
Reading Time:
3
minutes
CARLTON captain Patrick Cripps's masterclass has Blues fans looking both back and forward, says Chief Writer RON REED:
THEY say, astutely enough, that you should never compare champions from different eras. You should just celebrate both. But such debates are often half the fun of watching sport and are certainly never going to absent themselves from the agenda.
So here's a question for Carlton fans, and anybody else with a few years of footy-watching under their belt – if you had to choose, who would you rather have, Anthony Koutoufides on his best days or Patrick Cripps when he is performing like he did against Brisbane on Saturday?
It's a bloody good question and too hard for me, not to mention too premature, but watching Cripps destroy the Lions with possibly the best individual game of the season was like taking in Kouta the day he almost singlehandedly buried Essendon in the famous 1999 preliminary final.
In the last quarter that day Koutoufides had 10 kicks, six marks, four clearances, three rebounds and two goals, enabling the Blues to come from behind and win their way into the Grand Final by a point, prompting club legend Steve Kernahan to describe it as the best quarter of football ever played.
Embed from Getty Images
A freakish performance? Well, yes. But Kouta, who played 278 games, kicked 226 goals, won two best and fairests, starred in the 1995 premiership win and is an AFL Hall of Famer, was always capable of that sort of stuff and did it often, if not quite in such demanding and important circumstances.
He was a magnificent athlete with talent to match. Watching Cripps is like appreciating the concept of cloning – except he might be almost even more physically imposing, while not noticeably less skilled.
Kouta was 1.91m tall and weighed in at about 100kg, Cripps is four centimetres taller and 93kg. He would have been a ruckman in the old days – the best-ever Carlton ruckman, John Nicholls, was 1.89m – but now towering presences in the midfield are a thing.
Cripps, 24 – he was born in the year of the Blues' last flag — is the prototype of the modern footballer.
There will be no way to properly assess him until he plays in finals, and when that will be is anybody's guess.
But a Brownlow medal this year would elevate him to within touching distance of greatness, regardless of how successful his team do or do not become.
He already leads the Herald Sun awardclearly and would surely have got the umpires' votes for this latest master-class, which returned 38 possessions (Kouta's best-ever was 39), 16 of them contested, eight clearances, five inside-50s and four goals, all of them as the Blues embarked on what seemed like mission impossible, recovering from a 37-point deficit in the second quarter. He must now be a hot favourite to take Charlie home in September.
It was inspirational, follow-me leadership from the co-captain.
And it came after three uncharacteristically tame performances against taggers – "I have been disappointed with my form and had to respond," he said – and at the end of a week from hell for the players who had to process the sacking of a coach they admired and liked.
Embed from Getty Images
None had more respect for Brendan Bolton than Cripps, who demonstrated class of another sort when he was interviewed on TV straight after the siren and immediately dedicated his first words to his departed mentor, saying the win was for him.
Like Carlton or hate them, this was a feel-good day for footy.
It's not good for any club, let alone one of the traditional powerhouses, to be permanently mired at the foot of the ladder and the vision of their fans going ballistic in the grandstands and the famous song being sung in the dressing room with rare gusto spoke volumes for the relief it represented.
Of course, they're still last and far from out of the woods but as long as Cripps is inside the No 9 guernsey there will be ample justification to hope for better days ahead – and a reason to tune in to their games.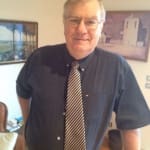 Author:
Ron Reed
RON REED has spent more than 50 years as a sportswriter or sports editor, mainly at The Herald and Herald Sun. He has covered just about every sport at local, national and international level, including multiple assignments at the Olympic and Commonwealth games, cricket tours, the Tour de France, America's Cup yachting, tennis and golf majors and world title fights.
Comments
comments
0 comments