---
Reading Time:
3
minutes
It's always quite astounding when the previous winners of a particular World Cup – in any sport, really – are not the favourites to do so again when it comes around four years later. Yes, there are many arguments of how long four years can be for any previous winning team and how much can change within that time. Whilst they aren't invalid, it never seems long enough for a nation to forget how to repeat what they did four years previously.
Whether they are, on the actual day, capable of reproducing what they did is entirely a different matter but before a ball has been kicked, ball bowled or line-out contested, the team that holds the honour should always be the favourites. There is no better example than Australia in the upcoming cricket World Cup. Despite winning the last World Cup in 2015, the Australians have been ranked as third-favourites to win in England; maybe this is also the opportune time to say that despite also winning the World Cup in the United Kingdom back in 1999, the last time it was played in the UK.
Which captain will be lifting the 🏆 at #CWC19? pic.twitter.com/rdmOc6zqw8

— Cricket World Cup (@cricketworldcup) April 25, 2019
Well, that was some 20 years ago and none of the team today played in that campaign would be the supporting argument for Australia not being favourites. However, that overlooks one crucial bit of evidence: the Baggy Green know how to win a World Cup in England; it's in their DNA. In fact, four out of the last five World Cups have been won by Australia; domination like we have never seen before in the men's game. Their favourites tag should go past just being the last winners of the greatest prize in cricket, as really, it is about a nation that are impossible to beat because they refuse to give up.
Somewhere deep down inside of an Australian player who is watching his side lose is the unwavering belief that they will still win – please see the 1999 semi-final at Edgbaston against South Africa for further evidence.
Punters looking at the cricket betting odds for the World Cup outright winners will see England are favourites at 9/4, and to some extent, you can make a passionate case for this eventuality, but it still wouldn't refute the overwhelming evidence that Australia are the natural favourites to win.
After all, only one other side has managed to win the World Cup over the last twenty years and that was India in 2011 when they won on home soil. The odds should really be stacked against everyone else competing in the 2019 World Cup.
The ball-tampering scandal that happened in South Africa at the beginning of 2018 doesn't even seem to have been enough to discredit the Aussies' chances at the next World Cup given that their star players have blazed the trail since the completion of their bans if anything and worryingly for everyone else, they look more determined than ever.
David Warner's scores in this year's @ipl:

85
69
100*
10
15
70*
51
50
67
57
37
81

👀 pic.twitter.com/a62kAhvG91

— ICC T20 World Cup (@T20WorldCup) April 30, 2019
It was Gary Lineker who said that 'football is a simple game: 22 men chase a ball around for 90 minutes and at the end, the Germans always win.' Lineker said this after the 1990 World Cup where Germany won and by doing so had managed to win three World Cups over the course of 36 years. What then do we say about the Australian cricket team that have managed to win four World Cups over 20 years? They will find a way in England; they always do.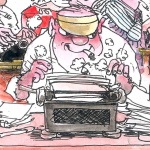 Comments
comments
0 comments