---
Reading Time:
3
minutes
WHEN the bush and the big league meet, the Hawks are hard to beat, says Chief Writer RON REED:
HARD TO know what to make of Carlton's latest effort, if only because sitting on the outer wing at Launceston's York Park the sun is in your eyes until it sinks behind the main grandstand just after half-time. Carlton players must be afraid of the dark because that caused them to promptly surrender a 31-point lead that had been earned with some of the best footy they have played in recent memory.
That shouldn't be forgotten in the disappointment of what ensued. With Hawthorn's Jaeger O'Meara dominating out of the middle, several of the Blues disappeared from sight in the third quarter – hello Matthew Kruezer, Jack Silvagni and a couple of others – as the entire tone of the contest flipped upside down.
But at least when they found themselves three goals down late in the final term they found enough fight to get back within a kick and could have still won if Harry McKay had taken a mark within range a second before the siren rather than a second after it. It wasn't quite as frustrating as the last-minute defeat by Gold Coast a fortnight ago because the Hawks, while apparently in decline, are still a tough ask, especially on a ground on which only they play regularly.
Embed from Getty Images
Carlton have definitely improved – well, they could hardly have gone backwards, you would hope – and they will win more games.
Footy Launceston-style has a flavour of its own. York Park is a boutique stadium that would probably burst at the seams if 20,000 people turned up – just shy of 16,000 did – and it feels like the progeny of a marriage between bush footy and the big city league. A surprisingly large number of Carlton fans seemed to have made the trip but, unsurprisingly, the Hawks "own" the town, with brown and gold banners all around the city centre and most of the crowd on their side. The lady sitting next to me said she was a Hawk supporter only
because they have adopted the town and she hopes they continue to do so because she has given up hope of the AFL ever giving the apple islanders a team of their own. I told her I think they will eventually but that we might all grow very old waiting for it.
It's only the third time I have ever been to Launceston, the first for about 25 years and its bigger, livelier and more interesting than I remember, with a population of a bit more than 100,000.
A mate who lives there recommended half a dozen restaurants and the one we chose on Saturday night, the Mud Bar, was as good as anywhere I have eaten in Melbourne, its insalubrious name notwithstanding. And it's a short walk from there to the Star Bar, a pub owned and hands-on managed by Matt Goss, with whom I reacquainted myself, having last seen him in his first life as an extremely well-paid professional cyclist with Australia's only World Tour road racing team, Mitchelton-Scott.
Gossy was a sprinter who, on his good days, could unleash a winning burst at the end of a race as powerfully as anyone in the world. He will, I hope, forgive me for observing that he has trained off a bit but as a proud Tasmanian in the first place he has made himself very much at home again and the town would be proud to have him back.
And, of course, Tasmanian vineyards are producing great wine these days, especially my favourite, pinot noir. We spent lunchtime before the footy at Josef Cromey's, an extremely pleasant and pretty busy establishment on the recommendation of a taxi driver and enjoyed it immensely, apart from being pinged $5 a head for six tiny tasting sips, which is a first for me at any vineyard.
All up, not a bad weekend, a couple of seconds short of being a great one.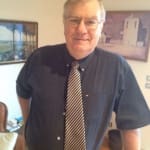 Author:
Ron Reed
RON REED has spent more than 50 years as a sportswriter or sports editor, mainly at The Herald and Herald Sun. He has covered just about every sport at local, national and international level, including multiple assignments at the Olympic and Commonwealth games, cricket tours, the Tour de France, America's Cup yachting, tennis and golf majors and world title fights.
Comments
comments
0 comments