---
Reading Time:
4
minutes
KEN PIESSE says only six of Australia's current Test squad should consider themselves certainties to tour England for the Ashes later this year:
NO CENTURIES, appalling batting and bowling stats, a dissatisfied public and the first-ever home-soil series loss to India… it has been a nightmarish month-and-a-bit for Australian cricket.
Our stocks have slumped lower than 1985 when captain Allan Border famously said he'd "just about had enough of this lot".
Australia's top six this summer were incredibly poor without the two bad boys Steve Smith and David Warner and given that only rain saved Tim Paine's makeshift team from a 3-1 series loss in Sydney, the selectors have no choice but to change the deckchairs.
The non-performers must be axed, starting with the now veteran left-hander Shaun Marsh.
The first of two Tests against the Sri Lankans is only weeks away and this has to be the opportunity to select the likely top six for the Ashes in August and stick with them.
Rarely before has it been such a struggle to select a frontline squad for England and the most famous tour of all.
Some will be rewarded for mediocrity and that hurts.
On red ball form, only six from the current XI should be entitled to ongoing "automatic" selection: Pat Cummins, Nathan Lyon, Tim Paine, Marcus Harris, Usman Khawaja and Josh Hazlewood.
Notable absentees are Mitchell Starc, the Marsh brothers, Peter Handscomb, even Travis Head, who some believe is a better white-ball player yet has been overlooked from the soon-to-start Gillette series.
Lion-hearted stalwart Peter Siddle is well past his best and should not go to England. Aaron Finch's red ball talents are best served in the middle-order, not opening.
Among those not trialed against the Indians who should be in contention for the Sri Lankan Tests in Brisbane and Canberra include paceman Jyhe Richardson and allrounders Marcus Stoinis and Glenn Maxwell, yet all have played only white ball games since early December. How crazy is that!
Purists are dismayed at the disintegration of our  Test team stocks and rightly ask how can any newcomers be selected on only Big Bash/Twenty 20 form.
The Indians have been excellent. Their pace attack is the fastest in their history. They simply wore down the inexperienced Aussies.
Never before have I bestowed a lower set of series marks on members of our elite Test XI.
Just seven of the 13 received ratings of pass or better. The rest under-achieved, many badly.
KEN PIESSE'S SERIES RATINGS
PAT CUMMINS (four Tests): His four-for-two spell in Melbourne in mid-match was Australia's series highlight. Batted bravely, showing up the specialists. Was again Australia's most outstanding cricketer for the second series in a row. RATING 8
AARON FINCH (three Tests): From the time his stumps were drunkenly upset by the third ball he faced in the first Test in Adelaide, Finch was all at sea against the moving ball. Was out of his depth in the opening slot. Should have at least been given some match practice at No.1 for Victoria, but they felt he'd be better at five. RATING 3
MARCUS HARRIS (four Tests): Two 70s promised much. Deserved a century in Sydney. But has serious work to do against the short ball. RATING 6
PETER HANDSCOMB (three Tests): Five innings and not even one score of 40. Has technical issues and frankly was incredibly fortunate to come back in Sydney after his Perth misadventures. Fielded and caught brilliantly. RATING 4
JOSH HAZLEWOOD (four Tests): Started strongly and purposefully but the workload again saw his performances fall away late in the summer. Thirteen wickets. Only an average summer given his talents. RATING 5
TRAVIS HEAD (four Tests): Got starts every time he batted. A 72 in Adelaide was followed by 58 in Perth but he under-achieved afterwards. A pass mark; just. RATING 5
USMAN KHAWAJA (four Tests): His tedious, strokeless start in Adelaide seemed to affect his form for the rest of the summer. Other than a 70 in Perth, albeit on a difficult wicket, he failed to make 35 in any of his six other innings. RATING 5
MARNUS LABUSCHAGNE (one Test): Promoted for the final Test despite only modest efforts with Queensland, he  showed promise with the bat in his Australian soil debut; but his quickish leggies were treated with disdain by the Indians. RATING 4
NATHAN LYON (four Tests): A marvellous summer; 21 wickets, including eight in each of the first two Tests. Justifiably cemented his status as Australia's greatest ever finger spinner. RATING 8
MITCHELL MARSH (one Test): A mid-series elevation without any imposing red ball form saw him once again targeted as not being good enough for elite level cricket. Bowled bravely in his only Test after an erratic start. But, unfortunately, is not good enough at either medium right now, unlike the elite allrounders of the past. RATING 3
SHAUN MARSH (four Tests): At 35, it's time to go. RATING 3
TIM PAINE (four Tests): Captain of a team which could easily have lost three of four Tests, but for the Sydney rain. Admitted in the final Test that the leadership worries had clouded his own focus, especially with the bat. Kept wickets beautifully throughout. RATING 6
MITCHELL STARC (four Tests): Never approached his most menacing form despite reasonable initial returns in Adelaide and Perth. Took just three for  221 in the big Melbourne-Sydney "double". Bowled some pacy spells without swinging the ball greatly. Sprayed the ball too often. Also under-achieved with the bat. RATING 4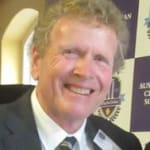 KEN PIESSE has covered cricket and football for more than 30 years in Melbourne. He has written, edited and published more than 70 sports books. His latest book, Favourite Cricket Yarns, is available from www.cricketbooks.com.au
Comments
comments
0 comments