---
Reading Time:
2
minutes
KEN PIESSE says Test discard Peter Handscomb faces an agonising New Year, wondering if he'll ever play for Australia again:
PETER Handscomb must ditch his controversial back-in-the crease technique or run the risk of becoming  a Test outcast. So says one of Victoria's greatest players, David Hussey, who believes Handscomb's premature exit back into Big Bash ranks will be the only profiled cricket he'll play for the rest of the summer.
"If you don't keep changing your game, you stand still and others will pass you," he said. "The big plus for Peter is that he's only 27. He has many good batting years ahead of him if he can sort things out."
Discarded from this week's Christmas Test in his home town, Handscomb has been agonising over his technique which saw him make just 34, 14, 7 and 13 in the opening two Indian Test matches of the summer.
Mitchell Marsh, average 26, took his place in the middle-order in the current match.
Many want Handscomb to bring his stance forward  to the front crease line crease and concentrate on being balanced so he can play a full array of  shots, especially front foot drives.
Having been dropped three times from the Test top six in the past 18 months, Handscomb has toyed with his technique over the winter months, produced some big scores at domestic level, only to be found out by the touring Indians, who boast their strongest and fastest bowling line-up in history.
Hussey, one of the best players never to reach Test cricket, says Handscomb has been inundated by  do-gooders wishing him advice.
"In the end you tend to trust just one or two around you and hope you can get through it."
Some believe if Handscomb takes 12 months to return to his prolific best, he will be passed in the pecking order by younger ones like Sydney's Jason Sangha and others.
With Peter Siddle relegated to 12th man duties in Melbourne, Victoria has just two "locals" playing in the in Third Test: opening pair Aaron Finch and WA-born Marcus Harris.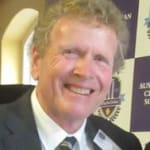 KEN PIESSE has covered cricket and football for more than 30 years in Melbourne. He has written, edited and published more than 70 sports books. His latest book, Favourite Cricket Yarns, is available from www.cricketbooks.com.au
Comments
comments
0 comments