---
Reading Time:
8
minutes
THE Boxing Day Test is always a favourite with the players. It's their Grand Final, the match they love to dominate. KEN PIESSE speaks with four golden oldies who did just that:
CRICKET'S Colosseum, the Melbourne Cricket Ground, will be the centre of the universe, for cricket fans anyway, for the next week as Test cricket once again takes centre stage at one of the grandest stadiums of all.  The memories remain vivid for this quartet of old stars:
IAN MECKIFF
(1958-59)
When local hero Ian Meckiff ambushed England with a career-best six for 38 in front of more than 50,000 delirious home-town fans, he shared front page billing with a Soviet attempt to fire a rocket to the moon.
"I don't think my feet were touching the ground as I ran in to bowl that day," Meckiff says. "The crowd was right behind me and loving every minute.
"In a lot of ways it was the best I ever bowled and for me, playing on the MCG in front of your home crowd against the old foe (it was) the ultimate Test match."
England were humbled for 87, their lowest score Downunder for more than 50 years, Meckiff and fellow left-armer  Alan Davidson all but bowling through the entire innings.
" 'Davo' had gone through them in the first innings and I was lucky enough to be involved in the second," he said. "I was getting lift out of the wicket you normally didn't get on the fourth day.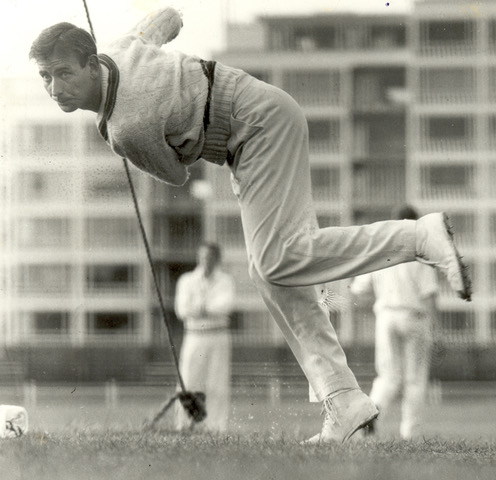 "It was one of those days when the crowd was 100 per cent behind me. If you get people on the run, teams can collapse."
As Meckiff captured five of the top six, the roars of delight so reverberated in and around the stands that even the kids locked in their own test matches in the huge outer tunnel dashed up the stairs to see what was going on.
"So keyed up was I that I couldn't wait to get hold of the ball at the start of each new over… there's no greater tonic to a bowler than a few quick wickets. It gives you tremendous lift and incentive."
In years to come, however, many of the players he had dismissed were to depreciate his day of days, opener Peter Richardson saying he and others had simply been thrown out. Richardson's grumbling may have related to Meckiff's bowling action but he must have been pretty unhappy with his own performance in the match: out for three in the first innings to Davidson and two in the second to Meckiff. It was a superb match for Meckiff, taking 3-69 in the first innings and 6-38 in the second.
* Meckiff, now 83, immediately retired after being no-balled for throwing in the opening Test of 1963-64. He played 18 Tests.
BOBBY SIMPSON
(1960-61)
"It was the Saturday of the deciding Test against the West Indies. The brand of cricket played all summer, from the first Test in Brisbane (which ended in a tie) caught everyone's imagination," he said.
"They were out for just under 300 and in reply, Colin (McDonald) and I started with 146 for the first wicket. As we were going out to bat I remember looking around and thinking what a good crowd was in.
"I was not out at lunch and came in and the boys were all talking about the size of the crowd and how great it was.  I thought there might have been 50,000 or 60,000 in and went out and had a closer look and it looked absolutely full. I was that focused, I hadn't noticed the extra 30,000!"
Almost 91,000 were to attend, a record for a single day's play, all the players marveling at the electric atmosphere.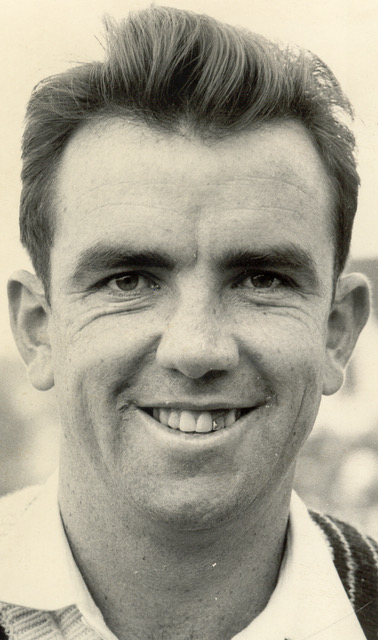 "I thought the mighty stadium was going to burst at the seams as the frightening rumble of noise gathered like thunder on all sides as we walked out to field," said star batsman Rohan Kanhai.
"It was like a Welsh Rugby international at Cardiff Arms Park and a Liverpool-Everton soccer crowd rolled into one."
McDonald top-scored with 91 and received the ovation of his life, the highpoint of his career.
"Batting in front of 90,800 people… it was a thrill and a privilege," he said. "My 91 represented one run for every thousand who were there. It was nice to have played in such a huge crowd on my home ground."
This was the game in which Simpson smacked 18 runs from Wes Hall's first over and 27 from his first two in a bold and successful bid to knock Hall, the world's fastest bowler, out of the firing line.
"It worked, too. Wes was off after three overs and we won the match and the series 2-1. But it went down to the wire," he said.
Now 82, Bobby Simpson captained Australia and in a marvelous 62-game career, boasted a highest Ashes score of 311.
RODNEY HOGG
(1979-80)
"The fans were very good to me at the MCG, but I preferred to bowl at places like Adelaide as the run-ups were far lusher. In Melbourne before these big new stands were built, the run-ups were brown and there was invariably a choppy wind blowing into your face
"It was at Melbourne where I produced my most embarrassing figures ever: none for 59 from six (overs).
"I'll never forget hitting Viv Richards in the cheekbone with a bouncer during that game and watching in shock as there was absolutely no reaction from him whatsoever. It was like a horror movie where you're filling the enemy full of bullets and yet they keep coming at you. He hit the next one into the bleachers! He was an amazing player.
"I reckoned I bowled Viv 370 short balls and he pounded 369 of them."
Hogg also has happy memories of bowling Geoff Boycott on the point of lunch during his famous 1978-79 summer when he took 41 wickets at 12.85.
"I'd just got Mike Brearley, too, and the crowd were really behind me. I'll never forget the sight of Boycott's middle stump spinning.  I'd bowled only a few overs but I was stuffed. I was lucky it was lunch as I would have had to have thrown the ball back to the captain… again."
Now 67, Hogg took 138 wickets in 38 Tests for Australia. He regularly slapped himself in the face before going out on to the field — "just to get myself revved up".
SHANE WARNE
(1994-95)
"(Back in 1994-95) when I saw (England's No.11) Devon Malcolm, looking like Robocop with all that padding on, striding to the crease I sensed the opportunity of a lifetime (to take a hat-trick)."
" 'Flemo' (Damien Fleming) walked past me … he'd taken a hat-trick in Pakistan just before then and told me he thought about all the options before deciding on his stock ball, the outswinger, because that was the one he knew best. It sounded like good advice, so I went for a top-spinning leg break, knowing Devon would either slog and miss it completely, or block and perhaps bat-pad a catch to one of the close fielders.
"He chose the second option, but the ball bounced a little bit more than he expected and went via his gloves towards the direction of 'The Keg' at short leg where Boonie (David Boon) dived a long way to his right to hold on to an absolute screamer."
Minutes before Alec Stewart, at the non-striker's end, had turned to Warne and said he'd never have a better opportunity of taking a hat-trick, given Malcolm's career average of just six!
Big Dev was the ultimate batting bunny, and so it proved!
* Shane Warne, 49, amassed more than  700 Test wickets and was one of Wisden's Five Cricketers of the 20th Century. He is at this week's match, commentating for Fox.
MELBOURNE'S 12 GREAT TEST DRAMAS
Don Bradman bowled first ball, 1932-33
A new world record of 90,800 attend Saturday's play in the deciding Test, 1960-61
S. F. Barnes' five for six from his first 11 overs, 1911-12
Dennis Lillee's Centenary Test heroics, 1976-77
Jack Hobbs and Herbert Sutcliffe bat through an entire day's play, 1924-25
Typhoon Tyson's seven-for, 1954-55
Don Bradman's triple-century stand with Jack Fingleton, 1936-37
Charles Bannerman becomes the first man to make a Test century, 165 retired hurt on the very first day of Test cricket, in Melbourne in March 1877. Bannerman was born in Britain and had been in the colonies for only six years and was one of six "Brits" to play for Australia.
Jack Brown's 100 in better than even time in the decider, 1894-95
Rodney Hogg bowls Geoff Boycott during Australia's only win of the summer, 1978-79
Sunil Gavaskar stages a walk-off, 1980-81. Gavaskar led fellow opener Chetan Chauhan off the ground after a dodgy (he thought) lbw decision. He reckoned the Australian umpires were cheating. Chauhan followed Gavaskar very slowly 40 yards behind him, not really wanting to join his skipper. Gavaskar was met at the gate by the Indian manager who told Chauhan to get back out there and the Test continued.
David Boon's reflex catch to give Shane Warne his first ever hat-trick, 1994-95

Jack Hobbs (left) and Herbert Sutcliffe, England's outstanding opening pair.
FIVE MEMORABLE MCG CHRISTMAS TESTS
1963-64: Australia defeats South Africa by eight wickets.
Making his debut in front of his home crowd, Ian Redpath scores 97 and shares a 219-run first wicket stand with Bill Lawry (157). It's the beginning of a wonderful Test career.
Eddie Barlow's deliberate steer over the top of second slip stand out, as does sub fieldsman Jack Potter's run out of the star South African, robbing him of twin centuries and allowing Australia a comfortable fifth day target.
1968-69: Australia defeats the West Indies by an innings and 30 runs.
From the time Graham McKenzie dismisses Steve Camacho with the fifth ball of the Test,  the West Indies are back-pedalling, McKenzie taking eight for 71, the best in Australia-West Indian Test history.
Bill Lawry's 205 and Ian Chappell's 165 see Australia at one stage 1-312, replying to 200 all out.  It's a lopsided match but wonderful if you happen to be supporting Australia.
1978-79: Australia defeats England by 103 runs.
The roar when Rodney Hogg bowls Geoff Boycott in England's first innings on Day Two almost lifts the old Southern Stand roof. Taking five for 30 and five for 36, the colorful express, alternating between cricket and his morning job as an Adelaide milkman, lifts Australia to its only win of an otherwise one-sided Ashes summer which England wins 5-1.
1981-82: Australia defeats the world champion West Indies by 58 runs.
Recovering from 4-26 on the first morning thanks to Kim Hughes's finest Test innings (100 out of 198), the Australians break a West Indian sequence of 15 Tests without a defeat, Dennis Lillee taking 10 wickets to overhaul the world record of 309 held by Lance Gibbs for six years.
Late on Day One, the Windies lose 4-10, including the great Viv Richards bowled for two to the joy of Lillee and 39,000 Melburnians
1992-93: Australia defeats the West Indies by 139 runs.
Shane Warne's memorable seven for 52 on debut against the West Indies revives memories of the great between-the-wars spells from Bill O'Reilly.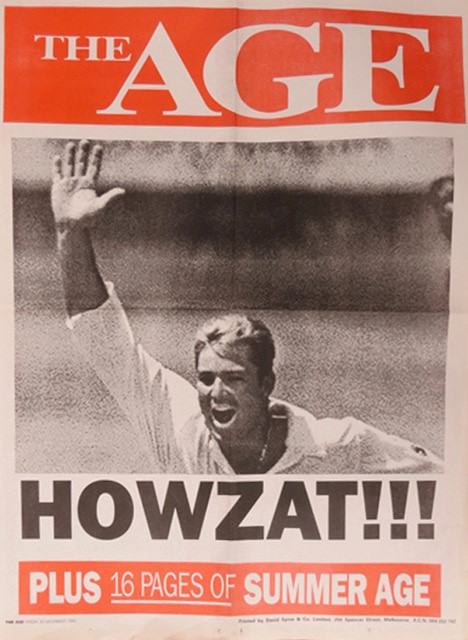 Needing  357 to win, the Windies start full of promise at 1-143 with Phil Simmons makes a century before Warne's flipper castles Richie Richardson 10 minutes before lunch triggering an almighty collapse.
In 14.4 overs, interrupted by one change of ends, he takes 7-21, resurrecting his career.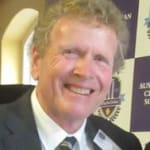 KEN PIESSE has covered cricket and football for more than 30 years in Melbourne. He has written, edited and published more than 70 sports books. His latest book, Favourite Cricket Yarns, is available from www.cricketbooks.com.au
Comments
comments
0 comments