---
Reading Time:
4
minutes
AUSSIE Daniel Ricciardo must wait for his new car to deliver the goods next year after a disappointing series of mechanical mishaps in 2018. PETER COSTER reports:
BEFORE the pack roared off for the last Grand Prix of the F1 season, Daniel Ricciardo said his fans would see "something amazing".
It must have been the Mexican moustache he had grown since the previous race in Brazil. If only the Red Bull's pace had grown as quickly.
Ricciardo, in his last race for the team, finished fourth at Abu Dhabi following a record season of  eight retirements.
His frustration with his car in previous races escalated from screaming the f-word into his helmet so loudly he strained his vocal cords, punching a hole in the wall of his motor home and claiming the car was "cursed".
As far as he was concerned, someone else could drive it. It's been his worst season in F1 since he out-raced Sebastian Vettel in his first year in the Red Bull senior team in 2014.
The rookie scored three victories, seeing off the German who had won four world championships for Red Bull.
Now, it seems as if Max Verstappen is part of the reason for the Australian's decision to leave Red Bull for a seat with the Renault works team next year.
Although Renault is powered by the same engines that have delivered Ricciardo two wins this year, the Renault chassis is not as nimble as the Red Bull designed by Adrian Newey
There were rumours the French manufacturer was trying to lure the design genius away from Red Bull.
Renault chief Chris Abiteboul says the Renault works team has its own design team and will be staying with them.
But Abiteboul has also said it could take two years before Renault is able to challenge Mercedes and Ferrari.
Ricciardo's contract with Renault is for two years and struggling to get the car up to speed is not part of his game plan.
Ricciardo wants a drivers' world championship sooner rather than later. At 30 years of age next year, he knows he hasn't got that many seasons ahead of him.
He will be No. 1 at Renault, whereas he was looking like a No. 2 at Red Bull which has said it is building its team around Verstappen.
At Abu Dhabi, Verstappen was brought in for an early pit stop for fresh tyres while Ricciardo, who led the race for 15 laps, was left out until his tyres went off.
Lewis Hamilton's Mercedes and Vettel's Ferrari, not to mention Verstappen's Red Bull, quickly closed the gap.
When Ricciardo came in for fresh tyres, it was too late to catch the others. Ricciardo should have been first to be called in.
What may be in Ricciardo's favour when he lines up against Verstappen in Melbourne in March next year is Red Bull's shift to Honda.
The Japanese manufacturer once dominated F1 but has not been able to produce an engine to challenge the top teams.
So poorly have Honda's engines performed that McLaren swapped them for Renault.
That hasn't done much for McLaren's fortunes and former double world champion Fernando Alonso has pulled out of F1 to concentrate on winning an Indianapolis 500 to complete motor racing's triple crown, having won the Le Man 24-hour endurance classic and the Monaco Grand Prix.
Honda has redoubled its efforts to produce an engine to win a world championship, dumping some of its executives and experimenting with upgrades to the engines it supplies to Red Bull junior team Toro Rosso, which had to give up its Renault engines to McLaren.
There is little reason to think the Honda engine that will power Verstappen's car in the Australian Grand Prix at Albert Park will be competitive.
Adrian Newey has a year to run on his contract as technical director at Red Bull but that means nothing if Renault does decide to buy him out.
When Newey was asked about an approach from Renault he did not deny it. Cyril Abiteboul might insist Renault is staying with its own designers, but what people say in F1 doesn't always mean what they are thinking.
Take Ricciardo's decision to leave Red Bull for Renault. No one thought that was going to happen.
When Ricciardo phoned Red Bull principal Christian Horner to tell him, Horner thought it was a joke.
It may be that in Melbourne in March, the joke will be on Red Bull.
But before ending this report on the last race of 2018, a point needs to be made about the terrifying crash of Ricciardo's future teammate, Nico Hulkenberg, on the first lap at Abu Dhabi.
"The Hulk" became airborne after coming into contact with the Haas driven by Frenchman Romain Grosjean.
The car barrel-rolled into the barriers and caught fire, leaving Hulkenberg "hanging like a cow" in his own words and seemingly unable to get out of the halo roll cage.
He was not freed until the car was tipped on its side by track marshals. The "little barbecue" Hulkenberg joked about over the radio could have seen the German driver done to a turn.
The halo saved Sauber driver Charles Leclerc from decapitation when Fernando Alonso's McLaren flew across it in another air-borne incident, this time at the Belgian Grand Prix in August.
Ironically, it was Hulkenberg in his Renault who had run into Alonso under brakes that caused it all.
The halo is difficult enough to get out of when the car is on its wheels. Upside down, there is no way out.
The FIA extended the mandatory time for a driver to escape after tests showed it took Mercedes driver Valtteri Bottas three seconds longer to wriggle out of the halo than from a traditional open-cockpit car.
A fire will not wait and Hulkenberg at Abu Dhabi might have been the first to have his backside burned.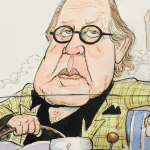 Author:
Peter Coster
PETER COSTER is a former editor and foreign correspondent who has covered a range of international sports, including world championship fights and the Olympic Games.
Comments
comments
0 comments