---
Reading Time:
4
minutes
LOOK OUT Australia, India believes it has the fire and fury to beat our weakened cricket team and win its first Test series Down Under. CHRIS de KRETSER reports from the Punjab:
VIRAT Kohli's Indians are confident their coming campaign will echo the best-selling book Fire and Fury, that rocked Donald Trump's White House early this year.
On every one of the 11 Indian Test tours of Australia since the first in 1946-47, they have floundered and been found wanting against fast bowling.
But this time they plan to fight fire with fire.
The Australian attack boasts three of the finest fast bowlers in Test cricket. India has assembled a pace group with variety to match.
Indian teams in the past have also struggled to counter the tough "take-no-prisoners" way Australians play their cricket. Not so any more.
This Kohli-led team won't take a backward step. It is primed for the fury of the contest.
With a penitent Australia still seemingly in the throes of the effects of the ball-tampering incident, the Indians might even throw the first stone – sorry sledge.
There has been much mirth in the Sub-Continent on reading of the sloganeering in the recent Australian dressing room. The hypocrisy of "elite honesty" has been duly noted with ironic laughter.
It would be no surprise to see Kohli go on the attack and not shy away from being the aggressor. It all adds up to a furious Test series.
But first the fire.
The Aussie pace trio – Mitch Starc, Josh Hazlewood and Pat Cummins – is as lethal an attack on Australian soil as has been. Unavailability through injury has meant it will be the first time the threesome has been unleashed on India together.
So, look out. Each on its own has troubled Indian batsmen with Cummins, in particular, making even the great Kohli uncomfortable on lifeless Indian tracks when brought back to Test cricket halfway through the tour in 2016.
But there are doubts on the ability of the bodies of all three to stand up to a tough Test series. It is in the back-up that Australia may come up short if one or two go down.
India's pace attack is most under-rated. It has developed a group of quicks that have come in under the radar and now form a potent combination.
Umesh Yadav and Jasprit Bumrah provide the express pace, although not in the high 140s of Starc and Cummins. Mohammed Shami and Bhuvneshwar Kumar add seam and swing, while Ishant Sharma offers steady line and length on his fourth tour to Australia.
The team has no concern about back-up. The big decision will be whom to leave out – one the selectors haven't got right on close, losing Test tours of South Africa and England this year.
It should probably mean Bumrah and Yadav play on the quickest deck in Brisbane, the latter no longer the tearaway who has troubled batsmen on Aussie pitches but can now also swing the ball.
Kumar will be a handful where it's conducive to swing, while Shami's deceptive pace, seam and reverse swing makes him a must.
Kohli has great faith in Sharma to bring pressure on batsmen by keeping it tight. He will likely play when fully match fit.
It's a toss-up which attack will prevail.
But with Australia's batting line-up, minus Steve Smith and David Warner, so disorganised and fragile, the Indians certainly have their best chance of fighting fire with fire here.
The Indian batting is more settled with players who have made runs in Australia. Lokesh Rahul will be joined at the top of the order by India's brightest new batting star, 21-year-old Prithvi Shaw, who made a century and was man of the match in his debut Test late last month.
Ajinkya Rehane has looked a good player on Aussie pitches, Chesteshwar Pujara is always steady and reliable, and Rohit Sharma is being pushed for a recall after even outdoing Kohli for runs in limited over matches.
Wicket-keeper Rishabh Pant provides X-factor. Some believe he could be India's Adam Gilchrist. Hitting a six for his first Test runs and a blistering century against England at the Oval added weight to this belief.
Then there's the Kohli factor.
He's pumped himself up for this tour and fiercely determined to lead from the front.
A good example of his state of mind on the eve of the tour was his virulent reply telling an Indian fan to quit the country when he trolled him professing to prefer foreign batsmen.
Kohli's fury is already on display and it could manifest in a run feast because there's no Indian batsman with a better Test record on Australian turf.
And he knows too well that his God-like standing in India will reach its zenith if he can achieve what no other Indian has been able to do on 11 previous Test tours Down Under.
The Times of India newspaper has already committed what once would have been regarded as sacrilege – compared and put him on the same pedestal as Sachin Tendulkar.
"The captain is outdoing even the great Tendulkar," headed the newspaper's editorial on Kohli becoming the fastest batsman to chalk up 10,000 one-day international runs by a massive margin.
The Times noted that Tendulkar retired from ODI cricket "as the King with astounding numbers".
"Quite unbelievably, merely six years on, Virat Kohli seems to have surpassed him in several parameters of ODI greatness," India's biggest circulation English newspaper said.
"The gap between the two is so startling – it's almost unbelievable."
Even more sacrilegious, the Times went on to draw a line between the two cricketers standing in public: "Tendulkar had the good boy image and was a great role model, though he probably said nothing significant in his public life. Kohli is a worthy successor to Tendulkar, but also has the gravitas to speak on tough societal issues."
Imagine how they will fete Kohli if he leads his nation to cricket's holy grail – a Test series victory in Australia.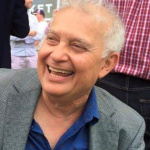 Author:
Chris de Kretser
CHRIS de KRETSER was founding editor of The Sunday Sun and the first sports editor of The Herald Sun. He was also night editor and sports editor of The Sun and publisher of Sports Weekly magazine. He was Deputy Olympics Editor of the Herald Sun during the Sydney Games, editor of MX, picture editor of The Herald Sun and Sports Confidential columnist.
Comments
comments
0 comments