---
Reading Time:
9
minutes
IT'S BEEN 18 years since track cyclist Scott McGrory formed one half of perhaps the most emotionally challenging gold medal win in Australian Olympic history, and he is still setting challenges for the sport, writes RON REED:
AUSTRALIAN CYCLING has a proud Olympic history, winning 51 medals, including 14 golds, most of the latter involving team-work. It has taken 22 different riders – 19 men and three women – to amass that golden haul, all but two of them on the track as opposed to the road. There have been some terrific stories among them, but none more uplifting and inspirational, we would suggest, than the Madison triumph in Sydney 2000 by Scott McGrory and Brett Aitken.
Many of these stars continue to contribute to the sport in various ways. Cycling is like that. Generally speaking, it retains its grip on its participants, largely because it continues to be a recreational pursuit long after the competitive fires have faded. The passion usually lingers for a lifetime.
Again, McGrory's name is up there close to the head of any list of old champions who are still making the wheels go round one way or another. In this context there are two other standouts on the Olympic honour roll. One is Mike Turtur, who helped win the team pursuit at Los Angeles in 1984 and who is the life-force behind Australia's biggest road race, the Tour Down Under and a recent addition to the Cycling Australia Hall of Fame. The other is Brad McGee, whose many stellar accomplishments on the road and track include the 2004 team pursuit in Athens and who is now the national road coach and a member of both the Sport Australia and Cycling Australia halls of fame.
McGrory, 48, isn't far behind them in terms of influence and profile and moved closer this week when it was announced he had been appointed race director of the Jayco Herald Sun Tour, the oldest stage race in the land. He is also in charge of the national road championships and the venerable one-day classic, the Melbourne to Warrnambool, roles that tie in closely with his desk job as
Commercial Manager of GTR Events, which specialises in cycling promotion. He takes over the JHST from another GTR heavyweight (figuratively speaking, these days) John Trevorrow, a close mate from way back. "Iffy" Trevorrow, also an Olympian – alas, minus a medal – and a triple winner of this race, will continue to oversee it in a managerial role as well as run the emerging women's version. He is another who has given a massive amount of time and energy to the sport that has been his life.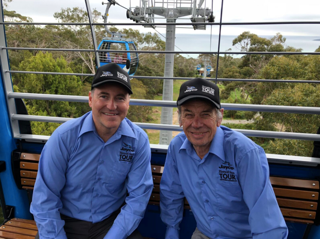 Since his racing days ended, McGrory has also built a strong reputation as a coach and a commentator and analyst, having worked on TV at two Olympics and three Commonwealth Games as well as a number of editions of the Tour de France. He has also been the host of the Full Cycle show on Channel Nine and Fox Sports. In Australia, probably only the ubiquitous Matthew Keenan and perhaps his special comments man Robbie McEwen are more familiar voices to fans of the sport.
McGrory also has a strong relationship with the most influential figure in Australian Cycling, Gerry Ryan, owner of the only WorldTour team, Mitchelton-Scott, and of the Jayco caravan empire that sponsors the Herald Sun race, as well as a trouble-shooting former president of Cycling Australia. Ryan grew up in Bendigo where McGrory now lives and both are members of the well-known Melbourne social organisation for veteran sporting identities, the Vingt Cinq Club, as is Trevorrow.
McGrory hasn't wasted any time making his presence felt in his latest role, even though the race is still the best part of three months away. His first move has been to bring back the formidable Arthur's Seat stage, a gut-busting three-kilometre climb that used to form the race's finale until it was dropped three years ago. Trevorrow used to make them do it three times, now McGrory is upping it to five times when it becomes the penultimate stage on Saturday, February 2. There will still be another stage the day after but any rider who has succumbed to King Arthur will be unlikely to be still in contention by then. "This will be a seriously hard stage," McGrory said in a masterpiece of understatement.
The popular, personable McGrory, whose achievements also include an Olympic bronze medal and a world championship silver, is the father of two young daughters, Madelaina and Leilani, the latter of who has recently registered with a cycling training program. Nothing is more important to him than his family, and it wouldn't matter if he had to climb Arthur's Seat 100 times he could not be any more aware of just how challenging cycling can be.
Those who remember the horrendous circumstances of that golden but bitter-sweet night in Sydney 18 years ago will need no convincing of the truth of either of those observations. For those who weren't around back then or who may have forgotten, or who are still not familiar with the harrowing aftermath, we offer this flashback which was published in the Herald Sun in 2010, the tenth anniversary of one of the greatest of all Australian Olympic stories:
THE NIGHT GRIEF TURNED TO GOLD
By RON REED
OLYMPIC gold medals are usually all about the glory, rarely the grief. They are meant to be symbols of triumph, not tragedy.
But for cyclists Scott McGrory and Brett Aitken, who won the two-man madison on the track at the Sydney Games, that's precisely how mixed their emotions and memories are, and will always remain.
This month both are remembering the deaths of their first-born children, tragedies that impacted heavily on their preparation for their biggest sporting challenge to the extent that both decided to give up – and had to be persuaded by family and friends to keep going.
That's why, for them and their wives, the 10th anniversary of Australia's greatest sporting and cultural event has effectively arrived early.
There has never been a story quite like theirs in the 114 years of Australia's Olympic history, and not even Cathy Freeman's 400m – Sydney's signature performance – was more heart-wrenching.
McGrory's 11-week-old son, Alexander, died of a heart condition on July 1, 2000, placing his dream under so much pressure that he went within a whisker of cracking psychologically.
Aitken's two-year-old daughter, Ashli, was seriously ill with Rett Syndrome, a development disorder, during the same crucial lead-up period, so he, too, had to cope with extraordinary stress. She died a year ago this month, aged 10.
That means both riders, who now share a powerful bond that will last for the rest of their lives, and their wives are confronting melancholy memories as the rest of the Olympic family prepare to toast those 16 uplifting days.
Happily, McGrory and Aitken have both been able to move forward – but not without a lot more pain.
Speaking exclusively to the Herald Sun at their home in Bendigo, McGrory, 40, and his wife Donna, 35, revealed they had lost two unborn children since the Games, one because of a freak mishap involving the umbilical cord.
They have two healthy daughters, Madelaina, 7, and Leilani, 18 months, but were told only after Leilani was born that she, too, had the cord wrapped twice around her neck and could have suffered the same fate.
She didn't, and now the "little terrorist" – as her dad smilingly refers to her – and her big sister represent the happy ending due to two pleasant people.
When Alexander was born five weeks premature, McGrory was racing professionally in Europe, determined to make a successful Olympic comeback 12 years after winning a bronze medal in Seoul as a starry-eyed novice who was happy just to be wearing an Australian tracksuit.
He hurried home for the birth only for him and Donna to be told the baby needed open-heart surgery.
"I cried for two weeks, I couldn't stop," Donna said. "It just kept flooding out day and night. They told us there was a possibility he could die and you never imagine that.
"We got through that and said we'd take him home whatever the cost – and then they told us he would probably be mentally disabled.
"But that was nothing compared to losing him, so we went ahead and planned our new life."
At Donna's insistence, McGrory returned to Europe but she soon had to make another heartbreaking phone call to tell him to rush back.
Alexander had suddenly deteriorated and was clinging to life by a thread. He required another heart operation immediately, which would be done while McGrory was in the air.
It didn't go well and when his plane stopped in Singapore McGrory called home and was told the baby was on life support and might not survive until he got home.
And if he did, an agonising decision would then have to be made whether to turn off the support.
"Something in my heart told me we'd never have to make that call – as a mum, I couldn't make it," Donna said. "I knew he wouldn't let us make that decision for him. It's hard to explain."
McGrory's stopover was a nightmare. "I was in a very busy airport yet I have never felt more alone and helpless," he said. "I still have a terrible feeling when I take long-haul flights. The dark cabin full of strangers always sparks strong emotions."
He made it to the hospital – just – and had just 45 minutes with his son before it became too much.
"Scott said to me he couldn't look at him any more and I said it was OK," Donna said.
That was when – and not until then – Alexander conceded defeat.
"He had waited for Scott to get home and then we didn't have to make the decision – somehow, I knew we were never going to have to," Donna said.
After the funeral, cycling suddenly seemed unimportant.
"It hits you how irrelevant and selfish sport is," McGrory said. So he told Donna he was hanging up the bike. It was over.
She disagreed vehemently. Just as she knew she would not have to make the call on her son's life, she was convinced her husband would win the gold. She told him he wasn't quitting.
"My reasoning was that if you don't do this, what have you got – nothing," she said. "You'll regret it forever. It will be the year you lost your baby and you lost your dream. Now at least there is something to salvage."
They flew back to Germany determined to get on with it. But as the plane took off from Melbourne Donna was racked with anguish.
"I asked God to make it crash so I could just die, it was just so painful," she said. "Now I feel so bad about that, I can't believe I was wishing it.
"Deep down you know it's going to all work out, but your brain just goes, 'This is all too hard'."
As the Games drew near, McGrory still wasn't at peace. Far from it.
"There were times when I felt invincible, drawing strength from what had happened, and a day later I'd be absolutely useless," he said.
"One day I did a five-hour ride to the Dandenongs and as it started to rain I looked to the heavens and yelled, 'Bring it on!' The harder it rained and the windier and colder it got, the better – nothing was going to touch me that day because I was Superman.
"The next day I got only 20 minutes into the same ride and had to stop on a bridge over the Yarra because I had been crying for several blocks and couldn't see where I was going. I was afraid I'd be hit by a car."
McGrory knew his training had been compromised and doubts crept in. So did frustrations. At a team camp he was so angry about the poor quality of one workout he punched a cupboard and thought he'd broken his hand.
"I felt like an absolute idiot because if I couldn't do a hand sling change with Brett then I couldn't ride."
Luckily, his hand was only bruised.
But Donna wasn't impressed. "I told him I hadn't put all my grief on hold for him to fall apart now," she said.
The doubts persisted to the extent that on race morning McGrory looked at Aitken in the next bed and apologised to him under his breath.
"I couldn't bring myself to say it and to this day I haven't told him – but while I was never going to give up, I had conceded to myself that winning had become unachievable."
Ninety minutes before the warm-up he gave himself a talking-to.
"Before 6000 people I sat myself down and said, 'I don't give a s–t what you haven't trained or haven't raced'," he said. "I had to search for the courage
within and get my head straight. There was only one person who could do it – me.
"It was like I flicked a switch in my head. I was hit with a sense of calm and certainty. I never looked back."
The result was Australia's first Olympic cycling track gold for 16 years.
Only now does Donna reveal how deeply she feared failure.
"I didn't see a future for Scott mentally," she said. "This wasn't about a job or a career – it was about his whole life.
"As soon as he crossed the line we started crying – and didn't stop for months. I'd just break down all the time and so would Scott."
Life was suddenly so hectic as a gold medallist – the couple also married that year – – that plans to simply disappear and get their grieving done in private had to be abandoned.
But months later, racing in Germany, McGrory returned alone to his apartment one night – and for the first time it all hit home. Hard.
"I was a dribbling mess for three days," he said. "I had to pull myself together for a race, and won it – but I was an emotional wreck."
The roller-coaster continued for five years. Two failed pregnancies, two healthy children. Trying to train in Australia and race in Europe, McGrory was flattened by glandular fever and then broke five ribs in a racing crash.
At 35 he realised he was no longer firing on all cylinders. It was scarcely surprising. So he retired.
He now works as a coach at the Victorian Institute of Sport, a commentator for Fox Sports and a training consultant.
He and Aitken don't see much of each other but the bond is, he says, "indescribable, unique – a connection that no-one else has, and that has been strengthened by tragedy.
"There is nothing negative you could say to me about Brett Aitken as a person or a cyclist."
Donna doesn't think in terms of the infant Alexander but every 10-year-old boy is a reminder of what might have been. She has learned that God does, indeed, work in mysterious ways.
"Without them (Alexander and the two unborn siblings) dying, we wouldn't have these two beautiful girls," she said. "It's a gift. It is amazing. I don't ever, ever wish it could be any different.
"To me it's not pain any more because I know that whatever happens it's meant to be."
Donna has recently started a new career – as a life coach.
She is uniquely, eminently qualified for it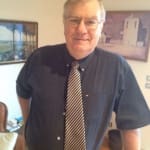 Author:
Ron Reed
RON REED has spent more than 50 years as a sportswriter or sports editor, mainly at The Herald and Herald Sun. He has covered just about every sport at local, national and international level, including multiple assignments at the Olympic and Commonwealth games, cricket tours, the Tour de France, America's Cup yachting, tennis and golf majors and world title fights.
Comments
comments
0 comments