---
Reading Time:
5
minutes
A NEW world champion is in the making if Honda can produce the right engine for controversial Dutch star Max Verstappen. PETER COSTER reports:
THE X in Max is the X-factor that will see the 21-year-old win a Formula One world championship sooner rather than later.
The Dutch wunderkind has it all. The only factor that can hold him back is a lack of performance from a Honda engine.
Verstappen will have Honda power behind him for the first time at the Australian Grand Prix in Melbourne in March.
Will it be enough to match Mercedes and Ferrari is the question. Honda failed to deliver a race-winning pace for McLaren, which dropped the Japanese manufacturer for French-built Renault engines his season.
That didn't work either for McLaren, whose double world champion, Fernando Alonso, has quit F1 in disgust to go Indy racing.
It also poses a problem for Verstappen's Australian teammate, Daniel Ricciardo, who will line up at Albert Park next year in a works Renault he hopes will take him to a world title. There is more to this than Ricciardo stepping out of the Red Bull seat because of the Austrian-owned team's switch to Honda.
Red Bull has been successful with Renault engines. Ferrari's Sebastian Vettel won four world driver's championships when he was with Red Bull and only went to Ferrari after Ricciardo won three races in his first year compared with Vettel's dismal doughnut.
Ricciardo has suffered much the same fate with Verstappen joining Red Bull and regularly out-qualifying the former Perth driver.
Further salt in his wounds are the eight retirements he has suffered this season. Frustration saw him punch a hole in the wall of his motor home after the US Grand Prix.
After retiring at the Mexican Grand Prix, he said he felt his car was "cursed."
The car pulled up with its brakes billowing smoke. Officials, thinking the engine was on fire, squirted clouds of foam up the exhaust pipes.
The foam solidified in the Red Bull's turbo, which had to be replaced, resulting in a five-place penalty for Ricciardo at last weekend's Brazilian Grand Prix.
He sliced his way through the field to finish fourth after starting on the back half of the grid.
So, once again it was all about Max who won the Mexican GP and was on his way to winning at Brazil when disaster stuck in the person of Force India driver Esteban Ocon.
Ocon and Verstappen are of similar age and have been rage-spitting rivals since their junior days. So, when Ocon, who was a lap down on race leader Verstappen found he had greater speed on fresh tyres, he asked his pit whether he should pass.
His team confirmed he was entitled to un-lap himself, but that is where Verstappen's race was stolen.
Ocon tried to pass but Verstappen was having none of it and after going side by side with Ocon on one corner edged ahead around the next.
That is where it should have ended but Ocon refused to yield and drove into the side of Verstappen's Red Bull. Of course, Ocon said Verstappen drove into him.
Ocon's team principal, Otmar Szafnauer, supported his driver's interpretation of events.
The stewards did not. Ocon had three points taken from his F1 super licence and was given a 10-second race penalty.
The next step for the stewards was to disqualify him from the race and that is what should have happened.
Two former world champions in Jacques Villeneuve and Damon Hill said Ocon was clearly in the wrong and should have made way for the race leader. Villeneuve said Ocon was "an embarrassment" and what he did was "ridiculous".
That was mild language from the volatile French Canadian. Hill was polite, but forceful and the expletives were left to Verstappen.
He gave Ocon the finger as he was spun around by the Force India driver and was heard calling Ocon a f…..g idiot on the team radio He also clashed physically with Ocon at the weigh-in after the race.
There was a push and a shove and Villeneuve enthused that this was what people wanted to see.
"We want emotion. We want to see these gladiators. It was good to see that."
Red Bull team principal Christian Horner said Ocon was lucky to escape without a punch on the nose.
Formula One was a blood sport in the past with drivers being killed or seriously injured every season, but has matured since Scottish world champion Jackie Stewart led a campaign for greater safety.
Had this incident been settled somewhere less public, instead of world television where it was seen by millions of race fans, there might have been blood on the track.
It is a victory Verstappen will never get back but there will be many to come.
F1's newly crowned world champion Lewis Hamilton had what some might take as weasel words of advice for Verstappen in the drivers' "cool-down" room after the race.
The Dutch driver had to realise that if you persisted with an aggressive style of driving there would be times when it would "bite you back".
But it is Verstappen's aggression and surgical skills in passing his lesser rivals that promises to place him with the greats.
Not yet, but within two or three seasons if Honda can give him the engine he needs to put him at the front of the grid.
The incident with Ocon took place in the Senna Curves and it is Senna, the three-times Brazilian world champion, whose style and determination is reborn in Verstappen.
Senna believed a higher power would preserve him as he went where F1's angels would fear to lay a tread.
Super Max is the same. It may be that he is supremely confident in his own skills and needs no divine protection, but whatever the risks his is a skill that is sublime to watch.
This is to take nothing away from Daniel Ricciardo, who has the ferocious little Honey Bear painted on his helmet.
Ricciardo's teeth are usually bared in a grin, but it is becoming forced.
It is as if there has been a conspiracy of gremlins to cheat him of victory.
Verstappen is one of them. There is nearly a decade between them. Ricciardo at 29 knows he has only a limited time to win a world championship and like fellow Australian driver Mark Webber when he was a teammate to Sebastian Vettel, Ricciardo believes it's all about the other driver.
The top drivers are counted on one hand. There is Lewis Hamilton, who with five world championships is in sight off matching Michael Schumacher's seven titles.
Fernando Alonso can be discounted, having decided to leave F1 to win an Indianapolis 500 to complete motor racing's triple crown. The Spanish driver has won the other two legs, the Monaco Grand Prix and the Le Mans 24-hour.
That leaves Sebastian Vettel, Kimi Raikkonen, Ricciardo and Verstappen, not necessarily in that order.
I still rate the Iceman Kimi ahead of fellow Finn Valtteri Bottas. The Kimster might be 39 but the former world champion, who won the 2007 world championship in his first season with Ferrari, is as fast as he was a decade ago.
He has been dropped by Ferrari for another new-generation driver in Monegasque Charles Leclerc whom he replaces at Sauber.
Some pundits are only adding to the idiocy surrounding the Ocon incident by saying it might have been the result of a conspiracy.
The reason being that Ocon has supposedly been promised a drive with Mercedes in 2020.
That surely won't happen. SuperMax got it right when he says he was "taken out by an idiot".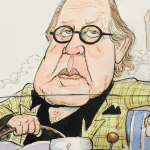 Author:
Peter Coster
PETER COSTER is a former editor and foreign correspondent who has covered a range of international sports, including world championship fights and the Olympic Games.
Comments
comments
0 comments