---
Reading Time:
4
minutes
HE WASN'T an Olympic champion like his famous daughter, but Geoff Watt was a remarkable athlete who conquered the world in his own way – fearlessly, writes RON REED:
AS A long-distance athlete, Geoff Watt had no tickets on himself. But he proved that an "ordinary, mediocre runner like myself" could experience the thrill of international competition and the fellowship of competitors from many nations and see more of the world than most Olympians or world champions do. All you needed was a spirit of adventure and a can-do attitude.
 Two of Australia's most eminent athletes, the legendary miler Herb Elliott and marathon record-breaker Derek Clayton, were among the most ardent admirers of bravery and willingness to take on any challenge.
It is time to celebrate his incredible story again. That will happen on Sunday, November 4, when the Geoff Watt Memorial Fun Run will start from the athletic track named after him in his home town of Warragul, with proceeds from the 2.5km walk/run, 5k and 10k walk/run and half-marathon going to the McGrath Foundation, the charity founded by former Test cricketer Glenn McGrath to support research into breast cancer, which claimed his first wife Jane.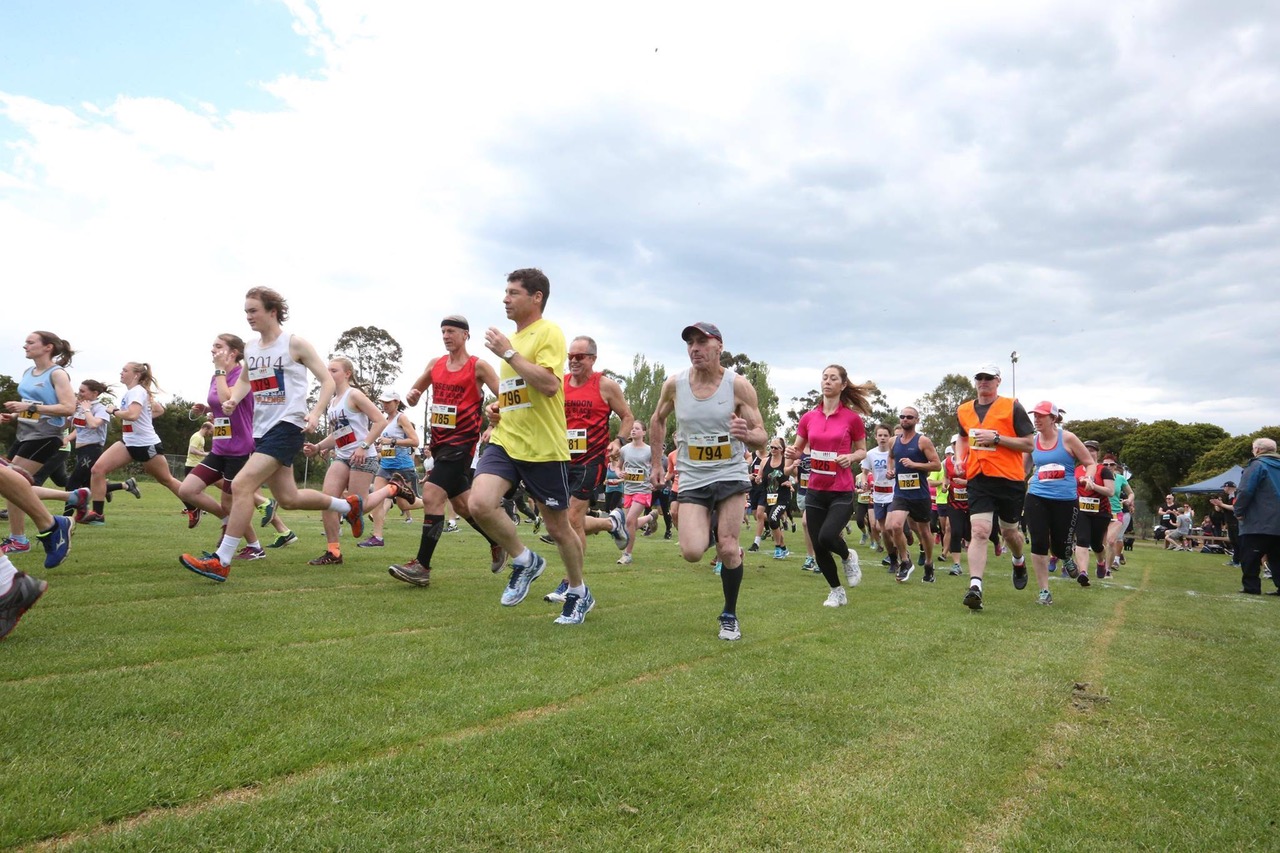 This has been one of Gippsland's most popular events for almost half a century, which is entirely appropriate because Watt, an optometrist, was a busy community activist before he died too young, nine days short of his 37th birthday, doing what he loved doing – pushing his body to the limit – in 1969. Wearing only shorts and a singlet, he was on a training run in ultra-wintry weather on Mt Erica in Baw Baw National Park when he succumbed to the freezing conditions when just a few metres away from a trail that would have led him home safely.
He left behind three young children with a fourth on the way. The eldest, Kathryn, then just days away from her fifth birthday, grew up wanting to emulate her Dad's running feats but instead found her calling as a cyclist, going on to win a gold medal on the road and a silver on the track at the 1992 Barcelona Olympics, as well as many more national and international triumphs.
Geoff, easily recognisable for his big hat and bushy beard, didn't make it to the Olympics like his famous offspring. But that wasn't the point of his sporting philosophy. He ran many marathons and ultra-marathons – races of up to 100km long – and won his share of them, but results mattered less than his belief that running, or any sport, was all about the journey and the friendships you could make along the way.
He was a true believer in the immortal words of the founder of the modern Olympics, Baron de Coubertin, who said the important thing was not to win but to take part, not the triumph but the struggle, not to have conquered but to have fought well.
This became embedded in his soul during a truly remarkable tour of discovery he undertook in 1959, a life-changing experience if ever there was one.
Setting out by ship and by plane with little money that soon ran out, he travelled through New Zealand, North America, Europe, Asia and Africa, participating in big races and small ones, getting to know other runners of many nationalities, hitch-hiking from place to place, sight-seeing for all he was worth, meeting girls, working at whatever he could, and undertaking other physical challenges. It was arduous and dangerous but exhilarating and educational.
In Africa, he trained at altitude in Kenya with a new friend, the legendary Abebe Bikila, which led to the most amazing – and risky – part of his odyssey. He moved on to Tanzania where he climbed Africa's highest mountain, Kilimanjaro, 5,895m above sea level and 4,900m from its base, setting off alone and without equipment, and wearing old sandshoes because he had sold his boots for a pint of beer in Ethiopia. He walked about 35km in six hours, too fast for comfort, because he was caught in a snowstorm and couldn't stop for fear of freezing. He eventually made it to the peak after climbing for hours in loose snow but was so exhausted he could not take more than 20 steps at a time. "Overnight I became snow-blind and spent two dreadful days stumbling down the slopes to safety," he wrote later. "The experience had a profound effect on me and for a while I was quite fearless and would go walking in the jungle at night unafraid of man or beast."
Perhaps he became too fearless for his own good. Maybe his cavalier attitude towards his own safety ordained that he was destined to die young. But, if so, few people have lived life any more fully – or derived so much satisfaction from it.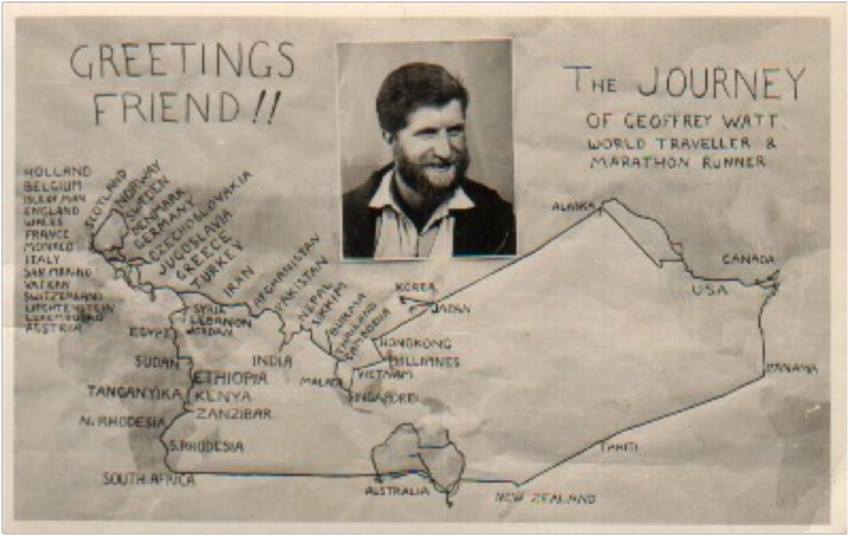 He pretty much composed his own epitaph when he wrote to a friend about his great journey around the world: "To Bluey – along the way I found two things of importance – to eat well and sleep dry. All else is profit! One day, somehow you must hit the track and get to know what adventure means."
Every year that sentiment resonates at the Warragul Amateur Athletics Club's Geoff Watt Memorial Track and it will be no different on November 4.
Entries www.geoffwattrun.com.au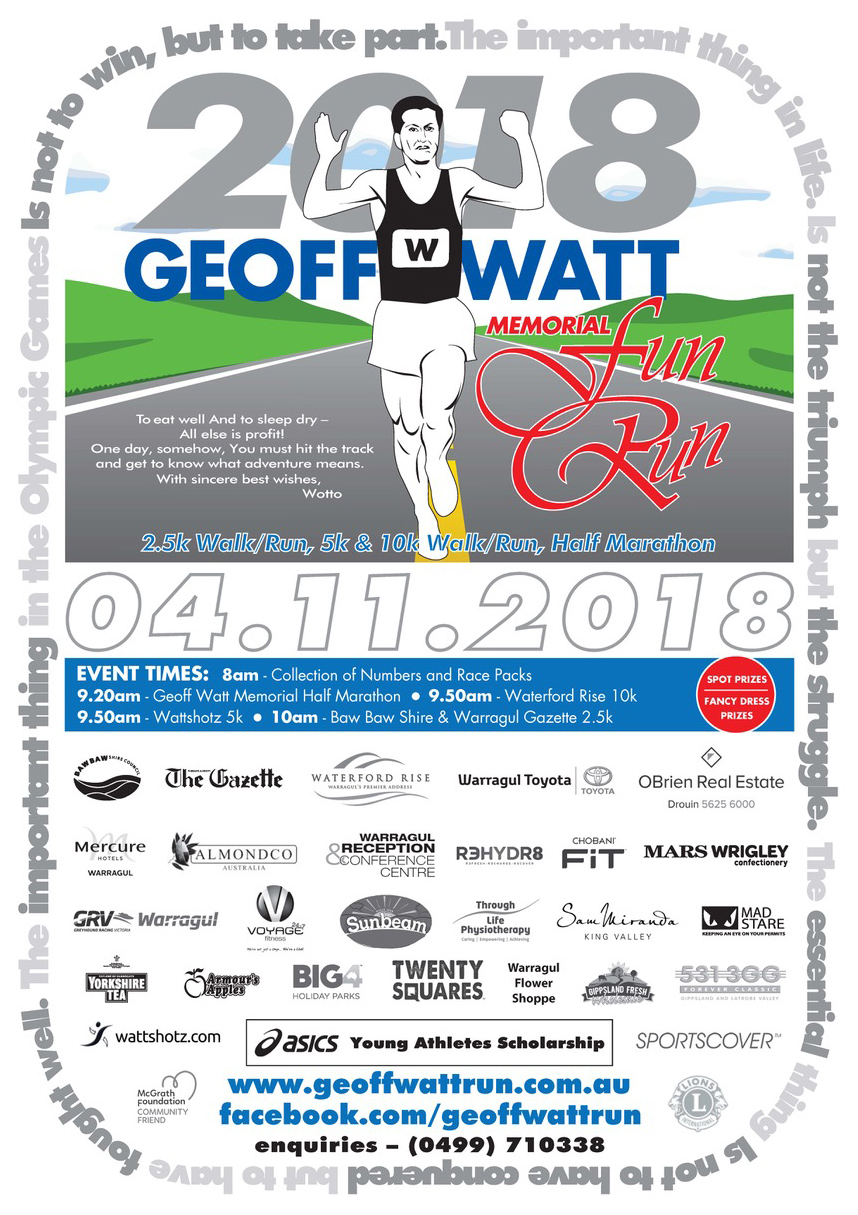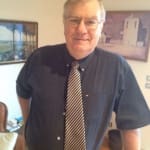 Author:
Ron Reed
RON REED has spent more than 50 years as a sportswriter or sports editor, mainly at The Herald and Herald Sun. He has covered just about every sport at local, national and international level, including multiple assignments at the Olympic and Commonwealth games, cricket tours, the Tour de France, America's Cup yachting, tennis and golf majors and world title fights.
Comments
comments
0 comments