---
Reading Time:
5
minutes
NEVER IN doubt? Not exactly, but it was all in the timing again for Australia's greatest racehorse, says Chief Writer RON REED:
ALTHOUGH she has never competed internationally, Winx is, surely, Australia's No 1 sports star. If not, who? There are no footballers from any code, cricketers, golfers, tennis players, cyclists, runners or boxers who hold the public in their thrall quite as much as the extraordinary racehorse now does. No sports event over the rest of the spring and the ensuing summer, not even the Melbourne Cup, is as eagerly anticipated as the Cox Plate at Moonee Valley on October 27, when she will attempt to win that great race for the fourth time, which no other horse has ever done.It will be theatre on a grand scale, even though that race, over 2040 metres, will take only a few seconds more than two minutes to run. Horse races are not five-day Test matches or two-hour games of football – and it's surprising how much can happen, or not happen, in such a short space of time. Sometimes it seems to take an eternity for a drama to unfold almost instantaneously. .
That's how it was at Flemington on Saturday when the field turned for home in the Group 1 Turnbull Stakes, with Winx running second last and on the fence, with a wall of horses', um, backsides threatening to block her for a run at the business end of the contest. Time stood still as the big crowd wondered what jockey Hugh Bowman was thinking in allowing her to get into this awkward situation and what was he going to do about it. Had he cocked it up – or did he know precisely what he was doing?
There were plenty of good judges ready to believe it was the former.Time didn't stand still for long. It sped up remarkably. With 400m to go, Bowman found a gap to push the horse into clear air – and what happened then had to be seen to be believed, which is so often the case with Winx. The mighty mare accelerated so hard that she ran the last 200m in 10.87 seconds, topping 70kph. Her final 800m had taken 43.98 seconds as against 50.82 seconds for the first four furlongs, a difference of about 40 lengths. Simply astonishing. It was the sort of killer punch that in human terms could be delivered only by the likes of one-time heavyweight boxer Mike Tyson, and it delivered her 28th consecutive win and 21st at the highest level, Group 1.
The whole thing took just 121 seconds and you didn't want to miss even one of them. It convinced you, again, that she is incapable of failure no matter who the opposition is or how the race is run – or, perhaps, what the jockey does.It is, of course, a waste of time wondering what sort of reception Bowman might have been given – a lynching party, perhaps — if they had not escaped the potential disaster back there on the fence, because they did. And made it look easy. He ended up returning to scale with his arms in the air in triumph, looking like a genius again, while trainer Chris Waller assured a scrum of dubious reporters that it had been a "picture-perfect" ride that should be shown at apprentice school. Within the hour, the criticism had died down almost entirely, replaced by a mix of awe and gratitude that the legend was still intact, that we had all been privileged to witness another chapter in what may eventually be regarded as the greatest Australian racing story ever told. And that includes Phar Lap.
There are till those who are unwilling to displace Big Red from his pedestal – now a glass case in the Melbourne museum – as the greatest horse of all, given that he competed over a greater range of distances, raced more often and did compete overseas. It's a debate that – unlike, say, Bradman among cricketers or Lindrum among billiards players – can probably never be settled definitively. But that's no reason not to have it – comparing great performers is half the fun of watching elite sport.Whether or not you're innately interested in racing, the Winx show has become superb entertainment. There is a sense of wonderment about it, an opportunity to participate in a real-life fairytale that probably won't present itself again. That's why 22,715 flocked to Flemington, a record for the Turnbull and about twice as many as is used to attract before Winx changed the dynamic last year. In perfect weather and with the impressive new grandstands facilities in use, the atmosphere was completely in keeping with the height of the spring carnival, even though this was actually just the start of it, really.
That was entirely to do with the star of the show, with kids and adults alike brandishing blue and white "Go Winx" flags.This is essentially a Sydney show, of course – the wonder horse, her owners, Bowman and Waller are all from there. But at this time of the year this is where they belong. That was illustrated in a couple of ways in the lead-up to Saturday's blockbuster. At the racing awards in Melbourne during the week, Winx was, naturally, unanimously voted Australian horse of the year – and also Victorian horse of the year. That second accolade was based on her racing south of the border only twice, in the Turnbull and the Cox Plate, and some wondered whether two visits was enough. But it wasn't an issue that got much traction – why wouldn't you "claim" a piece of her if you could?
And on Saturday, Waller was the author of an "exclusive" column in the Herald Sun – and of another "exclusive" one in The Age. It is safe to suggest, I think, that this would never have happened before with anyone from any sport, not simultaneously. That's how in demand he (and Bowman, who also had a column published a few days earlier) are on the coat-tails of the horse.In his measured, conservative Style, Waller performs this part of his role extremely well, always available to talk to the press, never getting ahead of himself or the horse, making sure he praises all of his many assistants and associates – in short, a public relations boon for racing.
Thinking about this, I couldn't help musing on what might have been if Winx had instead been trained by another Sydney identity of two decades ago, Jack Denham. Old Jack was the complete opposite of Waller, in that he had a hostile non-relationship with the media and refused to speak unless it was absolutely necessary. Even when he won the Melbourne Cup with Might and Power in 1997 it proved almost impossible to get a word out of him, even at the presentation. He was good at his job, Jack, but he had absolutely no sense of theatre.If he'd had Winx, they would have had to teach the horse to talk. Come to think of it, you probably wouldn't put it past her to do that if she wanted to.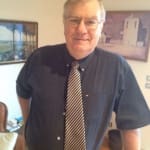 Author:
Ron Reed
RON REED has spent more than 50 years as a sportswriter or sports editor, mainly at The Herald and Herald Sun. He has covered just about every sport at local, national and international level, including multiple assignments at the Olympic and Commonwealth games, cricket tours, the Tour de France, America's Cup yachting, tennis and golf majors and world title fights.
Comments
comments
0 comments