---
Reading Time:
3
minutes
IT WAS the stuff of dreams. The dreams that Australian entrepreneur Gerry Ryan had of taking on the world's premier cycling events and landing a big one. Sportshounds cycling expert JOHN TREVORROW has been there from the start:
MITCHELTON Scott, the team that Gerry built, is the first Australian cycling team to win a Grand Tour – The Vuelta a Espana (Tour of Spain) albeit with a Brit, Simon Yates.
The Vuelta is one of three major races that are called Grand Tours. The other two being the Tour de France and Giro d'Italia. All three are raced over weeks and over demanding terrain. But the Vuelta is the toughest of all with the steepest mountains.
The Australian team owned by Melbourne entrepreneur Gerry Ryan, entered the sport in 2012 mainly as an opportunist squad with a focus on stage victories and one-day races. And they were quite successful winning most of the one-day classics and stages in all the grand tours. And although they did grab the leader's jersey for a short time in each Grand Tour they never looked like challenging over the full three weeks.
That all changed in 2016 when Orica GreenEdge, as it was then named, decided to change tack and attempt to win one of the big three.
After a some near-misses in recent years — podiums at the Giro and Vuelta, and another four top-10s — the team now has its first Grand Tour victory.
Simon Yates looked set to win the Giro d'Italia in May where he dominated for two weeks only to falter with three days to go. There was no such implosion for the 26-year-old at the Vuelta. Yates went on to win the race by one minute 46 seconds, ensuring British riders would win all three Grand Tours this season.
"I'm on a high. It's absolutely fantastic," Ryan said after the finish in Madrid. "To do something on the world scene when you've got teams with twice our budget and these riders have stayed with us because they're committed.
"I relate it to the Melbourne Storm who keep bringing in young kids, developing them and blending them with the older stars, along with the (Craig) Bellamy factor.
"That culture – we've tried to emulate that and it's working. That's what I'm most proud of … everyone from the bus driver to the mechanics, to the riders and to all the staff, it's very special."
Yates was ecstatic, "I came back from real heartbreak from the Giro d'Italia and I am still in shock that I've managed to pull it off and it will take a while for it to sink in just what we've accomplished."
When the heat was really on in this Vuelta in the final two days in the high mountains of Andorra, it was Yates who went on the attack and put his main rivals under extreme pressure. This was truly amazing as most thought Yates would only defend his small lead and that he would be still be traumatised by his collapse in the final days of the Giro.
"I like to race on my instinct and I hope that I continue to do so and achieve more big results like today at the Vuelta a Espana," he said.
Ryan said Yates's aggressive style had injected a freshness to the cycling scene.
"The Giro proved that if you keep attacking and attacking, you can also get where you want to go instead of defending and defending.
"I always say dare to dream. Surround yourself with people who have the same vision and I knew that one day we would win a Grand Tour," he said.
Ryan was also excited that he now has the World Tour number one male and female riders in his teams
"To have the No.1 World Tour male (Yates) and No.1 World Tour female (Annemiek van Vleuten) at the same time is really special."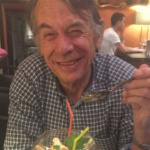 Author:
John Trevorrow
JOHN TREVORROW is a multiple Australian champion road racer and Olympian who has been doing media commentary at the Tour de France for more than 20 years.
Comments
comments
0 comments