---
Reading Time:
7
minutes
THE WEEK THAT WAS: They've been at each other's throats since the 19th century but two of Melbourne's oldest footy clubs are still locked in a fight that might be about to heat up even more, says Chief Writer RON REED:
THE OLD suburban Melbourne footy rivalries aren't necessarily as fierce or as important as they used to be before the national competition evolved into what it is today. But the one that has stood the test of time is Carlton and Collingwood – or has it? It didn't feel like it when they met at the MCG last Sunday afternoon with the great stadium little more than half full. With no other game in town, or anywhere else, just 53,706 turned up. And amazingly, Channel 7 couldn't be bothered televising it. That old cliché term, the "blockbuster," was nowhere to be heard. It might have had something to do with the unpopular twilight time zone, and the expectation that the struggling Blues – coming off a disastrous flop against Fremantle the previous week — would be unable to make a match of it with the rampant Magpies, wouldn't have helped either. But it just didn't feel right – in the good old days, they'd be close to locking the gates every time these two met, and Seven couldn't get enough of it.
Even when they met in the prime slot, Friday night, in round three, they pulled 68,548, which is a good crowd by most clubs' standards but nothing special by theirs. Still, they are the ninth and 16th best crowds of the season so it's not as if the rivalry has withered on the vine, only that it might have hit a flat spot. If so, stand by for it to fire up again next year.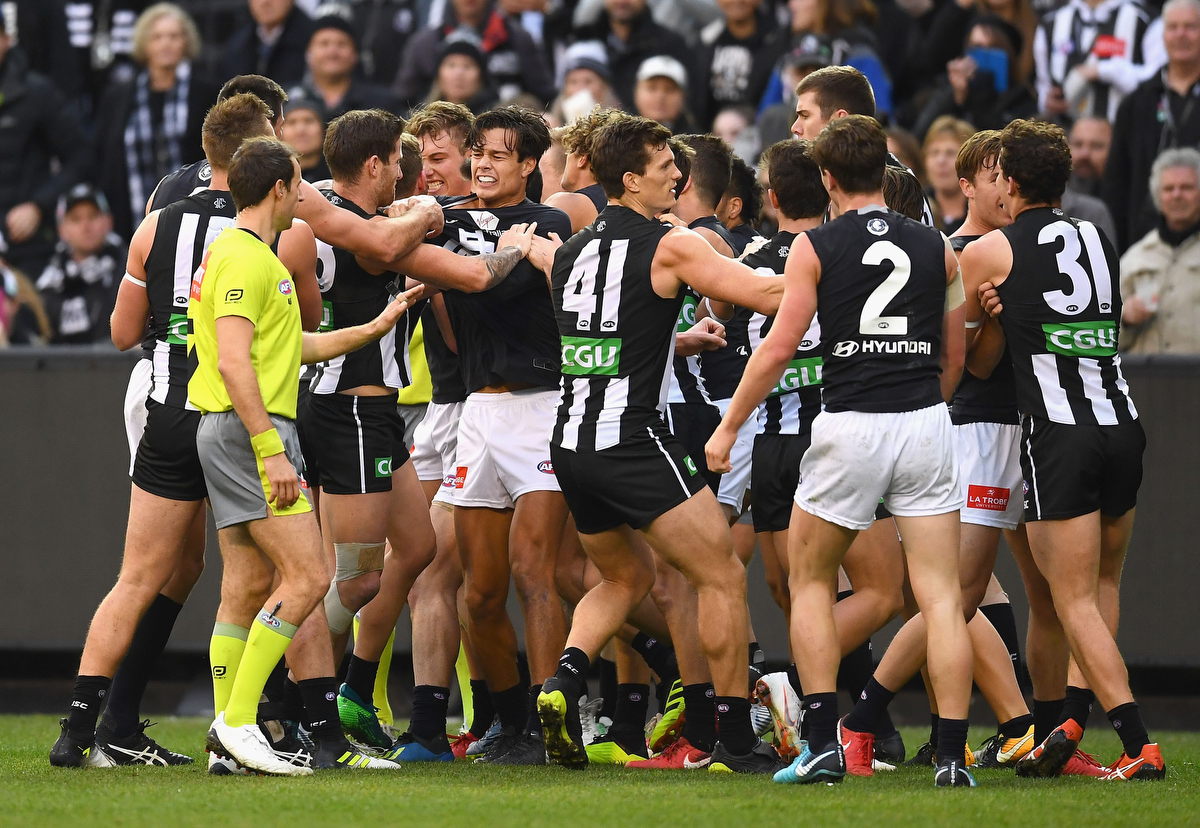 That's because, for Carlton fans, the unthinkable is poised to happen. While the relevant stat is not readily available, for as long as most people – certainly this old Blues fan – can remember, Carlton have always held the overall bragging rights. And still do – but it's now too close for comfort. This season's two encounters have taken the total to 256, with the Blues having won 127 to the Magpies' 125, with four draws. So next year's two matches – and there will always be two every year – means Collingwood will draw level unless the Bluebaggers pull their fingers out, and if they happened to play a final (we wish!) the turnaround could be complete.
Of course, the feeling at Princes Park will be that this must not be allowed to occur in any circumstances – so there's some live motivation right there. Another catastrophe from the Blues' perspective is already out of their hands. They currently share the title for most premierships, 16, with Essendon – with Collingwood just one behind, on 15, and well-placed to catch up this coming September. However, that still won't hide the fact that they have met six times in Grand Finals, Collingwood winning the first one in 1910 and Carlton the other five, including the famous comeback from 44 points behind at half-time in 1970 and the infamous Wayne Harmes boundary line play in the dying minutes of 1979. That was the match when colourful Blues president George Harris rubbed salt into the black and white army's wounds by declaring: "What's better than beating Collingwood by 10 goals? Beating them by five points!"
It was the 1910 Granny that really created the hostility, according to Wikipedia, which says the clubs had been on friendly terms since becoming two of the eight original members of the VFL in 1897, Collingwood winning their first encounter. Early in the fourth quarter of the 1910 playoff, while Collingwood was leading, a huge brawl broke out involving at least 30 players and officials. Experienced umpire Jack Elder said it was the worst fight he ever saw. Collingwood won by 14 points and one player from each side was suspended for 18 months and another one from each for 12 months, although one of the culprits was cleared on appeal when a team-mate claimed to be the guilty party. Carlton vowed to never forget that day and took revenge the next time the teams met with the flag at stake in 1915. They won again in 1938, 1970, 1979 and 1981, and overall have now won 14 of 22 finals matches against the Magpies – the last of which was in 1988, three decades ago.
Even the coaches and players seem to steer well clear of each other. Only Mick Malthouse has coached both teams and in more than 120 years of combat only 21 players have crossed from one to the other – and most of them did not last long at their new homes. Currently, Dale Thomas, now in his fifth season at Carlton after eight at Collingwood, is proving to be one of the few exceptions. He seems to have fully transitioned, having copped a week for whacking one opponent Levi Greenwood on Sunday, harassing another, Mason Cox, and even giving Magpie coach Nathan Buckley a gobful. So no, the rivalry is not quite dead just yet.

IF THERE was an award for the international sportsman who shows the most class on the field but the least off it, you would scarcely need to count the votes – take another bow Diego Maradona. Certainly not for the first time, the legendary Argentinian soccer player, now 57, has confirmed his credentials for this dubious distinction at the World Cup over the past week. He has made an apparently racist gesture at South Korean fans, stretching his eyes while looking at them, has defiantly smoked a big cigar at a tobacco-free venue, sworn at Nigerian fans while giving them a double-handed "bird," been taken to hospital after collapsing in a hospitality venue after reportedly going on a wine-drinking binge, and seen waving a large flag bearing his own image. He has appeared to be drunk most of the time. Amazingly, he is being paid for this.
FIFA are paying him (and others) $18,000 per game, plus all expenses, to act as an official ambassador for the game. In other words he is being presented as a role model. He might have been that at his peak as a player during the eighties, where he was widely considered to be the GOAT – greatest of all time, even ahead of Brazilian legend Pele. In 1986 he propelled Argentina to victory in the World Cup, not least through his infamous "hand of God" goal against England in the semi-final, followed by a 60m dribble that resulted in what many still believe to be the best goal in the great tournament's history. But since then the "Golden Boy", as he was and still is known in his football-mad homeland, has been a cocaine addict, an alcoholic, hugely obese and a loose cannon whose lurid behaviour everywhere he goes continues to be tolerated because he is such a hero at home.
This was illustrated perfectly only nine years ago when Argentina – with Maradona as coach — was struggling to qualify for the 2010 World Cup, prompting suggestions that he should be sacked from the $1.5m job. "If Jesus Christ returned, or the Virgin Mary, I'd accept that. Otherwise, no," said team manager Carlos Bilardo. That was despite the team's training sessions starting anytime between noon and night depending on when the coach could be bothered getting out of bed. "With his nocturnal interests, Diego doesn't do mornings," one newspaper said. "I'm Maradona and I can do what I want," the great man retorted. Nothing seems to have changed.

WHEN YOU get a footy match between the two top teams you are entitled to expect something special – and that's what Richmond and the Sydney Swans served up on Thursday night. The general standard of footy from both sides was exceptional, but the reigning premiers were even more outstanding given they lost a key player, Reece Conca, in the first few minutes, coped with several other injuries, resisted a powerful challenge in the third quarter, didn't have the luxury of their MCG fortress, did without Dusty Martin's usual high impact on proceedings – and still won by 26 points. Of course, any team that can call on a key forward to take 16 marks and dominate the entire forward line, as Jack Riewoldt did, is never going to lose. Given his talent, consistency and experience, as well as his ability and willingness to represent the club in the media articulately and intelligently, big Jack is the Tigers' most important all-round asset. If they, and he, can continue to reproduce this form, they will be Premiers again.

SPORTSMAN OF THE WEEK:
Basketballer BEN SIMMONS' fledgling career took another huge leap ahead when he was named the NBA rookie of the year, more evidence that he is on track to become Australia's No 1 international sportsman.
WINNER OF THE WEEK:
The late PETER NORMAN has been dead for 11 years now, but the Australian Olympic Committee presented its Order of Merit to his family in Melbourne, long-overdue recognition of the magnitude of his brave gesture in supporting Americans Tommie Smith and John Carlos in their human rights protest at the 1968 Games, as well as his own significant career as a sprinter.
LOSER OF THE WEEK:
Hello again, Nick Kyrgios, who keeps on finding new ways to offend people who would prefer to be his fans, this time by simulating a sex act with a drink bottle while on centre court in London, and on live TV. What a wanker!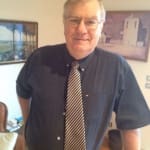 Author:
Ron Reed
RON REED has spent more than 50 years as a sportswriter or sports editor, mainly at The Herald and Herald Sun. He has covered just about every sport at local, national and international level, including multiple assignments at the Olympic and Commonwealth games, cricket tours, the Tour de France, America's Cup yachting, tennis and golf majors and world title fights.
Comments
comments
0 comments