---
Reading Time:
4
minutes
WHAT can we expect from footy when it takes place at Marvel Stadium? TERRY BROWN peers into the future and sees a game-changing experience we may all come to dread:
THE Marvel Universe is full of mutant freaks and scheming maniacs. Most only grudgingly tolerate mankind. All of them look down on us, except maybe Mole Man?
It makes perfect sense the footy gods here would get onboard with Marvel.
Despite all the deranged laughter and "puny humans" stuff – mostly from the AFL – Docklands naming rights negotiations have successfully concluded with an eight-year deal and an insane cackle.
Marvel will get to hang its shingle on Melbourne's least loved stadium.
It will be the fourth crappy name in the ground's bleak and uninspiring history.
Colonial was there in lights, well before they got publicity free from the Banking Royal Commission. Telstra had the naming rights, then typically dropped out.
Now Etihad has pulled the ripcord.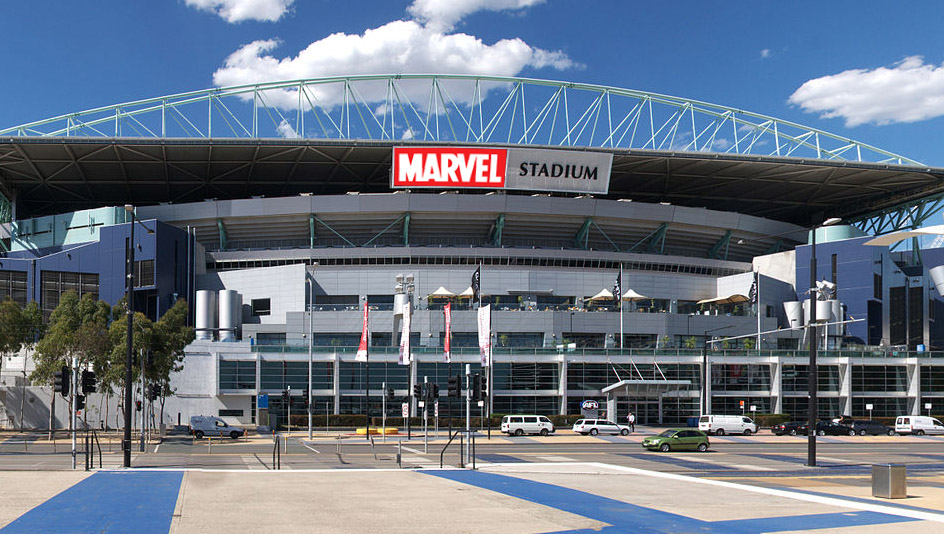 In the AFL Universe, though, everything has to be licensed and trademarked. Cattle ranches have less branding and a lot, lot less BS.
For the AFL, a sign-less stadium is a sign of the apocalypse.
They needed rescuing and, as terrified humans living in fictitious universes have long done, they went the Marvel route.
So, footy is in safe hands, pincers, talons or whatever, right? Hardly. What universe are you living in?
Because with Marvel, there is always an evil scheme. Every goddam time.
Melbourne Stadiums handled the deal while Gill McLachlan was elsewhere stroking his cat, cloning Cazaly, writing Richmond a better song and pushing footy-shaped tokens around a map of the world, except Tassie.
The Melbourne Stadiums chief, Michael "the Goblin" Green, immediately threatened football fans with "a new era of entertainment".
He warned the envelope was about to be pushed, like one of Dr Doom's buttons.
"Mwahaha!" he almost certainly added.
The Goblin let slip that under the Marvel alliance, fan engagement would be prioritised – and no good can come of that.
The engagements the league likes are as phony as the ones on Married at First Sight. It is more correctly fan assailment.
Nobody asked for AFLX, twilight Sunday games, Shanghai showdowns or Zooper goals. Anyone who goes to the ground for the non-stop, inspirational classic hits, kiss cam or the roving microphone twerps should be banished to the Phantom Zone for eternity.
The game has already become a raucous, sponsored, puke bag in the pursuit of engagement. What new schemes are afoot?
It is hard to be nostalgic for the Etihad name, but at least they didn't change footy in their image. Umpires didn't wear fezzes. Oxygen masks were not installed in the nosebleed seats. Food was not redesigned to be bland and rubbery because it was always like that.
Marvel, though, are marketers so thorough they have had to create a multiverse to fit in all the product.
And they are just a wormhole popped out of the $240 billion Disney megalith, which is bigger than 140 actual countries.
Marvel will try to re-purpose footy. Why else would they spend millions on a sign?
The Goblin says the Docklands Stadium atmosphere will be taken to a new level.
Most fans don't need a new level because the nosebleed seats laughingly branded "best available" are quite high enough. Their only saving grace is you can't see the entertainment.
Probably Mr. Green means that more distractions will be introduced to accommodate corporates like the AFL, who don't like footy spoiling the spectacle.
He has promised memorable experiences, the exact ethos that gave us Meatloaf's unforgettable or forgivable set across town at The G.
Disney does that stuff expertly at its Anaheim Magic Kingdom.
Who could forget the fatal Roger Rabbit Car Toon rollover, or the immersive experience of that cleaner dragged to his death under the It's a Small World boat?
The 15 hospitalised by the well-named California Screamin' ride crash in 2005 sure remember their experience, and the guy who got super-piratey after severing a hand on the Pirates of the Caribbean ride. Aaarrrh!
In 2011 Disney settled a lawsuit from a customer who had her breasts groped by a Donald Duck. Betcha she remembers.
This, of course, is nit-picking – which can be memorable too. Ask any of the Donalds, Goofies and such infected by public lice in the (briefly?) Disney-provided undies era of the early 2000s.
While it is unlikely Marvel Stadium will immediately reach such a new level, other outrages are more likely.
At Disneyland, the It's a Small World attraction reportedly plays that cloying song 1,200 times a day. Don't expect any silence at Docklands until 2026.
And don't expect tradition to be sacred.
Americans sure love their flags and Main Street in Disneyland has more than a Trump rally. They also hate to see them disrespected or mistreated.
Because of all that, Disney mostly uses doctored US flags there – wrong stars, bogus stripes – to sidestep protocols for the real US flag. Mainly so they don't have to be lowered every night.
If you can get away with that on the US flag, in the US, anything is possible.
Umps dressed as Iron Man? Runners channeling the Flash? Hulking security staff?
You can bet they are scheming their arc-reactor hearts out, wracking their trademarked quantum brains. Green Goblin is on the case.
"We look forward to delivering a truly game-changing experience," he says ominously.
Someone save us.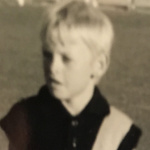 Author:
Terry Brown
TERRY BROWN worked for many years as a general reporter, columnist and colour writer at The Sun and Herald Sun. He is now an academic lecturing in journalism and is an unpublished novelist.
Comments
comments
0 comments