---
Reading Time:
4
minutes
SEVERAL drivers could be behind the wheel of different cars when they line up for the first race of Formula One next year. PETER COSTER reports:
THE SILLY season has arrived early in Formula One, with not only Daniel Ricciardo certain to drive for Mercedes or Ferrari, but former double world champion Fernando Alonso also on the move.
Ricciardo and Alonso could stay at Red Bull and McLaren Honda, but that depends on their cars matching the two grid frontrunners.
It could happen with Red Bull but less likely at McLaren, where engine manufacturer Honda is struggling to give McLaren the speed it needs to put its former double-world champion on the front row.
Ricciardo has shown the Renault-powered Red Bull can challenge Mercedes and Ferrari, just not when he needed it in the Spanish Grand Prix at the Catalunya circuit near Barcelona.
The Australian with the toothy grin, and the ferocity of the honey badger he has painted on his helmet, was at a loss to explain why his car couldn't match the pace of the Mercedes and Ferraris at the start of the race, but able to break the lap record four times in the latter stages.
"There were moments where the car was really fast, but it was just too difficult to get it every lap," Ricciardo said after the race.
"There is potential, but it's just hard to extract consistently at the moment; so we have some more to learn with this new package."
Ricciardo spun on cold tyres, which was missed on television and the mistake saw him finish 50 seconds behind winner Lewis Hamilton in his Mercedes, and 25 seconds behind Red Bull teammate Max Verstappen, who finished third behind second-placed Mercedes driver Valtteri Bottas.
This needs to be seen in context. Verstappen and Ricciardo crashed out of the Azerbaijan Grand Prix, when Ricciardo ran into the back of Verstappen. The 20-year-old moved right and then left when Ricciardo tried to pass.
It was 70 per cent Verstappen's fault, said former triple-world champion Niki Lauda, who is non-executive chairman at Mercedes, where Ricciardo could find a seat next year after his contract with Red Bull runs out.
At Catalunya, it was Verstappen who ran into the back of Williams driver Lance Stroll, damaging his front wing but not enough to stop him taking third place.
Ricciardo said he was looking forward to the next race in the championship at Monaco where he expects to do better.
"It was certainly a strange race," Ricciardo said after the Spanish GP.
Verstappen is staying at Red Bull after signing a three-year contract, but Ricciardo is looking for the car that will give him a world championship and Mercedes is the front runner with the possibility of four-times world champion Lewis Hamilton retiring and Bottas not having his contract renewed at the end of the season.
At Ferrari, former world champion Kimi Raikkonen may decide to retire and Sebastian Vettel is also rumored to be considering a change.
But, remember, it's an early silly season and the four-time world champion signed only last year for three years at US$50 million a year.
Fernando Alonso is also in the mix if he decides Honda just can't get McLaren on to the front of the grid.
Ricciardo is faced with the same sort of problem at Red Bull that frustrated another Australian driver in Mark Webber when he drove for Red Bull.
Sebastian Vettel was the young gun and deliberately drove into the side of Webber's car when the Australian was trying to pass him in the Turkish Grand Prix in 2010.
That probably cost him the world championship.
Vettel's misdemeanours and felonies were always overlooked by his supporters at Red Bull and Ricciardo is coming to the conclusion that Verstappen is being looked at in the same indulgent way.
Ricciardo has won six GPs at Red Bull
and should have won more, based on his talent as a driver.
Other drivers admit Ricciardo is the supreme overtaker and the last of the late brakers, which will see him in demand as controversial changes are made in F1 from 2021.
Ross Brawn, the former head of Team Brawn, which won the constructor's championship and the world driver's championship with Jenson Button before being taken over by Mercedes, is now consultant to Liberty Media, which has taken over F1 from Bernie Ecclestone.
Brawn and Liberty Media F1 boss Chase Carey want a more competitive Formula One, following Mercedes and Ferrari domination over the past four seasons.
This means slowing the cars down, which has infuriated Ferrari boss Sergio Marchionne.
The DNA of Formula One is the ability of manufacturers such as Ferrari to build the best cars with the best engines.
Any possibility of F1 turning into a version of Indycar racing with pea-in-a-pod engines to provide closer racing is anathema to the Scuderia.
It could mean a rival Grand Prix series starting with Ferrari joined by Mercedes, although neither team wants that.
Formula One has survived such indignities as the "halo", better described as the "thong", which hangs over the driver like the straps on flip-flops.
The idea is to protect the drivers, but whether they can quickly clamber out in case of a fire is a serious concern.
It takes about three seconds longer. Faced with this, the FIA has simply extended the mandatory time for a driver to escape from a burning car.
The sport's governing body seems to be under the impression that a fire will wait, an attitude not so surprising given the FIA's overbearing arrogance.
All of this contributes to a formula in transition, not only with drivers shuffling between teams, but manufacturers questioning a sport that demands a budget of at least $150 million a year to participate.
Mercedes and Ferrari have budgets closer to $500 million.
Putting a cap on spending is another restriction likely to be placed on teams, but one that is more acceptable than demanding engines to be built to a more pedestrian configuration.
Chase Carey, whose handlebar moustaches make him look as if he has just stepped out of a Spitfire in the Battle of Britain, wants to put entertainment back into F1. This requires more than just winging it.
The budget cap is the best way to bring teams and their cars and drivers closer together.
Trying to slow down the cars will drive away the spectators.
Enzo Ferrari must be spinning his wheels where they buried him at Modena. F1 without his "bloody red cars" (as they were so jealously described by Vanwall owner Tony Vandervell) would be a body without a heart.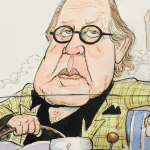 Author:
Peter Coster
PETER COSTER is a former editor and foreign correspondent who has covered a range of international sports, including world championship fights and the Olympic Games.
Comments
comments
0 comments