---
Reading Time:
5
minutes
DANIEL Ricciardo had every reason to feel frustrated when his Red Bull team-mate tied him up in a tangle of tyres. PETER COSTER reports:
THERE WERE two races in Azerbaijan. Lewis Hamilton won the fourth Grand Prix of the season, but the real race was between Daniel Ricciardo and Max Verstappen, before they crashed out with 11 laps to go.
Ricciardo's grin was gone and Max Verstappen looked as if he had only narrowly escaped the executioner's axe.
The two Red Bull drivers jousted along the castle walls of the ancient city on the Caspian Sea, banging wheels amid puffs of smoke until the crash that put them out of the race.
Both drivers were reprimanded by the stewards, but there can be no doubt that the final coming together was the impetuous Dutchman's fault.
It was the fourth time Ricciardo had tried to pass Verstappen, only to be forced to give way to avoid a crash when he clearly had the nose of his car in front.
Verstappen has caused more collisions than any other driver on the Formula One circuit and had Ferrari's Sebastian Vettel physically in his face when he took him off the track in a moment of madness at the previous race in Shanghai.
At Baku, the second-longest race on the F1 calendar behind Spa Francorchamps, the race between Ricciardo and Verstappen started with Mad Max forcing his way past Ricciardo on the first lap. That was fair but then came the wheel banging as Ricciardo tried to pass, only to be blocked when Verstappen should have given way.
The race-ending tangle was inevitable not only to anyone watching the race, but to drivers close enough to see the developing mayhem.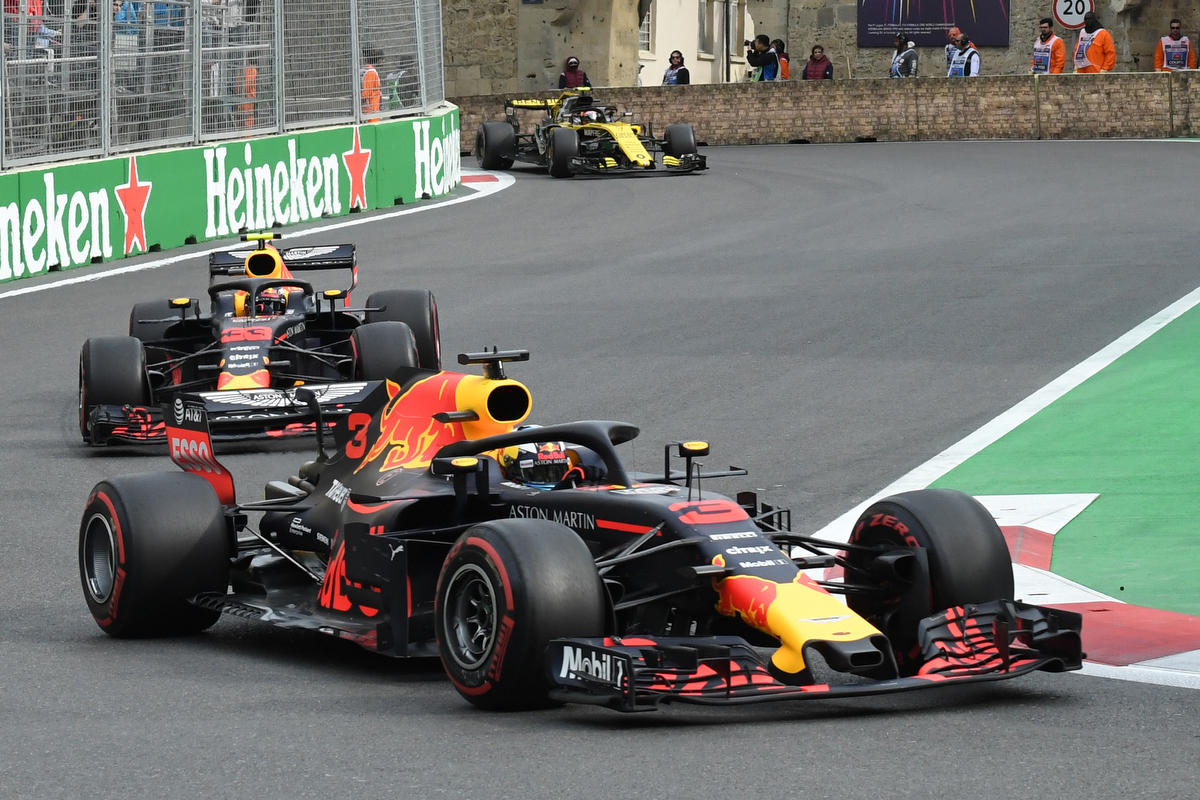 It came in a moment of locked brakes and exploding body parts as Ricciardo, the last of the late brakers, swept up behind Verstappen.
The Australian driver jinked right, as did Verstappen.
Ricciardo then moved left but Verstappen shut the door. Ricciardo locked his wheels in a cloud of smoke before barging into the back of Verstappen's Red Bull as he tried to pull back.
Both cars slid to a halt and the safety car came out as marshals ran to clear the debris.
Mercedes driver Valtteri Bottas would have won the race had he not picked up a puncture only three laps from the finish from a piece of metal still lying on the track.
Asked how he would cope with the loss of a race he should have won, the Finnish driver said grimly it would take "10 beers".  More likely it will take considerably more than that.
Mercedes non-executive chairman Niki Lauda blamed Verstappen for the crash that robbed Bottas but gifted the race to Lewis Hamilton.
It is Verstappen's third collision in as many races with Lewis Hamilton, Sebastian Vettel and now Ricciardo.
The stewards ruled that Verstappen moved twice to defend his position when only one move is allowed.
Ricciardo said he left it "too late" to overtake on the left but that was because Verstappen blocked his move to the right and then shifted to the left.
"It is 70 per cent Verstappen, and 30 per cent Ricciardo," Lauda, a former triple world champion, said.  "If you move on him all the time where can the poor guy (Ricciardo) go?"
Lauda sympathised with the Red Bull managers trying to sort out their drivers' behaviour. "I would go home and cry," he said, "It is a disaster. I would bring them both into the office and tell them how much less they will get paid for the damage they have done."
Red Bull team principal Christian Horner has ordered both drivers to apologise to Red Bull's 800 employees at their British-based Milton Keynes headquarters for their "selfish" driving.
Poor diddums, one might say. Verstappen and Ricciardo were disputing fourth place and one of them, most likely Ricciardo, would have finished on the podium.
As it was Hamilton found himself the winner after a race he admitted he should not have won.
Nevertheless, it was "real racing" rather than the funeral procession we have seen in the years of Mercedes dominance.
Bur what do we do about Max? Rather what does Red Bull do about Max and very little is the likely answer to that.
The crash was a reminder of the moment in the Turkish Grand Prix in 2010 when Sebastian Vettel drove into the side of a passing Mark Webber.
It was deliberate and robbed Webber of victory and possibly the world championship he was leading that year.
Ricciardo replaced Webber in the Red Bull team when the Australian moved to endurance racing.
Vettel then moved to Ferrari after a winless year in which Ricciardo won three Grands Prix.
In Azerbaijan, Vettel looked a winner after starting on pole. Late in the race, he locked up as he made a late lunge to pass Hamilton.
At least, Force India was happy amid the long faces. Sergio Perez finished third behind Kimi Raikkonen.
The Red Bull crash has renewed speculation about Ricciardo's potential move to either Mercedes or Ferrari when his contract runs out at the end of this season.
Does Red Bull still want Ricciardo or, more significantly, does Ricciardo still want Red Bull?
Bottas and Raikkonen will also be out of contract at Mercedes and Ferrari this year and both teams are interested in Ricciardo.
The problem for the Australian is that he will not play second banana to either Hamilton or Vettel and says he wants "clarity'' if he were to leave Red Bull.
Clarity means a contract that makes it clear he is an equal rather than a tail gunner.
Red Bull want to keep Ricciardo but they see Verstappen as the future of the team.
He has signed a three-year contract and is still only 20 years old.
The taciturn Helmut Marko didn't want to "apportion blame" after the race.
But the blame is with Verstappen, as Niki Lauda made clear.
Red Bull does not impose team orders on their drivers, which would hurt Verstappen rather than the more experienced and cool-headed Ricciardo.
Marko, who heads the Red Bull driver development program, says team orders would be against Red Bull's "racing philosophy".
Red Bull allows it drivers to race each other, which has not been the case at Ferrari when Raikkonen was used as a road block for Hamilton at the Chinese Grand Prix.
Hamilton is not easily roused but called Verstappen a "dickhead" in the drivers' room after they collided in the Bahrain Grand Prix
Vettel was quick to say Hamilton was "full of adrenaline" after he had just got out of his car.
But it was Vettel's turn to be incensed at the next race at Shanghai.
Mad Max needs some fatherly advice but the best the mild-mannered Christian Horner has come up with is that both drivers "are in the doghouse".
Better to "sic" the team's big dog on Verstappen. Mad Max will listen to Marko if the grumpiest man on pit lane will use tough love instead of finding excuses.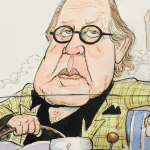 Author:
Peter Coster
PETER COSTER is a former editor and foreign correspondent who has covered a range of international sports, including world championship fights and the Olympic Games.
Comments
comments
0 comments