---
Reading Time:
3
minutes
OUT OF the wreck of Australia's derailed South African campaign could come some valuable lessons on and off the field after Tim Paine's patched up top order was blown away on Saturday in Johannesburg. KEN PIESSE reports:
THERE JUST might be a silver lining behind the most shameful fortnight in Australian cricket history. Having cheated and lost inside four days in Cape Town, the Aussies are again being blown away here in Johannesburg. The match could finish by Sunday, inside three days, should South Africa enforce the follow on.
So hit or miss was the Australian top order yesterday that the stumps scoreline of 6/110 was a reasonable effort in the face of the hottest attack in the world, led by the game's new champion Kagiso Rabada.
Australia's much discussed depth is being stretched to the limit and a top three ranking among the best Test teams is totally flattering.
On day two at the famed and explosive Bullring, the next three best Australian batsmen chosen to replace the Disgraced Three batted for a total of 66 minutes. Combined they made just 12 runs… Joe Burns 4, Matt Renshaw 8 and Peter Handscomb 0.
It was a reality check the team has to have if administrators blinkered by the King Midas returns of Twenty20 cricket are to seriously re-address their priorities.
Today at Wanderers, the South Africans seemed unplayable. The was a degree of desperation and ineptitude among the Aussie top six. Granted the team had to field for almost five full sessions and were dog tired physically and mentally. But that's Test cricket for you. It's a tough forum, and so it needs to be, with only the nation's most talented getting a game.
For me, pivotal in the nightmarish series ending, conveniently backgrounded until now given the gold brick success of the Big Bash, is the season's schedule.
Australia's elite cricketers simply do not play enough red ball cricket. The prime examples in this game so far are inclusions Chadd Sayers and Peter Handscomb. For Sayers it was only his second first class matches in almost four months. And Handscomb has played just three in the last 15 weeks, including his last at Benoni in late February where he had a double failure.
If that is adequate preparation for a Test match, I'll sailboard home from the Cape.
The trouble stems from the Golden Goose attitudes of the Australian cricket hierarchy, perched in ever increasing numbers at Jolimont. They keep the prestige holiday Tests in place in Melbourne and Sydney but for the rest of the time, the total emphasis is on a brand of cricket many of us believe is totally meaningless.
How do our best fringe players stay in nick when suddenly in mid-season they are told to go out and smash the ball no matter what, instead of playing representative cricket for their state.
I thought Sayers was magnificent on his debut, sending down 35 overs, almost all uphill and while his speed dipped he never stopped bowling good lines. Given his lack of match practice his was a most impressive start.
Poor Pete Handscomb. Coming in at 2-34 with the Saturday afternoon crowd baying for blood, he played the first ball he received on to his leg stump. He was a victim of the system, not just Vernon Philander's wizardry.
Handscomb simply wasn't ready for the challenge thrust upon him as this is just a five-match tour, with a three-dayer at the start and four consecutive Tests, virtually back to back.
In the only week off the team had, leading into Black Saturday in Cape Town, no game was allocated. Instead the player partners and families arrived for some "r and r" in South Africa's holiday playground.
I understand how times have changed and how on-tour itineraries can no longer include the many matches of yesteryear, but had Handscomb, for example, had more centre wicket work, maybe he wouldn't have made a first baller.
The administrators can't have it both ways: the money from all this white ball flippancy and a consistent high achieving Test team.
If the culture in the actual team is a-changing, so must the emphasis towards Test cricket be reborn.
It was embarrassing to see the Aussies slide so quickly in the extended final session here. Only some heady take-them-on straight hitting from Usman Khawaja, lucky to be playing, and Shaun Marsh retrieved a situation lurching totally out of control.
Three of the top six played shots not befitting their status. Shaun Marsh added just one to his score after being missed being stumped when a bee stung Quinton de Kock just as he was about to take the ball and break the wicket with Marsh a yard out of his crease.
It could only happen in cricket.
A prediction? Australia to follow on and the match, blissfully to be over by five o'clock.
South Africa's winning margin? Heaps.
SCORES
South Africa 488 (Markram 152, Bavuma 95 no, Maharaj 45. Cummins 5/83, Sayers 2/78, Lyon 3/182).
Australia 6/110 (Khawaja 53. Philander 3/17.)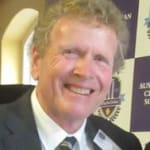 KEN PIESSE has covered cricket and football for more than 30 years in Melbourne. He has written, edited and published more than 70 sports books. His latest book, Favourite Cricket Yarns, is available from www.cricketbooks.com.au
Comments
comments
0 comments