---
Reading Time:
3
minutes
THIS is the moment that the footy commentators relish or dread: when the infamous Boot in Mouth Award begins its countdown for Season 2018. The award's Founder, Sole Judge, One-Man Tribunal and Appeals Board, LAWRENCE MONEY, bounces the ball:
WHEN BRAD "Johnno" Johnson told Fox Footy that Melbourne's Billy Stretch had "found open space by himself" during a JLT against North Melbourne, I knew that fair-dinkum footy was back in town.
Interesting stuff, open space. Years of observing the great game has taught me that open space is rarely populated by other players, which is undoubtedly the reason why so many players seek it out. Paradoxically, this process causes the space to disappear which is why so many players look surprised when they get tackled out there.
(Technically speaking, the term "open space" is a tautology anyhow because space is by definition "open" — but let's move on.)
One player who ran into the open — and into space — that day was young Demon Alex Neal-Bullen who, along with Shinboner opponents Luke Davies-Uniacke and Ed Vickers-Willis, posed a particular challenge to the commentary box. "Have there ever been more hyphens in a game?" marvelled Anthony Hudson, opening a refreshing new line of inquiry.

"Melbourne would have to be a chance," said Johnno whose thinking seemed rooted in a bygone era when Demon fans like Sir Archibald Smitheringon-Fawcett had leather patches on the elbows of their smoking jackets – and brandy in their thermos flasks to toast the annual premiership.
A list of past and present hyphenated names seems to be one of the few AFL stats not readily available – but I notice the list at Carlton this season includes Jesse Glass-McCasker and Sam Petrevski-Seton. Sadly, 2014 Blues rookie Dillon Viojo-Rainbow was dropped without playing a senior game. I was hoping he might debut one glorious afternoon during a sun shower.
But it sure is good to have the boys (and the odd sheila) back at the microphone after a stellar 2017 season. Dwayne Russell took the Boot In Mouth Award last year for his magnificent analysis of the likely final eight. "Exciting times for Melbourne and St Kilda. Both teams can make the eight but both teams can't make the eight." That confused both teams so much that neither made the eight. Frankly, as a Dees man, I'm hoping Mr Russell will put the mockers on someone else come this September.
So, who looks a contender for the cherished Boot award in the 2018 season?  With the Tigers unfurling the 2017 premiership flag, it would seem fitting if Tiger great Matthew "Richo" Richardson took the honours. He was certainly in the running last season with such observations as:
 "I've really liked Pickett tonight, really clean below his knees."
"It was a free kick, the umpire got it right, just the wrong call."
"He was impeded and a forward always put a little bit of mayonnaise on it… about five dessert spoons' worth."
Richo carries on a fine tradition of Richmond champs who go on to star at the microphone. You have Rex "Yibbidy Yibbidah" Hunt ("There's Billy Picken with his socks down and his teeth hanging out"), Kevin "Hungry" Bartlett ("They haven't got enough aggro-ness") and "T-shirt Tommy" Hafey ("He's only six-feet-one but he plays like six-feet-three").
And, of course, the most illustrious commentator of all, "Captain Blood" Jack Dyer, the man who discovered spaghetti marijuana and the Black Hole of Dakota – and was first to twig to the fact that Mark Lee's long arms resembled giant testicles.
Let the games begin.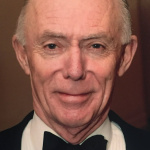 Lawrence Money has twice been named Victoria's best newspaper columnist by the Melbourne Press Club. He wrote columns for 37 years on the Melbourne Herald, Sunday Age and daily Age — and in Royalauto and Your Sport magazines — before retiring in 2016 after a 50-year career in journalism.
He still treads the speaking circuit, does radio gigs, tweets on @lozzacash and chases a long-gone 13 golf handicap. He clings to the eternal hope that the Melbourne Demons will once again win a flag.
Comments
comments
0 comments