---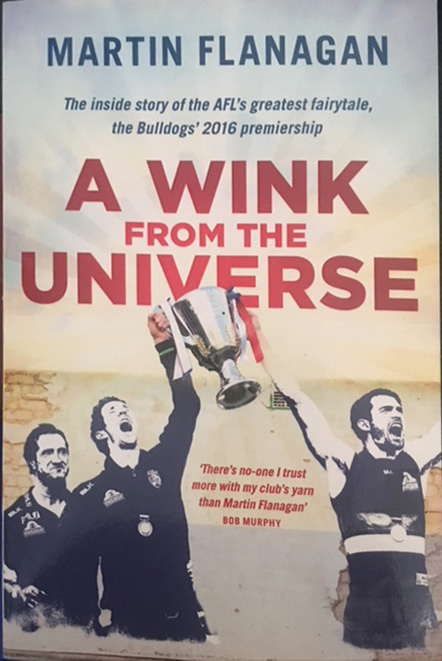 Reading Time:
6
minutes
FROM INSIDE the kennel, the definitive story of possibly the most uplifting AFL premiership ever– and its euphoric aftermath – has finally been told, writes RON REED:
WHO ENJOYED the historic Western Bulldogs 2016 premiership – their first since 1954 – more, the players or the supporters? It's an unanswerable – and probably quite pointless – question because the battered and bruised old footy club from what was once perceived to be the wrong side of the tracks (and possibly still is) is such a close-knit family that when the great day finally arrived, to widespread disbelief both within and beyond, the euphoria was unconfined – one in, all in. Everybody who had ever bled red, white and blue – on or off the field — had a story about how much it meant to them, and why.
Now, 18 months after the event, many of them have been told for the first time. The vehicle for this is an excellent new book, A WINK FROM THE UNIVERSE (Penguin), by prolific author and recently-retired newspaper columnist Martin Flanagan, who has provided the most comprehensive explanation yet of why this particular triumph was so special, so emotional, so improbable, so unexpected by the entire footy community, not just the long-suffering Bulldogs. So awash with goodwill from far and wide.
It has been a fairly long time coming – the book, that is. About 18 months, which is little more than the blink of an eye compared to the wait for the second flag, which stretched to more than six decades, longer than most of the club's contemporary supporters have been alive. What the book also has in common with the triumph is that neither would have happened without the persuasive, creative input of the team's coach, Luke Beveridge. Flanagan says that when he was first asked to write the book, in late 2016 with the Grand Final receding into history, he told Beveridge he couldn't because he was too busy with work and family. "Five minutes later, I was (writing it,)" he says. Beveridge had hit him between the eyes with a simple truth that any writer would find irresistible: "It's a great story, isn't it?" The best footy story of its sort, maybe ever, Flanagan realised. And it would still be a great story no matter how long it took to tell.
The too-busy writer then got really busy: he interviewed every player at length as well many of their families, past players, staff and supporters, he watched replays of every match for the entire season and he absorbed the copious notes that Beveridge had kept from before and after each performance, all now for publication. Flanagan already had a good feel for the club, having embedded himself in it about 20 years ago for an earlier book. He was also good mates with the folk-hero captain Bob Murphy, an accomplished and insightful writer himself. Empowered by the candid collaboration of Beveridge, Murphy and everyone else at the club, and employing his grasp of Melbourne's cultural and social diversity, his acute ear for anecdote and eye for detail, his diligent research and his highly personal, opinionated and immersive writing style, Flanagan has come up with a masterpiece of the "inside story" genre that has become so popular in sports publishing.
Within the 324 pages, you learn a lot about the personalities of each player – they (we) are an odd bunch, Beveridge concludes after it is all over – and, for the record, every game is examined for what was done well and what wasn't, each accompanied by the coach's sometimes trenchant observations. Hard-core Bulldog fans will lap up every word of that, others maybe not so much. For the rest of us, the essence of the tale is more the tidal wave of emotion that Flanagan captures so expertly as the realisation dawns as the finals get under way that a miracle just might be in the making, four weeks of exquisite uncertainty, anticipation and silent dread that the footy fates will somehow conspire against them, just as they always have year after barren year.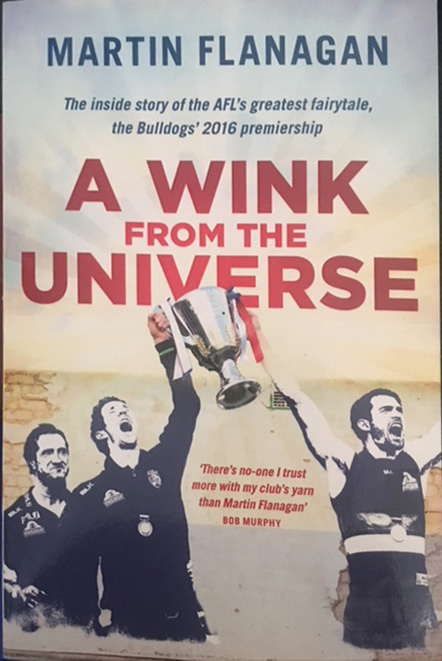 When the fairytale eventually came true, the celebrations were not confined to the "other" side of the Maribyrnong River. There were no limits on how far-flung they were. Players were later amazed to find themselves approached while holidaying in America or Europe by people with just two words to say: "Thank you!" Here are two of Flanagan's favourite stories:
Dom Bonnice, a Melbourne pub league footballer for whom the Grand Final is the best day of any year, was 1,700km east of the capital of Mongolia, Ulaanbaatar, watching a festival of a different sport, young Kazakhs hunting with eagles on horseback. Way beyond mobile-phone coverage or Wi-Fi networks he had no way of knowing what was happening back in Melbourne. He was also sore and weary after sitting upright for 50 hours in a bus bumping its way over unpaved roads. He decided to hitchhike all the way back to Ulaanbaatar. On the third day he got lucky – a six-hour lift. He and the driver had not a word of common language but they sensed an affinity – tried to talk, drew on a laptop, exchanged smiles. When they reached the driver's village he invited Dom to stay the night in his house. "Once I got in I was able to borrow his Internet-enabled phone for a few minutes to load a simple Google search on a shockingly slow 3G connection – the Dogs had won! Dom and his host toasted the Dogs' victory with vodka, the host having no idea what he was drinking to. It took Dom nine days to get back to Ulaanbaatar where he watched a replay of the game in an Internet café. "WHAT A GAME!" He also caught up on the hysteria that hit Melbourne and has the gnawing feeling that he has missed the great Grand Final of his lifetime.
Rhys Clements was in Shenyang, northern China, a grim place covered in ice and smog, both black, when he arrived to teach English in early 2015. Depressed when the Dogs fell to the Crows in the elimination final that year, needing to believe the underdog could win, he slid on to the floor of his apartment and cried. "I hurled my Doggies scarf into the dusty corner of my dank apartment, confined to the fact that this was my life." Fast forward to September 2016 … "waking up that fateful day felt like a dream. I was extremely hungover, trying to drown the butterflies. Fear and hope entwined around my soul. I kept coughing from the nerves, not being able to calm myself. All I wanted was to be at the MCG with my family, but they seemed a million miles away. Here I was in a messy apartment with a bottle of Coke and KFC chips, trying to recreate the magical MCG atmosphere. When the Dogs won the live feed went with the Florence and the Machine song The Dog Days Are Over and I sung along until my voice was hoarse. Finally, my dream had been realised but it wasn't complete yet. I knew I had to do something special to cap the day off. So, I draped myself into every bit of Bulldogs gear I could find and raced over to Uncle Sam's expat bar, where everyone stared at me as if I'd lost my mind. I must have looked ridiculous dressed in clothes no-one had probably ever seen before, and a grin the size of the Westgate Bridge. I knew what I had to do next:
Sons of the west, red, white and blue
We'll come out snarling, Bulldogs through and through
Bulldogs bite and Bulldogs roar, we give our very best
But you can't beat the boys of the Bulldog breed, we're the team of the mighty west
"I sang with the most passion that I could muster and as loudly as I could. When it was over I looked around the bar at the shocked faces of the expat community, mouths agape. I began to walk out of the bar, thinking my mission, and dream, was finally complete. I only took a couple of steps when I felt a hand on my shoulder. I turned around to see a man with a huge grin, the same size as my own, tears streaming down his face. We didn't need to speak. We both knew the other was a Doggies supporter. In a final fitting moment we both sang the song one last time."
So, yes, even in the backblocks of China and the far reaches of Mongolia, the Dogs finally had their day – the day the Universe winked.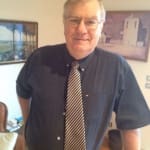 Author:
Ron Reed
RON REED has spent more than 50 years as a sportswriter or sports editor, mainly at The Herald and Herald Sun. He has covered just about every sport at local, national and international level, including multiple assignments at the Olympic and Commonwealth games, cricket tours, the Tour de France, America's Cup yachting, tennis and golf majors and world title fights.
Comments
comments
0 comments