---
Reading Time:
5
minutes
CARLTON FOOTY fans have never forgiven or forgotten Richmond ruckman Neil Balme's vicious attack on Geoff Southby in a long-ago grand final – but now the champion full-back says that wasn't as bad as it got against the Tigers. Chief writer RON REED has lunch with him:
AS MOST footy fans with long memories would know, legendary Carlton full-back Geoff Southby doesn't exactly have fond memories of playing against a certain Richmond opponent with a reputation for taking no prisoners. That would be Neil Balme, right?  Well, yes – it was Balme who delivered a thunderous punch to the head just before half-time of the 1973 Grand Final, severely concussing Southby and ending his involvement in the game, which the Tigers won. It is one of the most famous acts of violence in the game's long history and, nearly 45 years later, both men are still asked about it every time they speak in public about their careers.
 Both have done so recently – and separately – at the fortnightly Friday lunches hosted by Southby's old Blues team-mate Perc Jones at the North Fitzroy Arms pub. Southby surprised the big audience he attracted when he revealed that there was a second Richmond opponent who "made Balme look like a pussycat" and if he had to choose between them, he would rather play on Balme any day.
He was referring to Ricky McLean, who was a team-mate at Carlton before moving to the Tigers in 1972. Immediately he got there, he lined up on Southby in a practice match. "I outpaced him and then a big left hand came out and got me right on the nose. I couldn't breathe out of my left nostril for a number of years. That was the legacy of Ricky McLean," Southby said. "Balme had white line fever on the ground but McLean had it on and off the ground. I was shit scared of him when he was playing for Carlton, let alone when he was playing for Richmond."
The Carlton website blueseum.org supports Southby's memories of the colourful McLean, the son of Rod McLean, who was a dual premiership player for the Blues. "He took after his father in that he played his football for keeps," it says. "A specialist full-forward who was six feet tall and built like the proverbial brick outhouse, McLean charged like a rhinoceros on the lead and heaven help any friend or foe in his path. He was strong in the air, a generally reliable left-foot kick for goal and loved nothing more than to intimidate his opponents. But as a consequence he ran foul of umpires and was suspended for a total of 30 matches."
That's 30 matches he didn't play and 58 that he did, 19 for Carlton in six years on the list there and 39 in three years at Richmond, including the 72 Grand Final, which Carlton won. Mclean was also known for his friendship with the late Desmond "Tuppence" Moran, a prominent character in the underworld war that raged in Melbourne some years ago.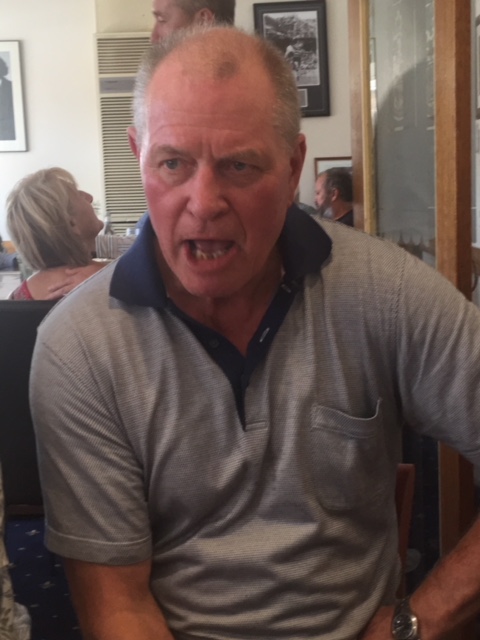 When Balme spoke at the Jones lunch late last year – Southby declined an invitation to attend, as did another old Blue, David McKay, who had also suffered at the hands, the fists actually, of the Richmond strongman – he said that he had made his peace with the old full-back. "Geoff is a lovely fellow and has forgiven me … I think," he said. "He was far too good a player for his own good. It was a little unlucky I whacked him a bit too hard. It's not something I'm particularly proud of, I must admit. I'm not that ashamed of myself because footy was different then – it's kind of what happened."
Recalling the incident, Southby said: "All I remember is the doctor asking me what my name was. I said, 'Give me a clue!' I was wondering what game I was in. It was a disappointing day for me. The Carlton supporters have never forgotten it. Balme half apologised for it in the media once but never came to me directly, which is disappointing. But we move on. He is a good enough bloke off the field and has been good for the game in other roles, I acknowledge that. (Balme coached Melbourne and has been a highly respected administrator at Collingwood, Geelong and Richmond). The Richmond-Carlton rivalry was pretty strong in those days and a lot of it has never been forgiven."
It is ironic that Southby ended up as such a central figure in that because growing up in Bendigo he was a Richmond supporter. He had to play with the Blues because of the zoning rules at the time. He arrived in 1971 and was slotted straight into the previous year's premiership team, replacing the newly-retired West Lofts, and immediately won the best and fairest, a feat he repeated in his second season as well. He played 273 games including the 1972 and 1979 premierships and missed two other flags in 1981-82 because of injury. He played 16 times for Victoria and was all-Australian in 1980. He is in the Carlton team of the 20th century and its Hall of Fame, where he has legend status. He and North Melbourne's David Dench were credited with revolutionising full-back play with the hard-running, attacking style. It's not a bad CV for a kid who wanted to be a baseballer or a cricketer and who played footy only for fun at school. His daughter Eloise won five premierships and played 35 times for Australia, including winning a Commonwealth Games gold medal, in netball.
It wasn't all fun and games though. Last year he revealed on television that he has struggled with depression during the latter part of his career. Elaborating at the recent lunch, he said the condition was partly genetic, passed down from his father to him and his brother. But footy was also a significant part of it, he said. It came to a head during the 1979 season, when the Blues were coached by the legendary Alex Jesaulenko, who drove them relentlessly on the training track if they ever lost. One day Footscray's Kelvin Templeton kicked a match-winning nine goals on him, resulting in a horror night on the track. "I got the blame, they were all looking at me saying, 'It's your fault,'" Southby said. It's amusing now but it wasn't funny then. They won the flag but Southby couldn't celebrate it. "The more I think about it, I was mentally and physically stuffed," he said. "I was also trying to work as a schoolteacher and it was all very challenging. I got very nervous before games and it was a very ugly, nasty time. I spent four weeks in a clinic and people didn't know I was crook, only close family and friends.  I looked cool on the outside but it wasn't much fun. I fell off the earth, basically. Somehow I managed to squeeze myself through it and I have been able to cope since. It is therapeutic to talk about it. There is hope, you can get through it, but you need help and should never be afraid to ask for it."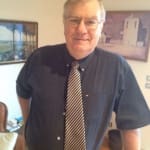 Author:
Ron Reed
RON REED has spent more than 50 years as a sportswriter or sports editor, mainly at The Herald and Herald Sun. He has covered just about every sport at local, national and international level, including multiple assignments at the Olympic and Commonwealth games, cricket tours, the Tour de France, America's Cup yachting, tennis and golf majors and world title fights.
Comments
comments
0 comments