---
Reading Time:
4
minutes
JACKSON BIRD seems likely to be consigned back to the Big Bash having run headlong into a meat mangler by the name of Alastair Cook on a benign wicket which has been roundly condemned by even the purists enjoying England's revival. KEN PIESSE reports:
HAVING replaced the injured Mitchell Starc in Australia's starting XI for his first Test of the summer, Jackson Bird was thrashed at the G, finishing England's first innings with 0-108.
In five years as a perennial back-up, Bird has played just nine Tests — including three Melbourne Boxing Days — but is unlikely to get a 10th next week in Sydney with the Australian selectors looking to elevate a second spinner to ease the workload on Nathan Lyon.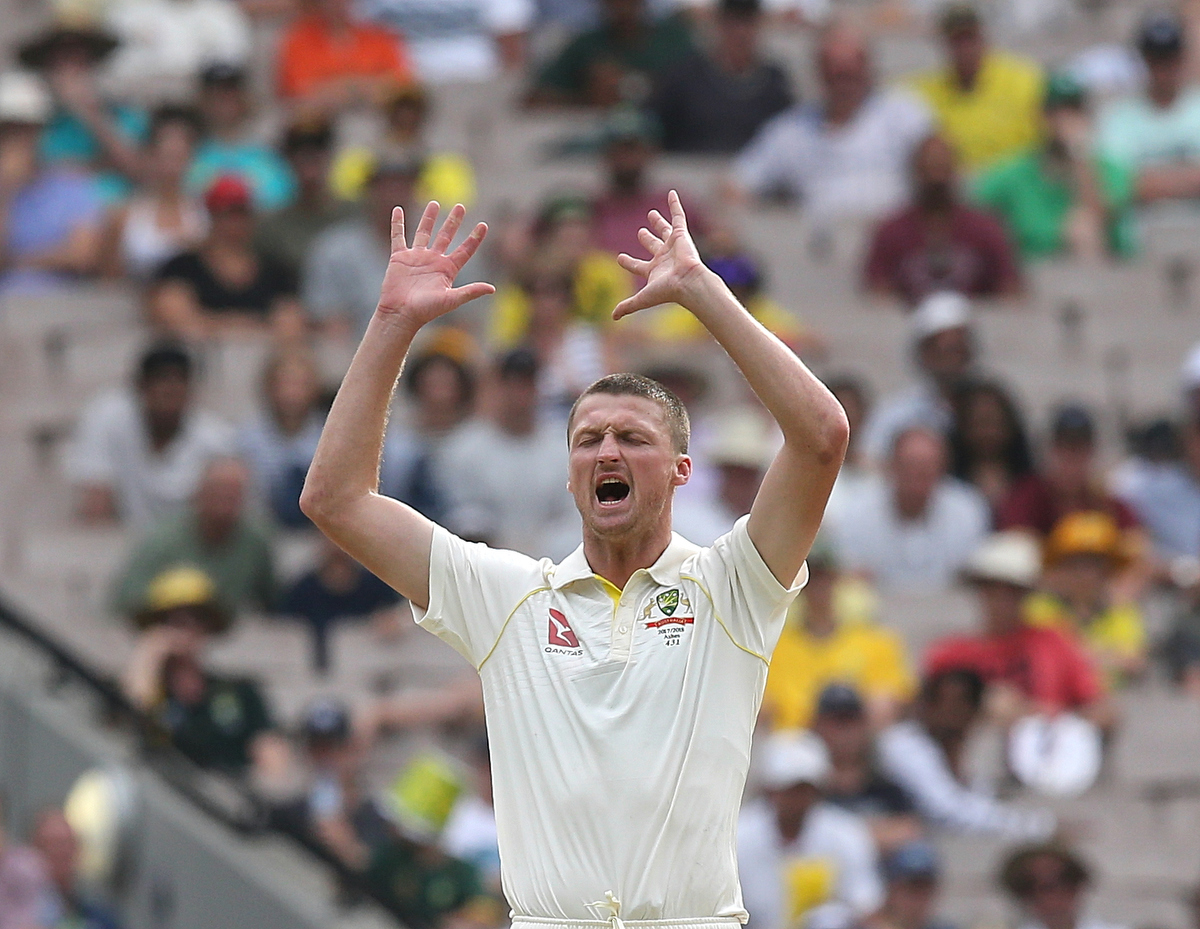 It just goes to show the gulf in Australia's back-ups behind the Big Three, Starc, Josh Hazlewood and Patrick Cummins.
"Jackson is a very fine bowler but he just doesn't have the potency of a Mitchell Starc," said ex-champion Ricky Ponting.
With Victoria's James Pattinson having his spine fused and other contenders like WA's Jason Behrendorff being wrapped in cotton wool for the ODI circuit, it seems Australia's fast bowling reserves aren't as deep as first thought.
HE SAW LARWOOD
Not too many of the 200,000 Melburnians who enjoyed the first three days of the Test could claim to have watched Harold Larwood in his pomp.
But 93-year-old Tom Runnalls did, at the Upper Reserve (now Queen Elizabeth Oval) in Bendigo during the Bodyline summer of 1932-33.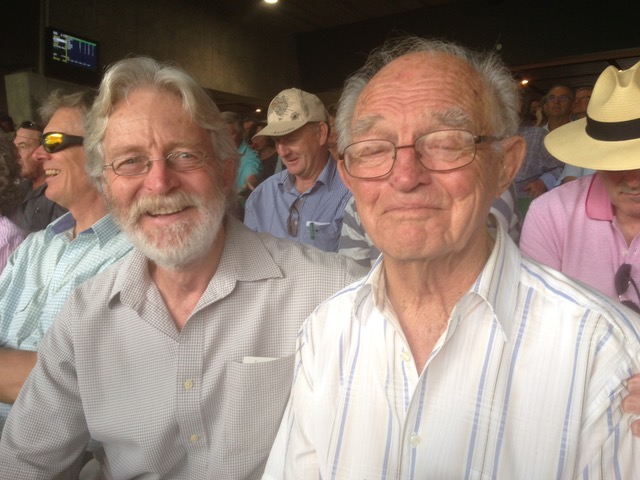 "I was a two pound Pom," he said. "I came here (to Victoria) when I was four. Even then I loved cricket. Larwood was such a drawcard and had this magnificent flowing action. He'd slowly accelerate to the crease, like a Ray Lindwall. I can still remember all the hype and excitement of us kids watching him come on and walk back to the top of his mark.
"That was the game where Douglas Jardine (England's captain) was caught by the square leg umpire! And I'm not kidding."  (Jardine played a pull shot and it headed straight for the ump, who put his hand up to protect himself and somehow managed to take a one-handed catch. Dead ball. No runs. He saved a certain four. Apparently even Jardine smiled. )
Thirteen of Bendigo were no match for the might of the MCC. Bowling third change in the first innings Larwood took four for 29. Opening up in the second he took three for 15.
Tom has been at the Test each day with his son Malcolm, a tradition he wants to continue for a while yet.
STANDING OVATION FOR BOYCS
In between his commentaries for the BBC's Test Match Special, Geoff Boycott set the record straight about some tall stories and true at the Australian Cricket Society's Christmas with Geoffrey Boycott dinner at Kooyong this week.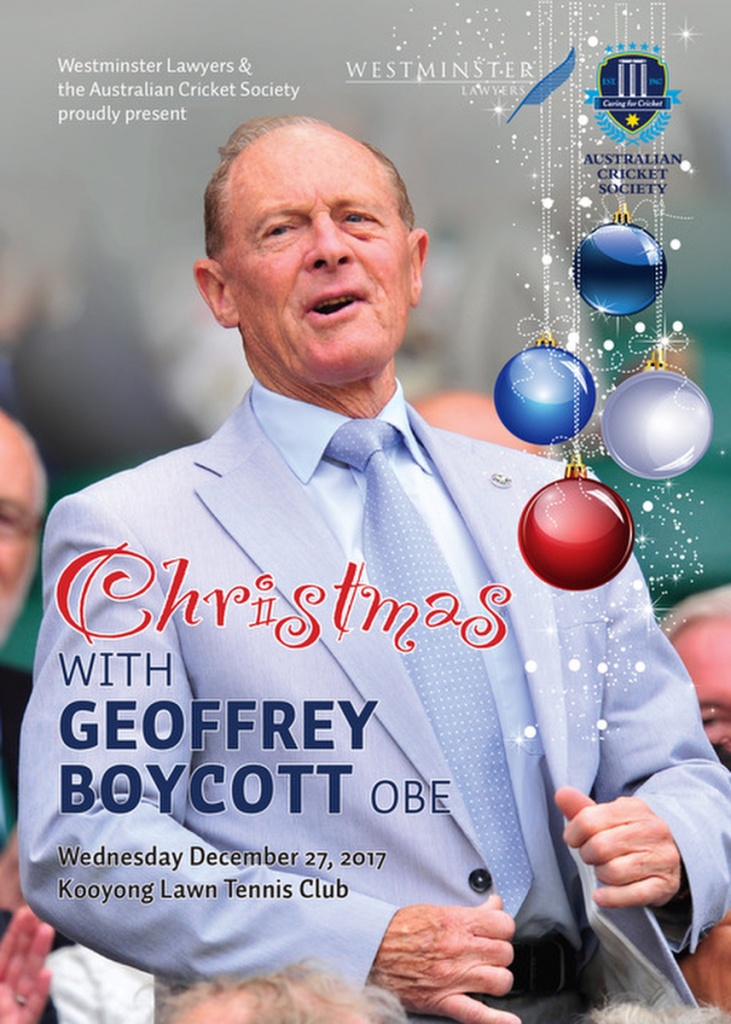 "A lot has been written about me over the years," he said with a grin. "And some of it has been right"
Having batted most of the day in Adelaide, it was said Boycott kept his gear on and went straight into the nets to face some schoolboys – anything for extra practice. "Yes," he said, "spot on… I liked to get into a rhythm and the best place was to do that in the nets. I'd bat against anybody."
It was said after one dismissal so irate was Boycott that he sawed his bat in half. "No," he said, "that's a furphy. It was Majid Khan, not me. He could afford it. I couldn't. I was the son of a coalminer. We had nought."
And what about the famous quote that given the choice between a night with Sophia Loren and a Test century, Boycott said he'd take the hundred, each and every time. "Yes, that's right," he said, "but it wasn't Sophia. It was Raquel Welsh and I would have asked her for her number on the quiet."
Boycott received a standing ovation from Society members and friends for his thoughts on sledging and the pre-series comments by David Warner that it is a "war out there".
"It's a game of cricket," he said. "Nothing more, nothing less. We all want to do well and win. But it's a sport.  People should remember that."
HE SAID IT:
"If they were ever to play another timeless Test, they'd play it on this pitch. It is a piece of granite…" JIM MAXWELL, ABC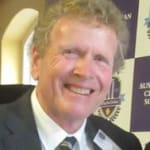 KEN PIESSE has covered cricket and football for more than 30 years in Melbourne. He has written, edited and published more than 70 sports books. His latest book, Favourite Cricket Yarns, is available from www.cricketbooks.com.au
Comments
comments
0 comments