---
Reading Time:
2
minutes
IT WON'T be 40 degrees this Christmas Day, but KEN PIESSE wonders if Melbourne's Angus Brayshaw will continue the tradition and again be running 100 100s:
Our Mum is 93 and doesn't travel far these days, so we take Christmas to her at Black Rock, settling her into a comfortable chair in the shadiest spot at the nearby park and set up Christmas Day brunch with all her favorites: oysters, Tiger prawns and plum pud, with the most potent brandy sauce we can concoct.
Everything was going swimmingly last year despite the soaring midday temperatures when a few extra cars pulled into the car park. Among those to alight were four strapping young fellas carrying witches hats which they carefully set up on the nearby Spring St. Oval.
We carried on partying, not taking too much notice as the quartet did some stretching and warm-ups and proceeded to start sprinting from one goal square to past the centre of the oval. It must have been 100 or so metres. They did half a dozen and were soon up to 20. We checked the temperature gauge. It had just clocked 40 degrees.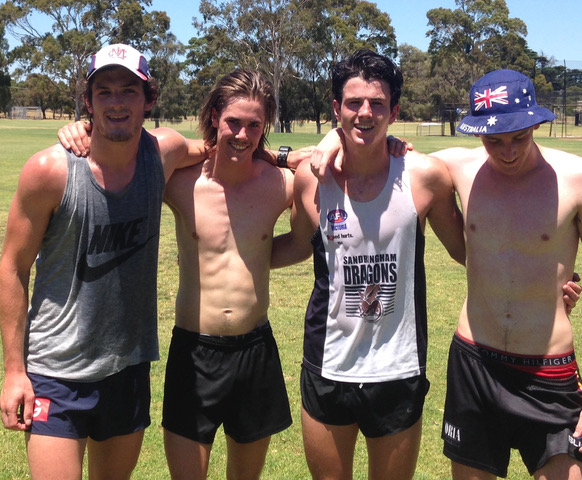 These lads were really punishing themselves.
On the sidelines watching attentively were a group of mainly older people, who started to urge them on. "Keep going lads. Only 80 to go!"
Eighty to go!
Surely they weren't going to do 100 of these? Were they?
Mum was oblivious to all the commotion as she gratefully accepted a second glass of Mumm champagne (we lashed out). She had her hearing aids in, but still had no idea about what was happening on the nearby oval.
Before packing up and getting her back into the air-conditioned car, I strolled over to what turned out to be the mums, dads and girlfriends of the runners.
I immediately recognised one. It was Mark Brayshaw, father of young Angus Brayshaw, Melbourne's star 2015 recruit, who was leading the sprint group.
"Mate," I said, "why didn't they do it at 6 a.m. before it got so hot?"
"They wanted the challenge of doing it at the hottest part of the day."
By now they were in the 90s and everyone was yelling. I watched the final few: 98, 99, 100…!
To complete the drill in the searing heat was an amazing feat of sheer willpower, let alone fitness and having taken a picture of the group, I marked down in my diary that A. Brayshaw was going to have some season with Melbourne in 2017.
In the end he didn't, mainly through concussions, but 2018 is a brand new year and he could well have the breakout season many expect of him.
Will he be doing 100 100s at Spring St. again this Christmas Day? We'll soon find out.
Among Ken Piesse's 73 sports books, 20 are on football or co-written with AFL stars of the ilk of Tony Lockett, Jason Dunstall, Paul Salmon and Dermott Brereton. Ken played 100-plus games in the ruck with Beaumaris without ever contemplating trying to run 100 100s… especially on Christmas Day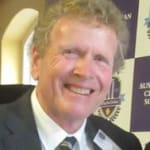 KEN PIESSE has covered cricket and football for more than 30 years in Melbourne. He has written, edited and published more than 70 sports books. His latest book, Favourite Cricket Yarns, is available from www.cricketbooks.com.au
Comments
comments
0 comments