---
Reading Time:
7
minutes
Phil O'Meara must have played at least 1,000 games of cricket. And at 66 he is still achieving, this time at the Australian Over 60s national championships in Canberra.  KEN PIESSE reports:
FEW LOVE cricket quite like Phil O'Meara, or have been as influential in the corridors of Melbourne club cricket.
Opening batsman for the Victorian Over 60s at the 2017-18 National Championships in Canberra, O'Meara has been playing since the age of seven and can hardly remember a summer Saturday without cricket.
"These days we do have a golf trip on the second weekend each October, but often that coincides with a washout, especially over here," he said.
'Cricket is in the blood. Always has been, always will be," he says.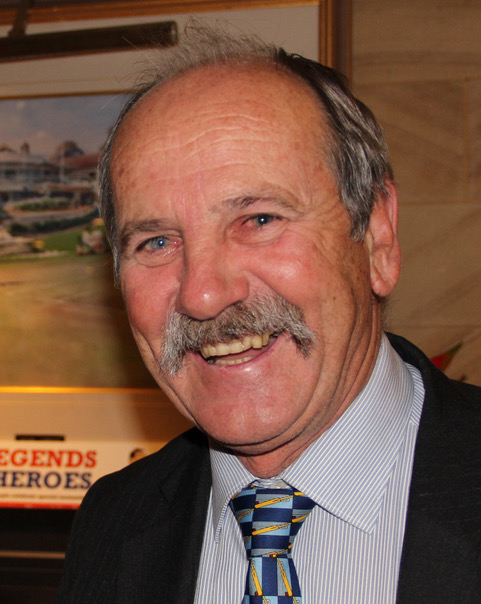 Originally from the Central Wheatbelt in the golden west, O'Meara is fast approaching his 60th playing year, as well as being pivotal in the advancement of one of Melbourne's newest Premier League clubs, the Kingston-Hawthorn Hawks in Parkdale.
He has also been in the cricket sporting goods business for 40 years, including stints at County Australia and Gray-Nicolls Australia, one of the premier bat manufacturers in the world.
His distinguished playing career included time in Western Australia's Sheffield Shield squad alongside the likes of Dennis Lillee, Rod Marsh and Kim Hughes. While he played only one first-class match, he was 12th man on numerous occasions and says he was fortunate to be in such elite company.
Cricket has taken him from his old home town of Trayning – three hours from Perth – to Aquinas College (at the age of 16), Fremantle, Perth and on to Melbourne where he played and captained at both Premier and Sub-District League level with St Kilda, Port Melbourne and the Kingston Saints.
The chairman of the Victorian Sub-District Cricket Association, he masterminded the inclusion of Kingston into Subbies and on to Premier League ranks in 2016, when Kingston merged with the Hawthorn Hawks.
New practice wickets, an extra ground and a women's team have all been part of his vision to the benefit of the best teenagers, both boys and girls, from the bayside suburbs.
O'Meara says cricket continues to breed outstanding individuals from QCs and captains of industry to the backroom boys and hard workers inherent at every successful club.
"It takes a lot of hours but it's worth it. To see the young ones come on and take their place in the first and second XIs and become good cricketers in their own right is very satisfying.
"It's also very important for the future and strength of Victorian cricket to offer the best possible conditions and have the young ones learn under the best possible coaching structures.
"This is a testing time for the game with some preferring football or Saturday work. We must maintain a strong framework of competition with Premier at the top and then the subbie clubs giving kids valuable turf experience and face tracking their development on to the higher grades.
"Scott Boland played in the juniors with us (at Kingston), went down to Frankston, got himself really fit and he's playing for the Vics at Shield level and on-and-off with Australia in the ODIs.
"It's a vital role that we and other clubs play in providing the best possible facilities and framework for the young ones to advance.
"Cricket can't afford to be complacent. We must keep pushing forward, improving our product and encouraging the young ones to stay involved."
O'Meara is particularly proud that Kingston's home ground, the Walter Galt Oval, now has a billiard table surface helping to make it one of Melbourne club cricket's great first XI grounds.
Born in Kellerberrin, O'Meara lived in the West Australian bush until he was 16. Away games at "neighbouring" town Wialki involved a round trip of 170 miles (274 km). Once Wialki were short so Phil, then 12, and his brother Kevin, 11, volunteered to play for the opposition and shared a 25-run 10th wicket stand which all but won the match.
"Luckily we played at home that day as they would have probably made us walk home," he laughed.
Country games would go on, no matter the condition of a ground or the heat, which was often oppressive. "We played one match and it was 113 or 114 degrees (mid 40s C)," he said. 'You could feel the heat coming through my old Dunlop Volleys. There was no need to boil the water for a cuppa at tea-time that day."
As a 16-year-old at Perth Country Week, he made three 100s and moved to the city, initially playing with powerful South Perth before blossoming at Fremantle where he played more than 100 first XI games and captain-coached the club.
"Country Week was always a lot of fun," he said. "For many in the team it was the only time they ever came to Perth and it always was rostered after harvesting so they used to treat the matches fairly casually. A lot of beer was consumed…
"Kevin and I would have to open the batting, the bowling and chase everything, too!"
O'Meara boarded at Aquinas College just outside the Perth CBD where he first played at Under-23 and first XI club level standard.
In one Under 23 match at Fremantle's Stevens Reserve he was not out at lunch and told the break was 40 minutes, he ducked home to have a sandwich with his young wife Anne and on return made a sparkling century. The following weekend, Freo was again at home and O'Meara was not out at lunch, so went home again only on return to find out that the break was 30 minutes and he'd been timed out. "We lost the game, too, by just a couple of runs. Never again was I to go home for lunch!"
In 1978-79, he led Fremantle to the WACA senior premiership making 834 runs at an average of almost 60, including 160 in the final. Internationals Kim Hughes (154) and Graeme Wood (107) also made centuries for Fremantle in this game, the team amassing 9-587 declared against Subiaco-Floreat. His run haul that season remains the highest in the club's near 140-year history.
In the semi-final that year he'd surprised by giving Wood a bowl and he responded with six for 37.
O'Meara said the lessons learned from the club's previous captain-coach Ross Edwards were numerous. Edwards, an ex-Test player, brought a fresh vitality and belief to the playing unit.
O'Meara made nine and 20 in his only Sheffield Shield appearance, against Geoff Dymock and Denis Schuller at the Gabba, in 1977-78. "I was given out lbw just before tea when we declared," he recalls. "It was (umpire) Mel Johnson's first game. Had I been 20 not out I might have got a go in the next match down in Sydney but it wasn't to be."
Crossing the Nullarbor, he was told by Melbourne Cricket Club that at 30 he was "too old for us" so he joined St Kilda where he played for four years, including one year as captain-coach and another as coach.
Among the notable younger players who joined the Saints in his time were David Johnstone and David Robinson, while in his final year Shaun Graf returned from Perth, as captain.
The West Indian express Hartley Alleyne also played his first District games before being sacked in mid-year and joining Brighton.
"Hartley was ferociously fast, but only for three or four overs," said O'Meara. "We had 40 or 50 minutes to bowl at Footscray late one night and 'Tambo' (Geoff Tamblyn) was standing 25 yards back behind the stumps and I was 30 yards back at first slip. He must have got four or five and he frightened the living daylights out of everyone. But never have I come across anybody whose second spell was so down on pace compared with the first. He just couldn't sustain it."
Another memorable game came against South Melbourne at the Lakeside Oval when South, chasing a modest score of 170 were 4-163 and cruising only to lose six for five to go down by a couple of runs.
At subbies level, seeing his third XI chase down 300 one memorable afternoon at St Bede's in 2014 was another highlight. "You never forget games like those," he said.
O'Meara's highest innings at Premier level, 96 against North Melbourne, came after the Saints had slumped to 4-40 chasing 300-plus. "Andrew Lynch got a 100 and I got to 96 before playing one on. It was a massive win for us at the time and showed that we were building and developing into a side to be reckoned with."
Having won two premierships at Fremantle, O'Meara won three more as captain-coach at Port Melbourne where his leading players included footballers Graeme Anderson, Robert Tinsley and Vic "Stretch" Aanensen and experienced ex-District players including Glen McBurney and Paul Crocker.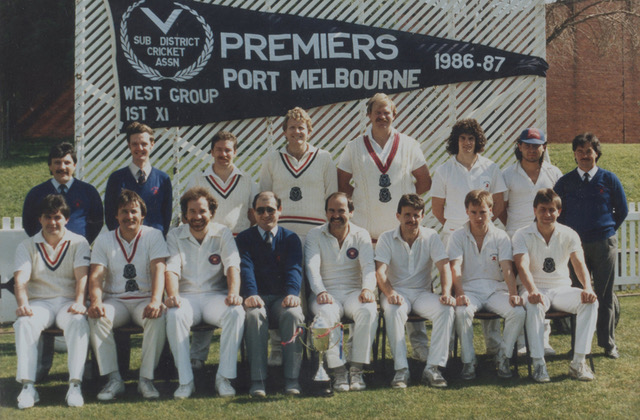 "We had superb facilities, both on the main ground at Port and at Murphy Reserve where the practice wickets were for a time. The wickets were so flat you could bat until it was dark, when the boys got a bit reckless. They wanted to go in and play cards. They weren't too keen either on practicing on Oaks Day – a friend of a friend invariably had a set of member tickets, so we'd train in the morning instead."
Often O'Meara would be able to do his entire Christmas shop at Port on a Thursday night leading into Christmas, several locals hawking brand new goods from remote control cars to perfume and watches – all "hot" off the docks.
His captaincy was always innovative and engaging. Promising younger ones were made to feel important and soon blended into the standard. Once he played three mid-ons against Williamstown's highly-accomplished Steve Sandri, a trio of fielders standing just a yard or two apart like they were in the slips.
"We always wanted to be the best fielding team," he said. "The first year we won the Championship (in 1985-86) we had 19 run outs before Christmas."
O'Meara attends two and three cricket meetings a week and is hands-on at the Kingston Hawthorn Hawks, from mentoring some of the younger ones to assisting with the wicket preparation and even in the kitchen.
The opportunity to once again mix it with his peers during the Championships in the ACT was fun on and off the field. "Having to play four games in five days was tough at our age though," he said. "There were a few tired bodies out there."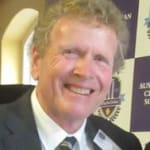 KEN PIESSE has covered cricket and football for more than 30 years in Melbourne. He has written, edited and published more than 70 sports books. His latest book, Favourite Cricket Yarns, is available from www.cricketbooks.com.au
Comments
comments
0 comments