---
Reading Time:
4
minutes
PETER COSTER watches the Dutch charger flying to victory over his rivals in the Mexico Grand Prix:
NO LONGER an impetuous teenager, Super Max has come of age, giving the grid of 20 of the world's best drivers a master class at the Mexico Grand Prix.
Second on the grid at Mexico, Verstappen, who turned 20 the day before the Malaysian Grand Prix last month, was sublimely aggressive and millimetre perfect in taking the lead as he raced three abreast with pole sitter Sebastian Vettel and Lewis Hamilton towards turn one.
At turn two the Dutch driver took the racing line as Vettel touched his right rear tyre with the left edge of his front wing before Verstappen disappeared into the distance having narrowly avoided a puncture.
Hamilton, who had slipped ahead of Vettel from third on the grid, suffered a puncture as Vettel drove into him from behind. It was all the German's fault after he was brilliantly outmanoeuvred by the hard-charging Verstappen and then ran into Hamilton. It was also to be the end of his chances of keeping his world championship hopes alive.
Verstappen was never challenged, finishing 20 seconds ahead of Hamilton's teammate Valtteri Bottas, with Ferrari's Kimi Raikkonen third on the podium.
Vettel was fourth and Hamilton an ignominious ninth, 40 seconds adrift.
To add to the pain, he was lapped by the Dutchman, although the celebrations after the race were more about Hamilton and his fourth world drivers' championship than the superlative drive by Verstappen.
The Dutch wunderkind has shown he has everything he needs to become a future world champion when Red Bull, or more accurately engine supplier Renault, give him the equipment to match the Mercedes and the Ferraris next year.
Verstappen's Red Bull teammate, Daniel Ricciardo, who has finished on the Grand Prix podium nine times this year and would likely have been there again in Mexico, was sidelined by engine failure.
Verstappen had the same sort of issues earlier in the season. This time, it has been Ricciardo's turn with engine failure putting him out of the United States Grand Prix in Texas and in Mexico where his Renault engine simply stopped on lap 16.
The Australian driver had all sorts of gremlins to contend with. After setting fastest time in the second practice session, and breaking the lap record, Ricciardo could qualify only seventh on the grid because his front tyres would not come up to temperature.
There are issues at Mexico not experienced elsewhere on the F1 calendar. Mexico City is more than 2000 metres above sea level, which is another element to contend with in engines already massively complicated by systems to recover exhaust and brake heat to store power and generate electricity.
Different tyre compounds add to the equation and this time for Ricciardo it was a problem in the hybrid turbo system in an engine replaced after failing at the United States Grand Prix.
Verstappen had better luck in that race, passing Ferrari driver Kimi Raikkonen on the last lap in a move that stunned the crowd, only to see the positions reversed by the stewards for cutting a corner.
This correspondent is now a Verstappen fan. Verstappen and Ricciardo stand alongside Vettel, Hamilton and Fernando Alonso as the five top drivers in Formula One. Alonso, a former double world champion, still makes the cut even though forced to contend with an under-performing Honda engine in his McLaren. The days of Honda's dominance in Formula One are long gone.
Why this is so was explained by former Honda Racing technical director Ross Brawn who bought the Honda team when Honda retired from F1 in 2008. The team was renamed Brawn GP, and won the world constructors' champion and the world drivers' championship, with Jenson Button, in 2009.
The cars were powered by Mercedes engines and the team was then sold to the German manufacturer.
At Mexico, Brawn said Mercedes dominance is because of its ability to stay ahead of the other teams in engine development. Just as importantly, the Mercedes team is ahead in developing engines for changes from 2020, pushing power of the current 1.6 litre hybrid engines from 1000 bhp to 1300bhp.
As the other teams catch up to Mercedes and even Ferrari under the present rules, the German manufacturer will still be in the lead ahead as F1 technology departs even further from what is available in even the most expensive road supercars.
Renault gave Verstappen first use of an upgraded engine, but it has been disappointing. Verstappen saw other Renault-powered cars retiring behind him as he swept towards victory at Mexico, fearful his own engine would fail.
The team kept radioing him to slow down, but the Flying Dutchman could only say, "I can't go any slower."
There is no doubt that Verstappen is one of the fastest starters in F1 and one of the fastest qualifiers ahead of Ricciardo, whose race starts often see him giving up grid placings.
But like Verstappen is now proving, Ricciardo is a master of the overtake as admitted by Hamilton after Mexico. "He's the best overtaker in F1," said the new world champion. Maybe, but Verstappen was the master at Mexico.
Aficionados can only hope that Ricciardo will be granted his wish to drive in a Mercedes alongside Hamilton in 2019, when Ricciardo's contract with Red Bull will have expired.
The Australian driver has won five GPs for Red Bull while Verstappen is quickly catching him, having won three races after his victories in Mexico and Malaysia, where Ricciardo joined him on the podium in third place.
There is now a sharper edge to Ricciardo's toothy grin as he takes up the challenge thrown up by Verstappen, but reliability from Renault is a major factor for both drivers.
It is possible that Ricciardo might drive for Mercedes as early as next season, however unlikely that may be.
Mercedes Team principal Toto Wolff is the wolf at the door. Valtteri Bottas as No. 2 to Hamilton is contracted only for next year and money is no object to Mercedes if they want to pay him out and do a swap with Red Bull for releasing Ricciardo a year early.
For some reason, Ricciardo made a point of telling ESPN after the US Grand Prix that he is 10 years older than Verstappen and he could understand how this made a difference to Red Bull whose Team principal Christian Horner has talked of building a team around the Dutch dasher.
At 28, Ricciardo is only eight years older. He must eliminate the negative and accentuate the positive, as the old Johnny Mercer lyrics said. Two races left, in Brazil and Abu Dhabi. Ricciardo needs to show former Red Bull driver Mark Webber's Aussie grit.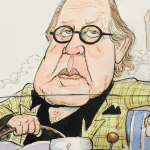 Author:
Peter Coster
PETER COSTER is a former editor and foreign correspondent who has covered a range of international sports, including world championship fights and the Olympic Games.
Comments
comments
0 comments