---
Reading Time:
4
minutes
JOE ROOT'S Englishmen are intent on a successful Ashes defence, but as KEN PIESSE reports, the form of the fast bowlers on both sides will be pivotal to the outcome of the series:
Once upon a time it was a leisurely stopping-all-stations trek from the west to the east, six and seven weeks of get-to-know Australia and its capital cities before the seriousness of Test match cricket.
Now an English cricket tour is a streamlined, frenetic affair with only one first-class game scheduled, in Townsville, in the lead-up to the opening Test at the Gabba from November 23.
The arrival this weekend in Perth of Joe Root and his men on another Ashes tilt heightens the anticipation for the big cricket to begin. This is the Real Thing, world cricket's classic contest, even if neither team happens to be particularly high in the rankings.
Eight of the English XVI, excluding bad boy Ben Stokes — still under police investigation — are new to Australia, although the baby of the team, 20-year-old leg-spinner Mason Crane, created such a stir in Sydney grade cricket last summer that he even played a Sheffield Shield game with New South Wales.
Several of the unsung, most likely batting pair Mark Stoneham and Dawid Malan, will make their debut Downunder in Brisbane, where Australia is unbeaten for three decades.
They will have to fashion their very best form and learn to ignore the sledging and abuse which is likely to be prolonged.
Australia's express trio, Mitchell Starc, Pat Cummins and Josh Hazlewood, could be every bit as lethal as Mitchell Johnson, Ryan Harris and Peter Siddle in 2013-14 when the Englishmen were beaten 5-0.
The form of the fast bowlers on both sides will be the ultimate ready reckoner in these Ashes contests.
Realising the vulnerability of their two super-veterans Jimmy Anderson and Stuart Broad, England have also assembled four younger and almost as zippy back-ups in Steven Finn and Chris Woakes, both 28, Jake Ball, 26, and the uncapped Craig Overton, 23.
Anderson and Broad captured 59 wickets between them in the just-completed seven Test English summer. At full fitness they will be a handful even on wickets which will not provide the same encouragement.
But can they consistently excel? And remain injury-free?
Anderson, 35, has more wickets in Tests than any Englishman — and at a healthy average approaching four wickets per match. He's hoping to defy his age and pilot a successful Ashes defence on his final tour.
Despite not consistently repeating his English form on overseas wickets, he remains a master of his craft with a street fighter's approach and explosive each-way movement, especially on wickets which assist. He still bowls at good pace around 136 km/h (85mph) and averages 4.29 wickets per game in home Tests and 3.22 per game away.
He could be at his most dangerous in the starting Test given a cloud cover in tropical Brisbane. This is his seventh Test tilt at the Aussies, a tribute to his skillset, longevity and determination to achieve.
His long-time sidekick Broad, 31, has made a habit of demolishing opponents in a hurry. He is the only Test bowler in history to boast an "eight-for", all before lunch on the most extraordinary opening morning in Ashes annals in front of family and friends at Trent Bridge in 2015.
He averages four wickets per match against the Aussies and is invariably at his best for the big occasions. His leg-cutter is always a danger, even on placid wickets. The son of 1986-87 Ashes hero Chris Broad, he was consistently England's best bowler in 2013-14 and deserves far more respect from the Australian public and press than he was shown last time around.
There was food for thought for the Englishmen this week with Australia's first Test opener Matt Renshaw dismissed early on the opening day of the Shield season in Brisbane. Coming around the wicket, Victoria's Scott Boland had Renshaw "fishing" outside his off stump and the resultant edge was easily taken at third slip. Expect the tourists to target Renshaw from around the wicket from ball one at the Gabba.
First-time captain Root has won five of his seven Tests so far and with two centuries for the 2017 summer is among the top three batsmen in the world, alongside Australia's Steve Smith and India's captain Virat Kohli.
He must score heavily and lead by example for England to be able to retain cricket's most coveted trophy of all.
The form of openers Alastair Cook and Surrey newcomer Stoneham, both left-handers, is also pivotal.
Cook has made more Test runs and Test 100s than any Englishman in history — but will this prove to be one tour too many?
Stoneham made 8, 19, 52, 1 and 40 not out in his first three Tests, all against the West Indies in August and September… promising but not definitive.
Root will most likely bat at three and maybe another leftie, Garry Balance, at four, even though he hasn't played a Test since July.
Wicketkeeper Jonny Bairstow is good enough to bat in the first six, as is Moeen Ali, the most improved genuine allrounder in the world.
The Englishmen are beatable with or without the maverick redhead Stokes, whose career is in limbo. The world's leading allrounder, he is worth his place in England's team as both batsman and bowler and will be impossible to replace.
The tourists begin their much-anticipated campaign with two two-day games in Perth, starting November 4.
England's touring squad
| | | |
| --- | --- | --- |
| Joe Root (c) | Yorkshire | 27 |
| Moeen Ali | Worcester | 30 |
| Jimmy Anderson | Lancashire | 35 |
| Jonny Bairstow | Yorkshire | 28 |
| Jake Ball | Nottingham | 26 |
| Gary Ballance | Yorkshire | 28 |
| Stuart Broad | Nottingham | 31 |
| Alastair Cook | Essex | 32 |
| Mason Crane | Hampshire | 20 |
| Steven Finn | Middlesex | 28 |
| Ben Foakes | Surrey | 24 |
| Dawid Malan | Middlesex | 30 |
| Craig Overton | Somerset | 23 |
| Ben Stokes* | Durham | 26 |
| Mark Stoneham | Surrey | 30 |
| James Vince | Hampshire | 26 |
| Chris Woakes | Warwicks | 28 |
* Stokes is still under police investigation over his role in a brawl. He may appear later in the summer.
DAVID McKENZIE
Since turning 50 in late July, Melbourne golfer David McKenzie has enjoyed a dream run in senior golfing ranks, winning almost $A500,000 in prizemoney – matching his entire "takings" for the previous five years.
One third of his prizemoney is automatically forfeited in taxes, with some American states taking more, but it has still been a remarkable set of top 10 performances for the unsung Melburnian who has been living out of suitcases, globetrotting the world for two decades and more.
His biggest local tournament win was the Victorian PGA in 2013.
BRIAN COOK
The commitment by Geelong's CEO Brian Cook to remain at Kardinia Park until 2020 is the best possible news for the Cats, even if he'll never command the headlines and hype of Gary Ablett's return.
Cook is the "Coleman" of football administrators, driven, caring, compassionate and expert. With him in the backroom, the Cats future will always be secure.
KEN PIESSE launched his latest cricket book Heroes of the Hour, with Francis Leach at the SEN studios on Tuesday. No living Australian sports writer has written, edited or published more books than Ken, who is now into his 70s. That's books, not age!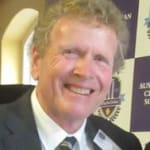 KEN PIESSE has covered cricket and football for more than 30 years in Melbourne. He has written, edited and published more than 70 sports books. His latest book, Favourite Cricket Yarns, is available from www.cricketbooks.com.au
Comments
comments
0 comments