---
Reading Time:
5
minutes
WATCHING the moves before and after a Grand Prix can make for some engaging viewing, as PETER COSTER points out:
WHILE OTHER commentators have been spinning their wheels over the future of Daniel Ricciardo at Red Bull, Sportshounds' start on this story has been a good deal slicker than some of the Australian driver's own grid departures.
We noticed Ricciardo standing in the background in the pit lane at Malaysia while Mercedes team boss Toto Wolff was being interviewed by Damon Hill and Johnny Herbert.
Rather than talking to those clustered around him, Ricciardo was more interested in getting alongside Wolff and walked casually past the Mercedes chief knowing Hill and Herbert would seize the opportunity to rope him in.
It was a love-in. Ricciardo and Wolff pressed the flesh and Ricciardo gave Wolff his million-megawatt smile.
Following Red Bull driver development chief Helmut Marko's comments about Ricciardo being "on the market", we concluded that the Red Bull driver would be in a Mercedes or a Ferrari at the opening Grand Prix of the 2019 season in Melbourne.
Ricciardo still has a year to run on his Red Bull contract and while Ferrari's No. 2 driver Kimi Raikkonen is 38 and the oldest driver on the grid, Mercedes No. 2 driver Valtteri Bottas is not contracted beyond next year. All Ricciardo's ducks are in a row.
What is also fuelling speculation is that Ricciardo is now talking openly about his desire to measure himself against Lewis Hamilton in the Mercedes team.
Ricciardo must have known he was setting the hares running when he said at the United States Grand Prix on Sunday that he would love to race against Hamilton.
That means in the same team where instead of trying to match it with Hamilton in the Red Bull, which simply isn't as fast as the Mercedes, he would be on equal terms with the triple world champion
The Mercedes driver is heading towards his fourth world drivers' championship, which could be decided at Mexico this Sunday.
Ricciardo gave weight to all this by saying he had the chance of pitting himself against Sebastian Vettel in the same machinery when they were both at Red Bull and it was Ricciardo who won races and Vettel who decided to go to Ferrari.
There was also the inducement of US$150 million for a three-year contract and everyone wants to drive for Ferrari at some stage in their F1 career, don't they?
Ricciardo has had the same chance against Max Verstappen at Red Bull where he has been on the podium nine times this year, outqualifying the young Dutch driver at the Circuit of the Americas in the United States.
"I'm going to have that chance again with Max for at least one more year, but while Lewis is in his prime, I would like to challenge and see," Ricciardo said after the race.
Nothing could be more definitive. Ricciardo wants to drive for Mercedes as Hamilton's teammate and rival when his contract runs out.
It is a match-up that would put a fresh complexion on F1 racing and has been made even more likely by the extension to Verstappen's contract to keep him at Red Bull until the end of 2020.
Why has Verstappen's contract been extended when Ricciardo's has not?
That was answered when Red Bull team principal Christian Horner said on the weekend that Verstappen, who turned 20 the day before the Malaysian Grand Prix, was "in the best place in the sport to build a team around him to deliver our shared ambition".
It is Ricciardo who is holding back.
When Helmut Marko declared Ricciardo was on the market, it was because he realised it was the Australian's next career move. Mercedes have the best engine while Red Bull is to continue with Renault power and can only hope there is some more grunt in the works next season.
Why not Ricciardo at Ferrari?
Kimi Raikkonen is close to 40, which is old for an F1 driver, no matter how good they are and the Kimster, as a former world champion, is still up there.
Ricciardo, having been in the Red Bull team with Vettel, whom he outperformed before the German went to Ferrari, does not want to join a team where Vettel is so emphatically the No. 1 pilot.
While the same might be said of pairing Hamilton with Ricciardo, the age difference at Mercedes works in Ricciardo's favour. It does not at Red Bull where there is an age difference of eight years between Verstappen and the 28-year-old Ricciardo.
No, it is Ricciardo at Mercedes in 2019 to allow Mercedes to continue its dominance in the drivers and constructors' championships.
But why would Toto Wolff and Mercedes drop Valtteri Bottas? The Finn is fast but Ricciardo proved at the Circuit of America that he has his measure. The Mercedes is considerably quicker than the Red Bull in a straight line and has superior torque, yet within a few laps of the start Ricciardo passed Bottas under heroic late braking only to lose the advantage when he found himself on the outside at the next corner.
It was the first of several bravura attempts and showed Ricciardo was firmly focused on the Finn, taking a chance that is usually associated with the sometimes overly enthusiastic Verstappen.
Notwithstanding, Verstappen was the driver of the day. After qualifying fifth on the grid, he was penalised over an engine issue and started 16th on the grid at the Texas circuit.
It was a monumental drive and there is no doubt Verstappen is a future world champion and it will not be long in coming if Renault give him an engine that can stay with the Mercedes and Ferraris.
The hard-charging Verstappen passed Raikkonen into third place behind Hamilton and Vettel on the last lap, but he had four wheels off the track and the finishing order was reversed while they were in the drivers' cooling-down room.
Those watching on television knew the stewards had penalised Verstappen for supposedly gaining an advantage, but Verstappen didn't know and was talking animatedly to Hamilton and Vettel and sucking on a soft drink when Raikkonen walked in. Someone whispered in Verstappen's reddening ear and he stalked out grim-faced.
Who wouldn't?
"The Iceman" wore his usual glacial expression, but then he is from Finland. Later, Verstappen said he should have been awarded third place. "It is very weird because the whole weekend we could run off track and there were no track limits.
"When Bottas went off the track when I was in front and he came back in front of me and there was no penalty and we overtake him again.
"I am fine with that, but then I am fighting with Kimi and I do get a penalty. For the sport, the fans also don't understand. They are loving it and then they ruin the sport.
"They should keep going like this and then for sure, within two years, the fans are walking away."
But Verstappen, as it has since been explained, was wrong. He was not penalised for running wide on turn 19 on the last lap, but cutting the corner earlier on turn 17.
Of course, this made no difference to Red Bull whose Christian Horner raged that the decision was "appalling." Appalling it may have been, but if drivers know they won't be penalised, they will cut corners whenever it suits them.
The FIA does need to consider changing the rules over the penalties handed out for engine and gearbox changes where parts are only being replaced because they have failed.
At some GPs this year, half the grid positions have been affected by penalties. Would Verstappen have won had he started fifth on the grid where he qualified behind Ricciardo instead of at the back of the pack?
Probably not, but look what happened to Ricciardo. After only 16 laps of the race his Renault engine suddenly stopped. Had Ricciardo had a new engine in the car, this would likely not have happened. Limiting engine and gearbox changes ensures the wealthy teams don't take an advantage over the also-rans.
There is some merit in this. Teams backed by billionaires and multi-national corporations would simply change engines and gearboxes after every race.
But grid penalties are putting too many cars and their drivers down the grid when they have qualified up front. Putting a cap on costs is another way but whatever is done, it must be to keep the best cars and drivers where the fans can see them.
Unless it is Verstappen who passed a car every lap for the first 10 laps in Texas. Red Bull is right. He is the future of their team but Ricciardo will be sorely missed.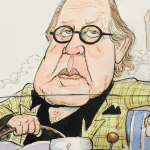 Author:
Peter Coster
PETER COSTER is a former editor and foreign correspondent who has covered a range of international sports, including world championship fights and the Olympic Games.
Comments
comments
0 comments