---
Reading Time:
3
minutes
THEY WERE RACING at Manangatang on Saturday but were jockeys lives being put at risk? BRIAN MELDRUM thinks they were:
ON A DAY when a dozen sprinters dashed for $10 miilion in cash at Randwick, and a host of spring carnival hopefuls strutted their stuff in multi-million dollar races at Caulfield, only a man and his dog would have had any interest in races held at far-flung country tracks.
At Manangatang in Victoria's Mallee, at Forbes in NSW's central west, and at Warwick on Queensland's southern downs, they raced for dollars and dimes, but the racing was just as keen.
And just as Randwick and Caulfield had something in common, aka  truckloads of cash, those bush meetings also had something in common.But it wasn't the money.
It was the running rails – the steel posted, aluminium rails that one might have assumed had gone out with button-up boots, having long been replaced on Australia's mainstream racetracks by plastic rails, mainly for reasons of safety.
It's been nine years since plastic running rails were first introduced into Victoria, and seven years since they first made an appearance in NSW. Why then, are these potentially lethal aluminim rails still in use?
Few people in racing will have forgotten the horrific accident suffered by Adelaide jockey Cheree Buchiw in a race at the old Cheltenham racecourse in 2003.
Buchiw was riding a horse called Flaxen Fury, which crashed through the aluminium running rail. The rail smashed, and the exposed aluminium edge left Buchiw's lower right leg hanging by a thread, later to be amputated. The horse was so badly injured it had to be destroyed.
Some seven years later, in May, 2010, less than two years after plastic rails replaced the aluminium rails at Flemington, three jockeys were injured there in a multiple crash that saw one of them, James Winks, thrown through the rail, and another, Brent Evans, have his left leg dragged along the rail for 30 metres.
At the time Racing Victoria's Chief Medical Officer, Gary Zimmerman, was quoted as saying the domino-effect crash would have been "catastrophic" had the aluminium rails with steel uprights not been replaced with plasic in September, 2008.
Then Victorian Jockeys' Association  chief executive, Des O'Keeffe, said had that step not been taken, Evans could easily have lost his leg. "It's horrific to think what could have happened to him," O'Keeffe said.
At the time of this accident only a handful of tracks had switched to plastic rails, giving O'Keeffe cause to say, "It's a bit of a shame we can't be moving with this Australia-wide, but at least we are getting things moving, and pretty quickly too."
Well, quickly for some, but not all. Aided by a grant of $2 million from the Victorian Government, the new, safer rails were installed at the majority of Victorian courses over the next two years. Gradually most interstate tracks converted.
Yet here we are, in 2017, and there are still horses and jockeys at more than just a handful of tracks Australia-wide, racing up against aluminium rails and steel uprights. And more often than not, it is at the bottom end of the scale where it's happening.
At meetings where the horses are invariably of a low standard, and the jockeys quite often are young and inexperienced, thus increasing the likelihood of a racing incident.
Is the health and safety of both riders and horses at these meetings, any less important than that of those competing for millions on the heath at Caulfield, or at Royal Randwick? Surely not! But then, what else are we to think.
It is significant, perhaps, that Manangatang's Cup meeting on Saturday was a once-a-year event, just as are the meetings at Dunkeld and Wycheproof, also courses where the aluminium rails still prevail. And there are others in Victoria.
In NSW a good number of tracks, like Forbes, are still encircled by aluminium, among them Corowa and Narrandera. The same applies in Queensland, and to a lesser extent in South Australia and Western Australia.
Plastic running rails are not cheap, and there might be a reluctance to install them on tracks that race just once or twice a year. There has been talk of having a transportable set of rails, to be moved from course to course, in much the same way as sets of hurdles/fences are moved around during the jumping season.
Surely, if the racing industry can find the money to stage $10 million dollar races, and build and upgrade multi-million dollar training tracks (with plastic rails), then it should be able to fund the health and safety of EVERY jockey, and EVERY horse. Talk is cheap, but cheap will not be a word that comes into it if, and heaven forbid it happening, a jockey is injured in a collision with an aluminium rail.
At Manangatang on Saturday jockeys the likes of Holly McKechnie, Christine Puls and John Keating, and apprentices such as Jordan Turner, Melissa Julius, Jemma Frew and Lewis German, were entitled to a duty of care. Having had to race against the aluminium, it's fair to say they were not getting it.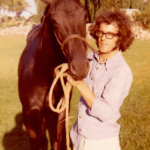 Author:
Brian Meldrum
Brian Meldrum has been a racing journalist for more than 47 years, and is a former Managing Editor – Racing, at the Herald Sun.
Comments
comments
0 comments