---
Reading Time:
3
minutes
A TRIPLE CENTURY came up for Sportshounds this week, plus a single century to boot. We reached the milestone of 100 days since our launch and also published our 300th story.
Appropriately enough, Number 300 was a piece on cyclist Brad McGee being inducted into the Sport Australia Hall of Fame, written by our Chief Writer, Ron Reed. We've lost count of how many stories our Chief Writer has contributed, or edited, but it won't be long before he's moving into the nervous 90s!
The football season may be over but our favourite game won't be fading from this website. There will be plenty of football to come from a stable stacked with writers with a wealth of experience. Geoff Harris riled a few Magpie supporters this week with his frank review of the Collingwood list and we'll be taking a close look at some of the other clubs and their prospects for 2018. Author Dan Eddy has been providing Sportshounds readers with colourful chapters from his growing output of football books and we'll soon be presenting another which is sure to bring back happy memories for Bomber fans.
Racing now moves sharply into focus and you can expect expert and colourful reporting from Ron Reed, Brian Meldrum, Rhett Kirkwood and Rod Nicholson. In case you missed them, scan through the recent Sportshounds menu and you'll find delightful accounts on wonder horse Winx, the strange tale of the trainer who joined the punters in booing his own horse and the cruel luck which found one jockey on the wrong end of a protest, in the same classic race, two years in a row!
Lawrence Money concluded the football season by announcing his 2017 Boot In Mouth winner live on the Coodabeens. We are reluctant to revive this awkward moment for Fox's Dwayne Russell, but his effort deserves further recognition:
 "Exciting times for Melbourne and St Kilda. Both teams can make the eight but both teams can't make the eight."
Dwayne will be the official holder of the trophy – a mounted Premiership Puma boot donated by the great Doug Wade, himself a worthy inaugural winner of the award – until another commentator manages to snatch it from him next season.
As Sportshounds moved into the finals series we were joined by one of football's finest correspondents, Greg Hobbs, who enjoyed a career spanning more than 50 years as editor, writer and author. Hobbsy delved into his memory and his formidable collection of contacts and clippings to produce these memorable stories:
Greg was also a member of our six-man panel, joining Ron Reed, Rod Nicholson, Scot Palmer, Ken Piesse and Geoff Poulter, to choose the Top 50 Brownlow Medallists of the past 50 years.
In case you missed it, their combined vote placed these legends in the first 10 places:
1: Ian Stewart (St Kilda/Richmond) 1965, 1966, 1971 (Richmond).
2: Greg Williams (Geelong/Sydney/Carlton) 1986, 1994.
3: Tony Lockett (St Kilda, Sydney) 1987.
4: Gary Ablett junior (Geelong/Gold Coast) 2009, 2013.
5: Bob Skilton (South Melbourne) 1959, 1963, 1968.
6: Chris Judd (West Coast, Carlton) 2004, 2010.
7: Bernie Quinlan (Footscray/Fitzroy) 1981.
8: Malcolm Blight (North Melbourne) 1978.
9: Keith Greig (North Melbourne) 1973, 1974.
10: Michael Voss (Brisbane Bears, Brisbane Lions) 1996.
The Sportshounds team is made up of more than 30 writers, artists, photographers and former sports stars with well over 1,000 years of experience between them.
Joining us this week we have two new names: Graham Bicknell, who has covered Australian and international sport since the 60s, and Erin Delahunty, a passionate writer on netball who will extend our coverage to that increasingly-popular sport.
As well as fine and informed sportswriting, you can rely on Sportshounds for splendid caricatures and cartoons from Geoff Hook, George Haddon and Simon Schneider, in depth (sorry) fishing from Steve Cooper and the best of sports photography from Wayne Ludbey and Darren Tindale.
Somehow, we survived the Grand Final and its aftermath although our General Manager, Nick La Galle, and writer Cheryl Critchley needed a fair degree of rest and recuperation as they celebrated a flag that had taken 37 years to arrive! So, too, did the intrepid Terry Brown, a lifelong, long-suffering Magpie fanatic who sacrificed all to actually support Richmond for a week and join surreptitiously in the Swan Street celebrations. All for the sake of Sportshounds.
One of our team, Colin Dale, ventured to Spain to represent us in a tomato-tossing tournament in Spain and then on to Munich for the Oktoberfest, a cultural event much beloved by Sportshounds personnel and, presumably, our readers. He has returned safely and even promises to do it again next year.
One hundred days and 300-plus stories down… and many more to come from Sportshounds.com.au, the website with more than 1,000 years of experience.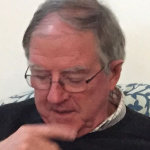 Author:
Colin Duck
Colin Duck was the last Editor of The Sun before it merged with The Herald. Before that he was Editor of the Sunday Press and Deputy Editor of The Herald. After the Herald Sun merger Duck moved into newspaper and magazine management.
Comments
comments
0 comments