---
Reading Time:
4
minutes
BRAVE soul that he is, Collingwood desperate TERRY BROWN ventures into the turmoil of Tigertown after the victory:
IN THE Virilis hairdressers window, a sign advises bodyworks above … There sure are. Other barbers have fled or are carving mullets into mad people.
Virilis, though, however closed, has become an epicentre for the event. It is giving Swan St what no barber ever did – a bit back on the top.
Five minutes ago a Tigers fan climbed, flew or floated on to the shop's awning. Then he dragged a mate up, and another one, and another
There are now 13 thrashing, boozed, disheveled young male Richmond supporters on the awning.
A few bolts and a couple of struts hold up a tonne of roof and another now of writhing meat.
If it comes down – When? – a couple of dozen Tiges below will need a pretty good Don't Argue.
Risking head and shin?
It is a disaster begging to happen, like the guy seven metres up a tree outside Posty and the girl on the moving car roof down Punt Rd. A post coital, "Kill me now!".
Closing on midnight, Swan St is a vision from the ninth circle of Hell when Satan's away, Spotify's down and the garbos are on strike.
For weeks Tigers have been walking on eggshells. Now they are dancing on broken glass. Literally tonnes of broken glass. Actually dancing on it.
Blokes are roaming with shoulder-mounted UDL cases. Four guys with Red Bulls are passing round a vodka bottle in Lennox St as five cops look on enviously.
"F… off Crows," the writhing mass chants.
An Adelaide scarf spontaneously combusts.
Every raised surface has grown glass and aluminium stalagmites – Cruisers, Beam, Furphys.
Every mountable raised surface has clinging, flailing humans – like Baptists waiting to Rapture but a million times drunker.
Someone steals a large table from Belle's Hot Chicken and drags it across the tram tracks to stand on. Why not?
The ground is crushed glass of every alcoholic hue, but you could use pizza and beer boxes as stepping stones, from Church St to the Precinct Hotel.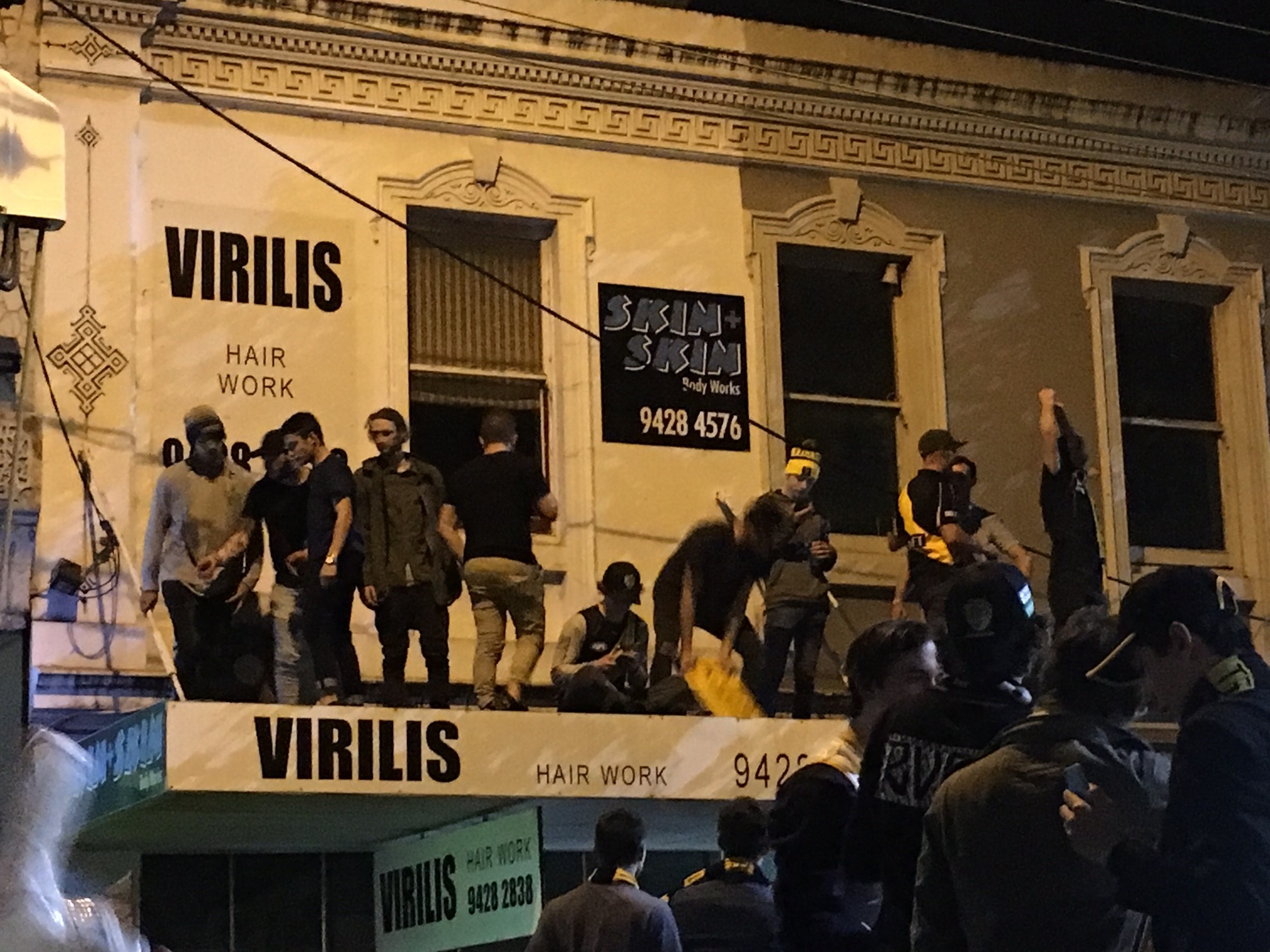 No plastic cups at this binge, baby. None of that AFL mid-strength swill.
Outside Posty, within sight of the police barricades and ambulance, two booze-ring covered cars remain inadvisably parked. They have not been towed, to their owners' regret.
One has a whacking crater in the roof and is a monty for an AAMI ad.
For a fortnight, choppers have shaken light fittings and teeth fillings from Burnley to Cremorne.
But somehow, the apocalypse has snuck up on authorities.
VicRoads has decided not to close off the street.
The MCG crowd is so huge that to fit in 10 more people, you'd have to puree seven of them.
But, yeah, no. The brains trust has decided there is need close Swan St – all the more reason for fans to close it.
By 6pm, too late for bollards or to hastily arrange leave, police have adopted a CFA approach – contain the perimeter and let it burn itself out.
They are in huge numbers each end near the Precinct and the Swan. Half a dozen cop cars are down Lennox St.
At the far end of the Precinct queue, at 8pm, six cops are standing around a bloke as he relieves himself retch by shuddering retch of 35 years of angst, and 40 beers. The fan is draped on a metal handrail.
Three more cops sullenly monitor Mr Hollywood Pizza under the station, ready in case someone tries to get in front of them in the line.
Other than that, though, the police are staying quite clear of the Richmond supporters, thank you.
A brawl breaks out in the Precinct queue, very conveniently. Police race three steps to the scene, but otherwise, there's nothing to see here.
Midway between the police outposts, at the unofficial spiritual home of the Tigers tonight, Richmond BWS, lawlessness is embraced, fist bumped, even dry humped.
The Tigers song is belted out, and the Dusty chant, but the other constant sound is breaking glass – pint glasses dropped or knocked, stubbies kicked checkside at a parking ticket machine.
Upstairs, in the Meatballs window, a lady is dancing on a table.
Lower, smashed and sodden, a mosh pit outside Dimmys Coles is a River Monsters eel episode.
Fists beat on bins non-stop, jungle drums, the real reason people moved out of jungles.
A guy upends one of the wheely bins, because he can.
The song bursts out, gravel on glass as booze deafness descends en masse. Every larynx clinic in town will be booked until Easter.
Not content with re-living the game, they erupt into Mr Brightside, re-living the entertainment!
The Tigertown 13 have slipped down from their awning on the urging of a small, intimidated policewoman thrown in there like burley to the barracuda.
A lone climber has replaced them and tries to get a song going. They give him a short one. Jump. Jump. Jump.
Further along, a Tiger is familiarising himself with the hallowed asphalt and topping up the Precinct puddle, another tick off his bucket list. The Bingle on his jumper only suggests at the wreck.
Five police surround him, only spewing metaphorically. However impromptu the policing effort, they at least have established control of the designated up-chuck spot!
The night does not particularly degenerate further, having limboed under that bar early.
The one visible Crows fan has become a crowd pet for sympathies and selfies.
Public drinking fines could have kept Yarra Council in rainbow glitter for a millennium, but, yeah, nah. They have put the whistle away too.
There isn't even a ticket on the stranded cars, just a Jim Beam can, a Four Pines Summer Ale can and the odd fan.
The night grinds down. Around Church St some fans will get a capsicum basting later they won't probably feel until tomorrow, but Yellow and Black has gone from a scream to a sing.
Belles reclaims its missing table, and a bonus stool.
The VicPol Spew Spot shuts down and, as the fans wander home, a bloke philosophises to a mate with an arm over his shoulder.
"It's more than just ugly people hugging other ugly people."
He struggles to explain. "It's … it's …" and then it clicks.
"Mate, it's Tiger Time!"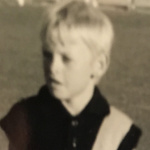 Author:
Terry Brown
TERRY BROWN worked for many years as a general reporter, columnist and colour writer at The Sun and Herald Sun. He is now an academic lecturing in journalism and is an unpublished novelist.
Comments
comments
0 comments