---
Reading Time:
3
minutes
THE MAESTRO of the barbecue, BOB HART, is back on deck after a hearty holiday in the US. He reckons it's time to throw some prawn and corn tacos on the barbecue:
TACOS AND AUSTRALIANS, I reckon, were made for each other. These Mexican-ish gems are casual, loose fitting and entirely delicious. A bit like us, really. Some of us, anyway…
And best of all, in my view, is the fact that the best way to make spectacular tacos is on a barbecue – over charcoal, ideally, with a waft of hickory smoke: no contest. But a gas barbecue is fine, also.
Try, for example, these incomparable prawn and corn tacos: they will quickly have you wondering why that orange buffoon Americans call their president would even consider building that nonsensical wall. I hope somebody quickly builds a taco tunnel.
Mind you, the tacos made and sold in the US these days are not half bad. Some are almost as good as these, in fact…
INGREDIENTS
4 small tortillas, flour or corn – your call (I prefer corn)
6 very large green (raw) king prawns, thawed
2 whole cobs fresh corn, husks in place
½ cup chipotle mayo (made by stirring some pureed, tinned chipotle peppers in adobo sauce from good food shops into Best Foods mayo)
2 limes, quartered
1 cup micro-planed (grated) parmesan cheese
One ripe avocado
Salsa of your choice (try the Que Pasa organic salsa – a great all-rounder)
Freshly ground black pepper
METHOD
Peel back the corn husks without detaching so they form "ponytail" handles; remove the silk and position the cobs on a hot, clean grill – unseasoned, and with no oil applied – with the husks protruding from the grill. Drop the lid in such a way as to entrap the husks. After a few minutes, turn the cobs (by lifting the lid and twisting their ponytails) through a quarter of a turn and drop the lid. Repeat this until the entire cob has been exposed to the direct heat and is turning golden with the occasional black fleck. Remove from the grill, allow to cool slightly and hold by the husk/ponytail as you slice off the kernels into a bowl.
Devein the prawns by splitting them – heads and shells still in place – down their backs with a small, sharp knife. This will allow you to quickly devein them without removing either the heads or the shells which play a vital flavour role when you cook them on the grill. Now, skewer the prawns with sharp metal skewers by lying each group of three prawns in the spooning position and impaling each group in two places – behind the heads and in front of the tails – to turn them into rafts. Or, if they are large enough, simply cook them individually. But first brush the prawns with a mixture of olive oil and lemon juice, and then grill them – quickly and covered, ideally on a very hot charcoal grill with a touch of hickory on the fire. Cook them for around 2-4 minutes, depending on size, and turning them at the halfway mark. Remove them from the grill and rest them for a minute or two before sliding them off the skewers, removing the heads and shells and splitting them lengthways.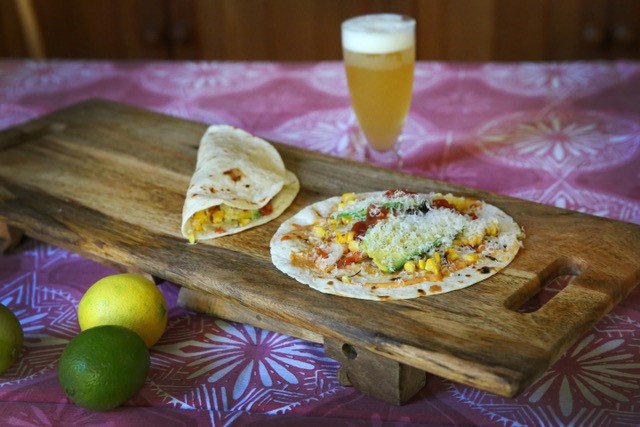 Quickly flop the tortillas on the hot grill and turn after about 20 seconds. Flip and remove after another 20 seconds and line these up on a warm platter. Brush each tortilla evenly with chipotle mayo, position three prawn halves down the middle of each, and dress with a squeeze of lime and a grind of pepper. Now, distribute the corn evenly over the prawns and sprinkle the grated cheese over the lot. Finish with a few slices of avocado, a dollop of salsa and a final squeeze of lime juice. Roll or fold and eat. Noisily, if you like. And with a very, very cold beer.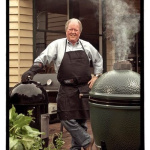 Author:
Bob Hart
BOB HART worked in Fleet Street in the 1960s as a showbiz writer and columnist. After a spell in marketing he returned to Australia and turned his attention to another great love: food. He has written a number of books on the subject and the latest, Bob Hart's Barbecue Unplugged, will be in shops in late September.
Comments
comments
0 comments