---
Reading Time:
14
minutes
THE WEEK THAT WAS: Some weeks the big stars seem to all come out to play together. This has been one of them, says Chief Writer RON REED:
THERE IS no such thing as an award for international sportsman – or woman — of the week, but if there was it would be a damn difficult choice with no fewer than four powerful candidates. Spaniard Rafael Nadal and American Sloane Stephens pulled off extraordinary wins at the last tennis major of the year, the US Open, England's James Anderson became the sixth bowler to take 500 Test wickets and his countryman Chris Froome confirmed his status as the world's best road cyclist by adding the Spanish Vuelta to his fourth Tour de France.
Nadal's 16th Grand Slam triumph has – not for the first time – provoked arguments about whether he or Roger Federer is the GOAT, the greatest of all time. Even though it leaves out Rod Laver and his two calendar-year Grand Slams, it's a fair question. There are a few other handy names in this conversation, too, including Pete Sampras, 14 titles, and Novak Djokovic, 12 and still well and truly counting, but it's difficult to go past these two. It's not something that can be resolved with mere stats. Federer has 19 titles and they are spread more widely across the four tournaments than Nadal's, but the Spaniard leads him 23-14 head to head – a very significant point. The fact they have shared the four big ones between them this year – two apiece, with Federer prevailing in Melbourne on the only occasion they clashed in a final – suggests the argument might be raging for some time yet.
Sometimes these things come down to personal preference, which can change. I recall writing in the Herald Sun not all that many years ago that Nadal was the sport's best asset of his generation, not just for his obvious talent but his interesting personality and cool charm. But Federer possesses those qualities too, at least as much. His family man image adds to them, even if it is not necessarily relevant to the debate. These days, I enjoy watching Federer more, although there's not much in it, and I suspect that Djokovic might yet end up going past them both. But that's a long way off yet. So, it's Federer for me.
I wish to call an expert witness, Your Honour. Nobody in Australia – possibly nobody in the world – has watched more tennis than four-time Grand Slam winner, Davis Cup dominator and pro tennis pioneer than Melbourne's own Frank Sedgman, who is closing in on his 90th birthday – an occasion that is going to be celebrated by plenty of very prominent friends from what I hear. Four years ago I wrote Sedgey's first and only biography, Game Sedge and Match, and we listed the 10 greatest players he had seen. No 1 was an old-timer from his own era, Jack Kramer, and Federer was No 2. Laver was 3, another old-timer, Pancho Gonzales, was 4 and Nadal was 5.
This is what he had to say about Federer: He changed the way tennis was played, turning very attacking shots against him to offensive ripostes himself. In other words, when he should have been defending he attacked. He could half-volley from the baseline in a way that no other player could, both forehand and backhand. He was the pacesetter for a type of game that other very good players are now replicating."
And of Nadal, he said: He is sensational on clay because of the spin he puts on the ball. He is a freak because he has never followed the accepted pattern of stroke-play – he goes against everything that you, as a professional, would teach kids. He seems to be off balance as he uses the strength of his arm without transferring his weight. He has great speed and is so accurate with his passing shots that players are afraid to come to the net. The one thing I don't like about him is that he is an expert at using every available second between points which means a five-set match can take five hours and that can affect an opponent's concentration – never his, though. He is very good mentally.
I think the mere fact that Sedgey has put Federer ahead of Laver – and Nadal behind him – says it all. And at this stage, I agree – but let's see what the final record shows, whenever that becomes available
* * * *   
ABOUT THE others …
Sloane Stephens' performance is a bonus for women's tennis. She is very talented, comes across as a likeable character, doesn't seem to be intimidated by the big names and knows how to seize the moment, absolutely dominating her friend Madison Keys in the final, having prevailed in a third-set thriller against Venus Williams in the semis. She claimed her first Grand Slam title without having to beat the other, more formidable Williams, Serena, but she proved capable of that at the Australian Open a couple of years ago. The most amazing aspect of her triumph, of course, was that she was ranked 957 as recently as August, but that has far, far more to do with injury than ability so, at 24, and now ranked 17 with a bullet, she may have arrived as one of the new stars tennis and all other sports need to keep producing. Speaking of rankings, Nadal has returned to No 1 while his Spanish compatriot Garbine Muguruza tops the women's list. Not for the first time by any means it underscores what a remarkably successful sporting nation Spain is.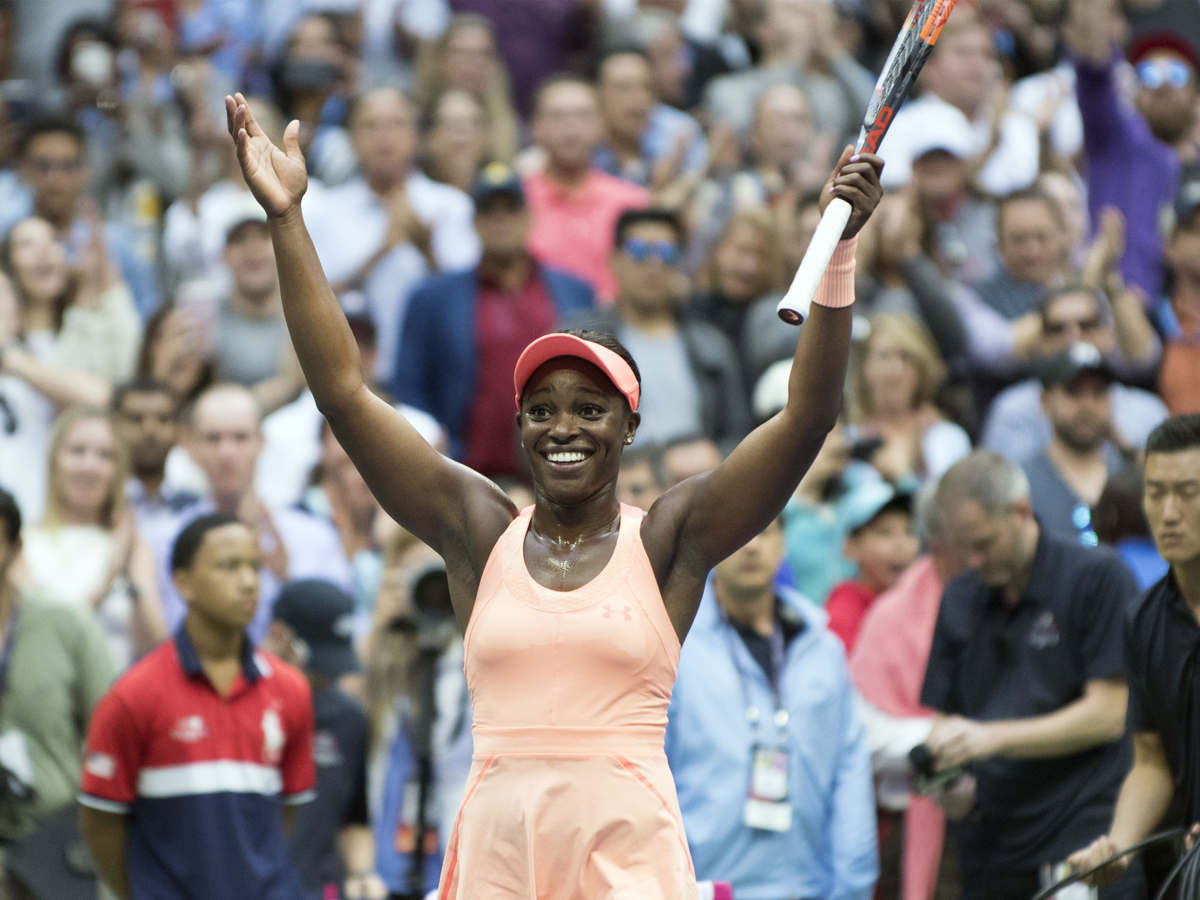 James Anderson is on track to become the most successful pace bowler in history – and says he fully intends to play long enough to achieve that even though he is 35 now. That looms as just one extra motivation for the Ashes, not that he is likely to need any. Anderson's career-best 7-42 in the second innings of the Third Test against the West Indies took him to 506 wickets, 13 behind the West Indies' Courtney Walsh and 57 adrift of Australia's Glenn McGrath, with three spin bowlers – Mutiah Muralidran, Shane Warne and Anil Kumble the only other members of this extremely exclusive club. Anderson averages about four wickets a match so another 15 Tests, including five this summer, should see him nipping at McGrath's heels. Or will it? West Indies commentator Michael "Whispering Death" Holding, who knows more about the caper than most, pointed out the other day that only 171 of Anderson's victims have been bagged abroad. "He's not so good away from England," he said. Perhaps not – but then again, there are plenty of experts who reckon he is swinging the ball both ways better than ever before. We don't have long to wait to find out.
Chris Froome is not only the best road cyclist going around nowadays, he is one of the most agreeable, as fans of the Herald Sun Tour have discovered the past two years. He doesn't talk himself up unduly but he was, quite rightly, proud and pleased with his latest feat and didn't mind saying so. He became the first rider to win the Tour de France and then recover in time to claim the Spanish Vuelta. Only two others have won both races in the same year, both of them legends – Bernard Hinault and Jacques Anquetil – and that was when the Spanish race was scheduled before the French marathon, not afterwards. There is no stopping Froome. He has gone straight to Belgium for this weekend's world championships, where he will help Team Sky try for the team time trial. Then he will take a break before beginning preparations for a fifth win at the Tour, which would equal the record shared by cycling royalty Hinault, Anquetil, Eddy Merckx and Miguel Indurain. He may also tackle the other Grand Tour, the Italian Giro, now the only one he has never won. Nobody has ever won all three in the same year, the consensus being that three such three-week marathons in four months is physically impossible. Froome is not so sure. "I wouldn't say it's impossible – nothing's impossible – but certainly it would take some doing," he said this week. He will turn 33 during next year's Giro so he has maybe two or three years on his side yet to stake his claim as the best-ever.
* * * *
THAT other battle for the football high ground, between the long-running The Footy Show on Channel 9 and the much more recent opposition The Front Bar on 7 has taken a seismic shift. For the first time, the uppity challenger out-rated the weary old champion this week – and by a long way. Here are the numbers;
| | Front Bar | The Footy Show |
| --- | --- | --- |
| 8.30pm | 163,000 | 170,000 |
| 8.45pm | 173,000 | 164,000 |
| 9.00pm | 200,000 | 170,000 |
| 9.15pm | 217,000 | 170,000 |
| 9.30pm | 214,000 | 176,000 |
TFB only goes for that hour so the rest of TFS's 110 minute offering doesn't really count on the scoreboard. The result is an unmitigated thrashing. Nine's average of 175,000 in Melbourne is a huge drop from the 381,000 that tuned in when Eddie McGuire launched his rescue mission after a long absence marked by the departure of several other hosts. TFB's 190,000 average was up on its usual 175,000 so it looks like Eddie's honeymoon is well and truly over and he may well be thinking the end of the season, now only two weeks away, cannot come too soon. Seven's tactic of using media-savvy big names from the past as against Nine's staple of three current players – not all of whom have much to say – has proven a big winner, never more so than Thursday night's hugely entertaining appearance from Richmond legend and media professional Kevin Bartlett. The little bald Tiger is immensely knowledgeable about not just footy but all sports, has a sharp wit and timing to match and a playing record that speaks for itself in both longevity and class. It showed.
* * *
NO BOXER has ever been in contention for the Sport Australia Hall of Fame's prestigious The Don award, which makes Jeff Horn's presence among the finalists this year interesting. SAHOF announced this week that Horn will be up against the Matildas women's soccer team, hurdler Sally Pearson, rugby league's Jonathan Thurston, basketballer and footballer Erin Phillips, swimmer Emily Seebohm and surfer Tyler Wright, all of whom are strong candidates for an accolade that is not based simply on performance but for qualities such as inspiration, sportsmanship, integrity and courage. Pearson, with her world championship triumph coming after a two-year injury hiatus, is trying to become only the third athlete to win it three times, while another intriguing candidate is Phillips, who has been selected mainly for her all-conquering performances in the first season of women's AFL. But given who he beat for his world championship – an absolute legend of boxing, Manny Pacquaio – the courageous manner in which he went about it and the dignified response to the controversy over the judging, I expect to see Horn up on stage at the sold-out annual dinner and induction ceremony in Melbourne on October 12. Whether that happens or not, he is one of the best things to happen to the fight game in Australia for a long time.
* * * *
STATUES OF great sportsmen and women have become "a thing" in Melbourne, the sports capital of everywhere. There must be at least 20 in locations ranging from the MCG precinct, a couple of other defunct footy grounds (Western Oval and Waverley) and Flemington and Caulfield racecourses. They are a very good – if pretty expensive – addition to the city's general "feel" for sport but, of course, some judgment needs to be exercised on how freely they should proliferate for fear of cheapening the honour. So far, so good – none of the existing monuments is undeserved.
This week, another candidate was put forward. The Peter Norman Commemoration Committee is fighting for a similar acknowledgement of the late sprinter's bravery in standing in solidarity with American athletes Tommie Smith and John Carlos when they raised their fists in a human rights salute on the medals podium after the 200m at the 1968 Mexico City Olympics.
The gesture made the young Melbourne schoolteacher and Salvation Army officer a hero among black people in the United States and Smith and Carlos attended his funeral in Williamstown in October, 2006. They gave emotional, grateful eulogies and acted as pall-bearers and the United States Track and Field Federation declared it to be, officially, Peter Norman Day in that country. I have a framed copy of the official proclamation hanging on the wall of my study as a mark of respect for a terrific bloke who I got to know well long after his sporting career finished.
The commemoration committee's convenor Joseph Toscano said it was important to remember Norman's actions because we now live in an era "where racial discrimination seems to be on the rise." He added: "When you think about the issues that are raised in the city regarding migration, regarding refugees, regarding the rise of hate groups in our society, regarding attempted changes in legislation to remove vilification."
Norman was rebuked for his gesture at the time and, shamefully, was not selected for the next Games – even though his silver medal time was still the Australian record, and remains so to this day – and was not officially invited to the Sydney 2000 Games, which he attended as a guest of the Americans.
While there is a limit to what he achieved competitively – there are many Australians with Olympic silver medals and no gold; Raelene Boyle has three of them – the impact he had in this other way has been remembered and admired far more, and will never fade from the history books.
So, a statue would be entirely appropriate. Where to put it? More people would see it at the "G" rather than anywhere else but he doesn't really belong there, having never competed on the hallowed turf. The old Olympic Park athletics track is no more, having become Collingwood Football Club's training ground. So, the new track and field HQ at Albert Park is probably the place. Hopefully the money and the will can be found to do it.
* * * *
AUSTRALIAN cycling's massive debt to entrepreneurial Melbourne businessman and all-round sports fan Gerry Ryan is certainly not diminishing. Cycling Australia has told him that it will not continue to contribute to the funding of the women's team and the developmental under 23 Continental team that operate under the umbrella of Ryan's Greenedge Cycling, the management arm of Australia's only World Tour team, Orica-Scott.  That's despite impressive results this season – the women are ranked third among the world's teams with 18 wins, and the boys team, Mitchelton-Scott, are ranked No 1 in their first year on the Oceania Tour. Unfazed, Ryan will simply increase his own commitment. "The decision of others is out of our hands but we believe they deserve our support, and a lot more," he said. His decision is all the more generous given that Orica, a major chemicals company, has come to the end of its five-year sponsorship and no naming-rights replacement has been found yet. Only Ryan himself would know how many millions – and how much time and business expertise — he has tipped into cycling and insiders can only grimace at where the sport would be without him.
* * * *
SPORTSMAN OF THE WEEK
Melbourne Storm captain CAMERON SMITH broke yet another record when he played his 356th National Rugby League game, leading his team into another preliminary final. He has never played better and yet, to widespread shock, the Rugby league Players Association overlooked him for its player of the year award, which went instead to West Tigers' James Tedesco. Smith remains hot favourite for the competition's top award, the Dally M.
WINNER OF THE WEEK
There's been so much noise about it, that just has to be the Richmond footy team. Or are we – make that "they" – talking too soon? And too loudly.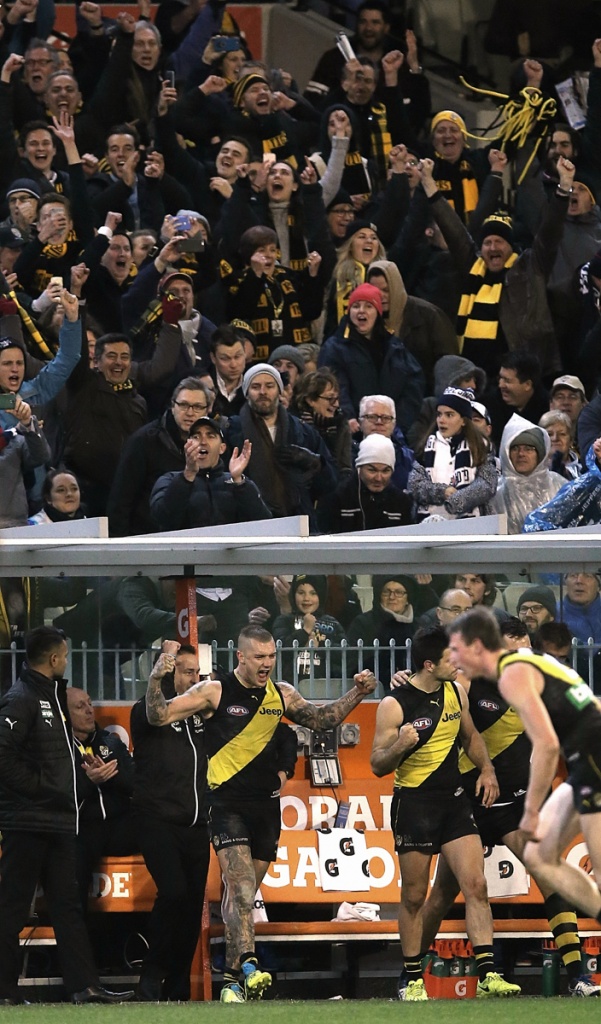 LOSER OF THE WEEK
Port Adelaide had their elimination final in the bag midway through extra time and still found a way to get beaten by the Eagles, with chairman David Koch then rubbing salt in by gratuitously bagging his players – unfairly. All in all, a mess.
YOU READ IT HERE FIRST
Can any racehorse prevent the mighty mare Winx from making a formality of her third Cox Plate. Perhaps – BRIAN MELDRUM found one this week, and it's a 100-1 shot.
QUOTE UNQUOTE
"I'd sit in my car and cry for about 20 minutes. Then I'd get up the courage and I'd drive into the club and I'd get to the car park, and then I'd sit in the car and cry for another 20 minutes, get up the courage, and then I'd walk into the club, look at the doors and just go, 'Yep,' – put on this big front." Collingwood footballer ALEX FASOLO opens up on the torment of dealing with depression.
"We don't want players who are living their dream just by playing AFL footy. We want players who want to win a premiership. If they're just playing for us because they love to play AFL, they're not players that we want." Port Adelaide chairman DAVID KOCH takes the last-kick loss to the Eagles hard – and buys a few arguments.
"He's (Koch) wrong and he's got to increase his knowledge of what goes on at football clubs. Don't doubt the people and their efforts. That's why I was disappointed with Kochie because there is no doubt the players are there to win premierships and not just rack up numbers and get paid." Former Port coach MARK WILLIAMS doesn't agree.
"I absolutely hated it. You bust your backside, your whole life is dedicated to this. Whatever it is, you are dedicated to what you do. To then say that … baffles me. I'm infuriated and I'm not part of that club at all." Neither does former St Kilda star, now commentator NICK DAL SANTO.
"For the small things to add up to major change the big things must be attended to as well. If Richmond just focused on Sweeping the Sheds but didn't change their forward line to apply the most forward-50 pressure in the competition, or recruit Neil Balme as football department chief, or have their coach focus on what people could do rather than what they couldn't, you could have the tidiest rooms in the competition but no improvement." Commentator and dual Brownlow medallist CHRIS JUDD agrees that small things matter – up to a point.
"The team that started the Handball Club seems more intent on being the Party Club." Sportswriter JOHN RALPH suggests why the Western Bulldogs have failed to follow up on their premiership triumph.
"If we are to win, I'll definitely be thinking of Phil." Adelaide Crows captain TEX WALKER has not forgotten his murdered coach Phil Walsh.
"Women may start playing football at a young age but often in their teens their body shape changes as they enter womanhood and for a whole range of reasons their body tissues are more flexible … which means they are more prone to injury. Female athletes need a longer training period." Former Premier, Hawthorn footy president and all-round polymath JEFF KENNETT worries that women's football is a risky business at this stage of its development.
"It makes me so angry. I go through this whole range of feelings from embarrassment to anger to (being) dumbfounded. I just know for a fact that it is something we will look back on and shake our heads that it took so long." Former Carlton footballer MICHAEL JAMIESON, whose brother Will is gay, can't believe the same sex marriage debate is proving so difficult to resolve.
"Buddy Franklin always goes missing under pressure." (or words to that effect) Once again, you have to wonder whether The Footy Show's SAM NEWMAN is making outlandish calls just for the sake of getting a response.
"It seemed as though he was taking the responsibility square on his shoulders. Some avoid it, others take energy from it. He is in the latter bracket." GWS Giants veteran STEVE JOHNSON couldn't disagree more with Newman about big Buddy
"Well, for heaven's sake, it's the Melbourne Cup. It's the biggest show in town. It's not some maiden at Woop Woop." Victoria Racing Club chairman AMANDA ELLIOTT is not happy about handicapper Greg carpenter's decision to water down the penalty system for the Caulfield and Melbourne Cups.
"I wake up every morning with the passion to go on court and improve things." Spanish tennis star RAFAEL NADAL's US Open victory has at least one simple explanation.
"So Bernard, it will always be open, that opportunity to come back. But he's a long way off it right at the moment." Davis Cup captain LLEYTON HEWITT goes into battle without lost soul Bernard Tomic – now and for the foreseeable future.
"It's the whole thing – her presence, her confidence, her personality. She was a grown woman, experienced, the best player in the world. It still feels that way. Even now, she can still make me feel like a little girl." Why tennis princess MARIA SHARAPOVA at 17 couldn't handle Serena Williams – and still can't.
"Just the fact that nobody's ever won the Tour (de France) and then La Vuelta afterwards, it's incredible to be able to do it." British gun cyclist CHRIS FROOME is pretty happy with his historic double.
"I remember it because David Taggart pulled up after the race and said, 'How was that! That was great wasn't it? It was better than sex, wasn't it?" I said, 'Ah … yeah, yeah, of course.' I hadn't had intercourse back then but I didn't want to be left out of the boys club." Jockey CRAIG WILLIAMS remembers his first one … winning ride, that is.
"The lid's off. I don't care." Revealing that he had slept in his Tigers clobber, BRETT SCHRAMM speaks for all his fellow Richmond fans on the morning after the big night before.
"I'm not normally lost for words but that question had me stumped." Geelong champion PATRICK DANGERFIELD is understandably bemused at being asked at the presser after the thrashing by Richmond: "Are you happy for the Richmond faithful who have had to wait 16 years to win a final?"  
"In participation and every other matrix we are on a par or ahead of other sports. If you ask families today what kind of sport they want their kids to play, basketball ranks right at the top. I have no doubt we can be the No 1 sport in the summer." NBL owner LARRY KESTLEMAN has lost none of his optimism for his pet project.
"I was conscious of the risks. I'm not expecting to play golf or go to the beach, but we knew it was there. But at the same time you can't be hypocritical because we had terrorist attacks in London and everyone stayed." Former Test cricketer DEAN JONES re-marks his guard after a suicide bomber killed several people at a cricket match in Afghanistan.
"I did what any loyal employee or executive would do. I supported the head of the organisation. I have no regrets about doing that. I understand I was collateral damage." Now former Australian Olympic Committee media manager MIKE TANCRED makes no apologies for the events that have now led to his sacking.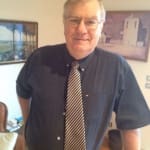 Author:
Ron Reed
RON REED has spent more than 50 years as a sportswriter or sports editor, mainly at The Herald and Herald Sun. He has covered just about every sport at local, national and international level, including multiple assignments at the Olympic and Commonwealth games, cricket tours, the Tour de France, America's Cup yachting, tennis and golf majors and world title fights.
Comments
comments
0 comments