---
Reading Time:
5
minutes
THIS YEAR WAS deeply disappointing for Bulldogs fans who cherished the fairytale 2016 premiership. But it will never stop them from believing, writes CHERYL CRITCHLEY:
AFTER 17 YEARS in the US, Western Bulldogs diehard Jim Sheahan returned to Melbourne from his native Chicago this year … only to see his team experience a premiership hangover.
When the Dogs broke a 62-year premiership drought in 2016, Jim, who was already planning to move back, couldn't wait to attend games regularly again. But, like other Doggies fans, he had to contend with missing the finals.
"It was fantastic just to be able to go to a number of matches this year, though my luck kind of ran out," Jim says. "When I went to the footy when I visited Melbourne we were about 10-3. This year on my return I was 4-4."
The Bulldogs' VFL team did beat Essendon by five points in a nail-biting VFL elimination final on Sunday, which is some consolation. But nothing beats a senior flag.
Last year was literally a dream come true for Jim. After witnessing five preliminary final losses, he flew from Chicago to watch his beloved Bulldogs win their first Grand Final since 1954.
"This is the best day of my life," Jim declared at the time, his voice breaking after the Dogs beat Sydney by 22 points. "I never thought this day would come. I can hardly believe this is happening."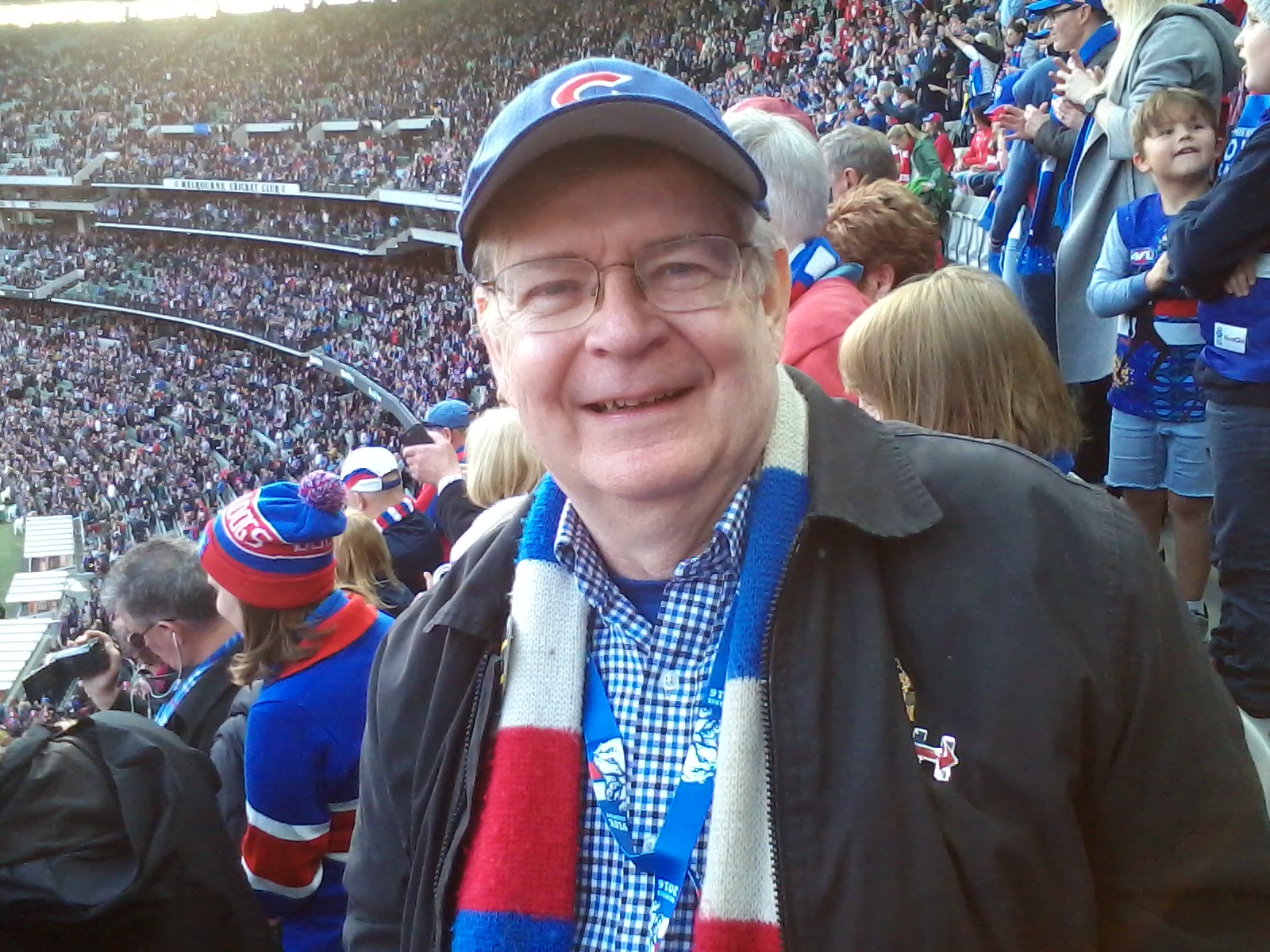 Jim cried in the stands for 30 minutes before joining fellow fans at Whitten Oval the next day to celebrate. These were football's true believers, who never gave up through years of demoralising losses.
Seven preliminary final defeats between 1985 and 2010 hit hard, the worst being a two-point loss to the Crows in 1997 after holding a 23-point lead.
But their faith was finally rewarded with an unforgettable 2016 finals series that saw their team make the Grand Final from seventh position. When the Bulldogs beat the Swans against all the odds, there wasn't a dry eye in the house – or around the country.
After 62 years, the drought was over.
But what of 2017? The Bulldogs finished tenth after an up and down season. Fans also watched their popular captain, Bob Murphy, retire after missing the 2016 Grand Final through injury.
It topped a bittersweet year for the likes of Jim, who returned to Melbourne in May.  Now 65, he is a familiar figure in Bulldogs circles.
Jim taught in Melbourne for 25 years before returning to Chicago in 2000 to care for his elderly parents John and Bernadine, who died in 2004 and 2016.
Jim was born in Oak Park, Illinois – the birthplace of Ernest Hemingway. He had never heard of Australian Rules and didn't even like sport when he arrived in Melbourne as a young teacher towards the end of the 1975 VFL season.
After watching his first Footscray home match at Whitten Oval and being blown away by ruckman Gary Dempsey, Jim was hooked. He became a member in 1977 and loved sitting in the outer below the Whitten Stand, "come rain or shine".
The diehard Doggie barely missed a home game for more than 20 years, taking public transport as he didn't drive. To reach VFL park from his Maribyrnong home meant a tram, two trains and a bus each way.
Success was rare in the 1970s, but Jim never gave up and collected some treasures along the way. His most prized possession is a footy autographed by Footscray players including Gary Dempsey.
Jim's Year 10 homeroom class at Avondale High School, which became Avondale Secondary College and later closed, gave the footy to him for his 25th birthday in 1977. "It was used in a match at the Western Oval in August 1977," Jim recalls.  "Four Brownlow medallists handled the ball that day."
After teaching at several Melbourne schools, including Parade College, Jim returned to the US in 2000 to care for his elderly parents.
For several years, he shared his footy tips with ABC Radio Melbourne's Lindy Burns at 2.45 am Chicago time. The regular spot endeared him to many radio listeners, who appreciated his passion and bubbly personality.  He even had his own Geelong-based fan club.
Until this year, Jim visited Melbourne periodically and was personally welcomed at the club by the likes of former coach Rodney Eade and former president David Smorgon. "It's been like a second home when I've visited Melbourne," Jim says. "The club has been absolutely terrific to me. I have been awestruck by my fellow Doggies."
When the Bulldogs beat GWS in the 2016 preliminary final, Jim sat up all night in suburban Chicago to watch online. He then flew into Melbourne on the Wednesday before the Grand Final after a fellow Big Footy poster offered him a Grand Final ticket at face value. 
To cap it all off, when Jim returned to Chicago his Cubs won their first baseball World Series since 1908. It was an incredible year for underdogs.
This year Jim savoured watching his team in the flesh again. "It was great to be back to soak up the atmosphere, rather than just watching games on my computer," he says.
"I was really disappointed that we didn't make the Finals. Except for last year's Grand Final that I flew out from Chicago for, I haven't seen us win a Finals match since 1998. However, as I always say on Big Footy, 'I live in hope.' Next year's a whole new ball game and I'm sure we'll be back."
Wherever he lives, Jim's passion for the Bulldogs will always burn bright. While away, he even joined up as members his late Aussie-born cat Jordan, his other cat Lily and his mother.
"After her death, the club sent me an email of condolence telling me that she was the oldest Western Bulldogs overseas member at 90," he said. "I know that she was with me at the Grand Final. I had her member's card in my pocket for good luck."

Diehard Doggie Jim Sheahan

Job: Retired teacher
Why the Bulldogs? I go for underdogs.
First game: Round 1, 1976 vs Bombers at Western Oval. The Bulldogs lost by one point – underdogs. Gary Dempsey had a tonne of marks – spectacular.
Best win seen: Grand Final 2016 – after 40 years my dream came true.
All-time favourite: Chris Grant – loyalty, humility, exceptional footy skills.
Most extreme act of dedication: Flying to the Grand Final in 2016, two days after the Bulldogs Preliminary Final win. It was worth it.
How often do you attend? Never missed a home game from 1977 to Round 1, 2000 (Except for the year I lived in Perth, 1989), when I left Melbourne to return to the US. I went to 90 per cent of Melbourne-based away games for Dogs in that time span.
Where do you sit? Etihad opened the weekend I left Melbourne in 2000, so I've never had a usual seat, though I've been to about seven matches there since 2002.
What do you wear? Bulldogs Footy scarf bought at Forges of Footscray in 1990. Chicago Cubs baseball cap.
Favourite footy food: Hot chips with tonnes of salt and vinegar.
Strangest thing seen or done at a game: I almost got kicked out of the SCG in the early 80s after putting a homemade Bulldogs banner over the advertising on the fence; had a cameraman film me at Etihad for a segment on a Fox Footy TV show in 2006.
Favourite ground: Whitten Oval (second home, I've been there so many times), MCG – nothing better that watching a match there.
Most hated team: Richmond – supporters (ugh).
2017 Brownlow: Marcus Bontempelli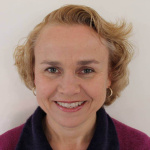 Author:
Cheryl Critchley
Cheryl Critchley is a freelance journalist, AFL Fans Association vice-president and Richmond member who attends games with her husband and three kids – if she can drag them along. She also wrote Our Footy: Real Fans vs Big Bucks (Wilkinson Publishing).
Comments
comments
0 comments