---
Reading Time:
9
minutes
THE WEEK THAT WAS: The footy world has had eyes for only one man and Dusty Martin has emerged with both his bank balance and his respect enhanced, says chief writer RON REED:
THEY'RE EVERYWHERE, the Tigers. It's getting scary. And it's not just at the footy. The Bangladesh cricket team call themselves the Tigers – who could fail to notice all those fans with their faces painted in yellow and black stripes? – and we all know what happened there. And worse, what might be about to happen again when the second Test begins on Monday. But that's nothing compared to the tsunami that is threatening to engulf the footy finals now that Richmond have finished top-four and convinced themselves that the drought of almost four decades is about to break.
If so, this could be worse than Collingwood winning the premiership – well, no, nothing is ever as bad as that, but you get the drift: it won't be pretty. The Tiger hordes are bigger than you might think. More people have watched the Tigers play this year than even the Magpies, who usually win this bragging right without even trying. As usual, Collingwood occupy top spot on the latest membership ladder released by the AFL, with 75,879 (although how many of those are contrived special deals is anyone's guess), ahead of Hawthorn on 75,663 with Richmond third on 72,669. But according to a Tiger media release this week – which, incidentally, put the membership figure a fraction higher at 73,515, a record – they topped the crowd-pulling table. A total of 1,024,751 attended Richmond's 22 home and away games, with Essendon, Collingwood and Carlton – the other traditional big three clubs in Melbourne – trailing behind. Of those, 615,542 attended Triger home games at an average of 55,958, which the Tigers say is at least 10 per cent higher than any other club.
So, if you're still wondering why the "G" looks like being filled to the brim for a mere Qualifying Final when the Tigers meet the Cats on Friday night, there's your best clue right there. For different reasons, nearly all of the finalists would be a genuinely good story if they could go all the way, but at the outset none is more interesting than the yellow and black. They're even having trouble putting the time-honoured "lid on it" themselves, coach Damien Hardwick no exception – in fact, he's the ringleader. "I want the guys to embrace the hype of the finals series," he said. "There are 10 other sides wishing they were us. I was one of those guys who was like, 'Don't pay attention to the hype, ' but you know what, it's not often you get there, so enjoy it." Not many coaches are game to take that approach when the stakes are so high, but good on him – it's another layer of excitement and that has to be good for the game.
Dimma, of course, was suddenly enjoying it a lot more when the Dusty Martin saga finally played itself out on Thursday night, with the gun midfielder deciding to stick with the Tigers for the rest of his career. For a bloke who says he doesn't much like being the centre of attention – well, not in the media anyway – Martin could hardly have been any more visible as the finals hoved into sight. In Melbourne, it takes something big for any sports story to push a major event at Collingwood off the front page of the footy bible, the Herald Sun. But that's what happened when the Magpies reappointed coach Nathan Buckley, with that relegated to the back while Martin's trip to New Zealand to consult his old man was all over the front – even though there was not a skerrick of new information available.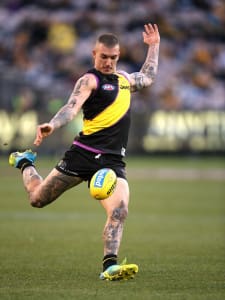 It was a big week for Martin in other ways. He also won the Herald Sun's best player award by an amazing eight votes from Patrick Dangerfield, confirming his red-hot favouritism for the Brownlow – although, very oddly, he didn't make the first three of the equivalent award in The Age, which was won by Adelaide's Matt Crouch. The Hun's published leaderboard ran to 13 players and Crouch wasn't one of them. Go figure. Naturally, Martin was also named – probably the first one picked – in the All-Australian team.  The boy can certainly play, which is why North Melbourne made the biggest offer in the history of the game to lure him away.
We have never known much about Martin because of his reluctance to embrace the media, so what more have we learned now? You'd have to say his image could do with some work – the all-over tatts, the (heavily exaggerated) incident in which he was accused of threatening a woman with chopsticks while drunk in a restaurant, and his father being deported because of his connections with a bikie gang and his "don't argue" physicality have all combined to give him a certain air of … what? Not quite menace exactly, but certainly something just a little bit forbidding.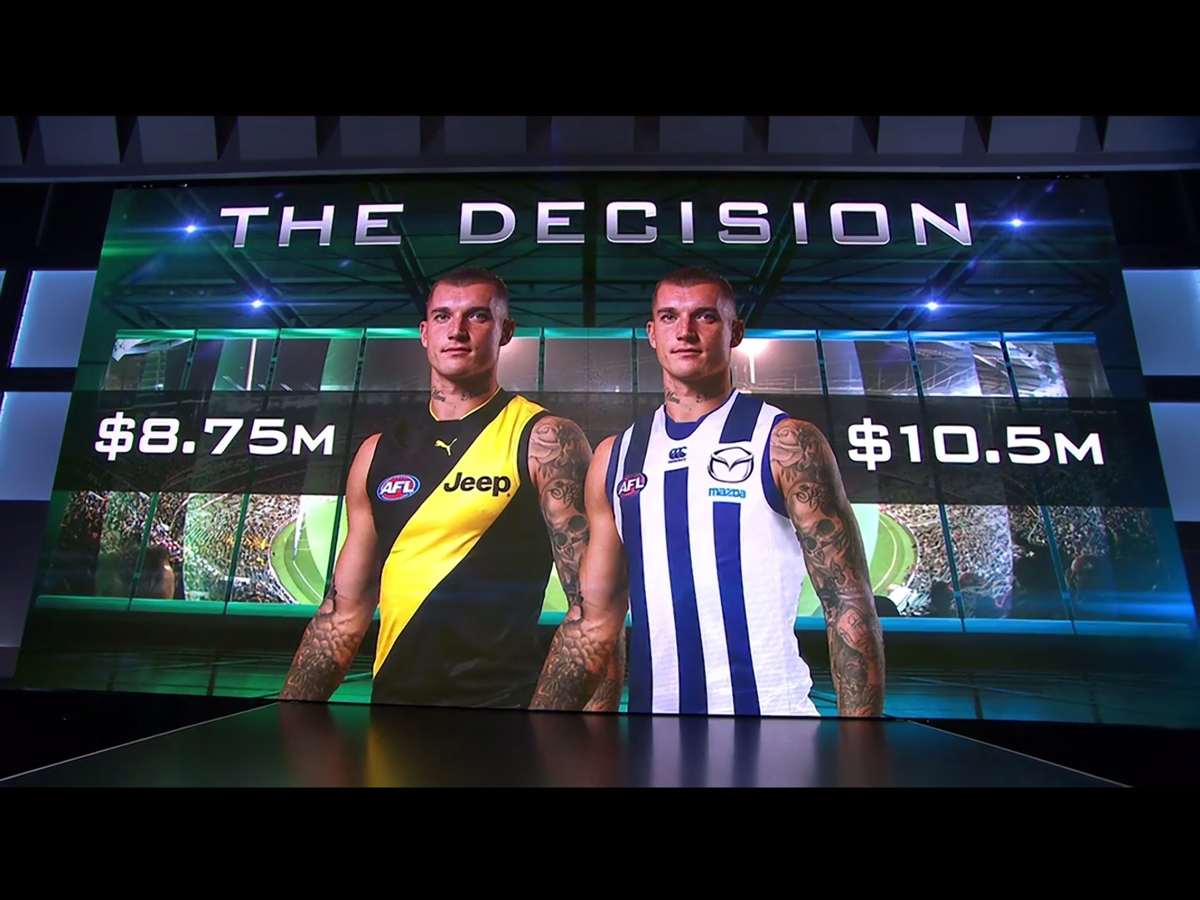 That may be changing. It helps that he has created a perception of loyalty by knocking back the significantly bigger offer to stay with his mates at Tigerland. His comment on The Footy Show that secretly meeting the people from North "felt like I was cheating on my girlfriend" underscored that feel-good aspect of the deal. So did his obvious regard and respect for his Dad, however much of an anti-hero old Shane might appear to others. Indeed, Martin presented in a very positive way in his chat with Eddie McGuire and Sam Newman, and from all reports the same applied with Tiger tragic Mick Molloy on The Front Bar. All in all, he has had a huge week with the Brownlow still to come and a premiership far from out of the question. Whether or not this turns out to be the year of the Tigers, it is certainly going to be remembered as the year of THE Tiger.
* * * *
PEACE appears to have broken out at Cricket Victoria – well, up to a point — with the unprecedented attempt to overthrow the entire board at the annual general meeting this week fizzling out almost entirely. Only one member of the so-called New Six challengers, Peter Williams, making it through, in place of former Geelong president Dr Michael King. The election amounts to a ceasefire after a substantial level of often bitter infighting among grassroots stakeholders over financial and philosophical issues have played out for most of the year. Whether the truce is a fragile one remains to be seen, with one of the challengers, Essendon president Simon Tobin, saying, "The very close voting demonstrates there are still significant concerns regarding the performance and governance of the CV Board. The concerns need to be recognised and remedied. Our team hopes to be able to resolve the concerns privately, within the delegates room and now, with Peter Williams appointed to the board, within the current board as well." The incumbent chairman Russell Thomas and his team have been able to point to three consecutive Sheffield Shield wins, strong public appeal by the two Big Bash teams, the imminent completion of the Junction Oval redevelopment into a first-class venue and a 14.7 per cent increase in cricket participation to 376,300 players.
* * * *
MELBOURNE ultra-triathlete John van Wisse's attempt to reclaim his record for the formidable Arch to Arc race, as previewed in this space last week, petered out a long way short of the mark. The popular swim coach completed the 140km run from Marble Arch in London to Dover, but then failed a medical and was unable to proceed with the swim across the Channel or the 289km bike ride from Calais to the Arc de Triomphe in Paris. Only a couple of weeks earlier an Englishman named Douglas Waymark died after collapsing during the swim, so 44-year-old van Wisse is unlikely to have argued too vehemently when he was told to quit. Three years ago he completed the entire journey in 61 hr 27 min, clipping more than 12 hours off the record, with Frenchman Cyril Blanchard reducing it to 59 hr 56 min last year.
FOOTBALLER OF THE WEEK
Richmond's DUSTIN MARTIN – who else? Why? All of the above.
BIGGEST WINNER
Dead-heat between the West Indies and Bangladesh cricket teams, who between them took down the forthcoming Ashes combatants England and Australia a peg or three.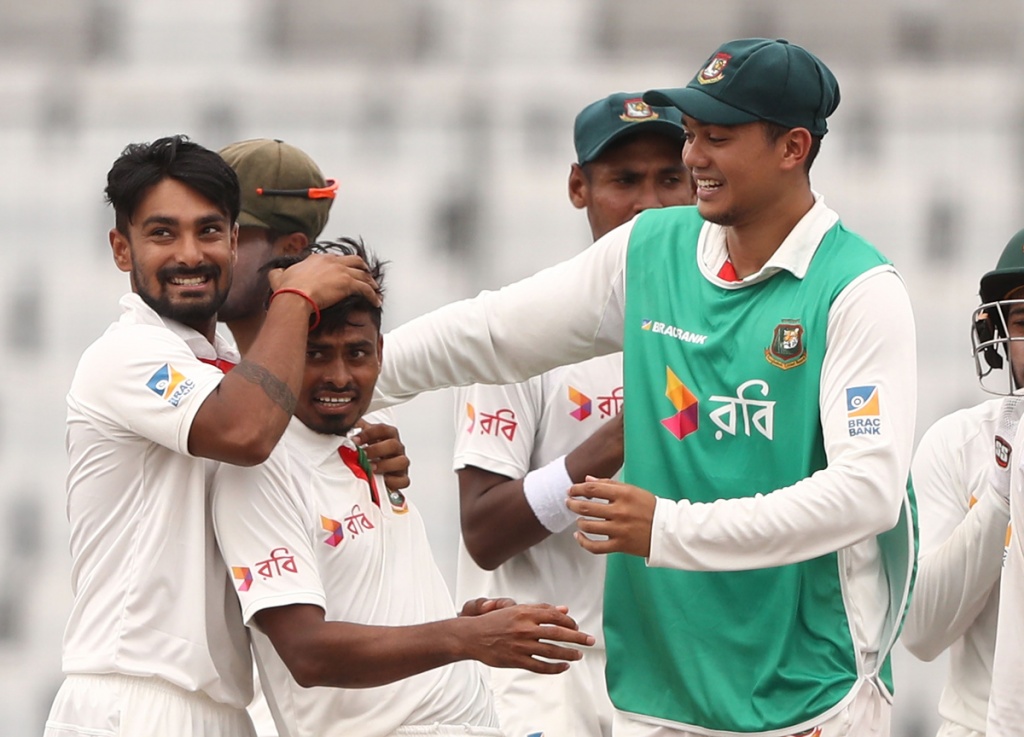 BIGGEST LOSER
Another dead-heat between the embarrassed baggy greens and the MELBOURNE DEMONS who missed a long-awaited return to finals action by half a per cent – a poofteenth, as Rex Hunt used to say – when the relevant results, including their own, all went the wrong way.
YOU READ IT HERE FIRST
It's been a couple of weeks now so Sportshounds' resident cricket guru, one-time Test bowler Ian Callen, was well ahead of the game when he pointed out that Bangladesh's Shakib al Hasan, a little-known figure in Australia, was the world's best all-rounder – 84 and 10 wickets later, we all know that now.
QUOTE UNQUOTE
"This time last week he was going – well, that was the talk. But you know, once we weighed everything up and talked it through and looked at it correctly and Dustin looked at everything, we realised Richmond was where we wanted to be." Dustin Martin's manager RALPH CARR reveals just how close North Melbourne came to getting their man.
"We need to be thinking about how we're going to win a flag and then multiple flags." This, surely, is not a new line of thinking for re-appointed Collingwood coach NATHAN BUCKLEY?
"He never played a single game of footy but he had an understanding of the game – I don't know how he did that." Former Carlton captain, now ABC commentator MARK MACLURE pays tribute the death of his mate and fellow voice of the game, Drew Morphett.
"Scientifically it would make sense to say that players should never drink alcohol, however this would be ignoring the energising effects that socialising and having fun can have for people mentally." Dual Brownlow medallist CHRIS JUDD has some music for the ears of plenty of footballers.
"I'd love to say I've put in an incredible coaching performance, but the reality is they wind themselves up and off they go. They're exciting to watch and exciting to coach." Richmond coach DAMIEN HARDWICK shares the credit for the Tigers' barnstorming progress into the top four.
"I was one of those guys who was like, 'Don't pay attention to the hype,' but you know what, it's not often you get there, so enjoy it." HARDWICK has done plenty of hard yards so he's lapping it up now.
"He was a lot better than I thought he'd be. But at the end of the day I'll be remembered as a winner. I chose the right dance partner to dance with. Conor you are a hell of a champion." Invincible boxer FLOYD MAYWEATHER finds some graciousness in victory over UFC superstar Conor McGregor.
"It was pathetic. If he keeps boxing someone's gonna kill him." Mayweather's father Floyd Mayweather Sen was rather less impressed.
"This was some buzz to come in and fight the man. I feel I held my own. I felt it was close. The cheque is not bad and I enjoyed it very much." McGREGOR finds plenty of silver linings.
"My job is only to play tennis. It's all I know. I'm not going to finish a doctor's degree. I'm not the smartest person in the world." Free-fall tennis non-star BERNARD TOMIC was getting no arguments as he assessed his predicament after another first round defeat at the US Open sent his ranking tumbling again.
"Do you think New Zealand would have an advantage over Australia if it had a faster national network?" Unnamed Kiwi journalist flabbergasts Wallabies coach Michael Cheika with a way-out-leftfield question about Internet speeds after the Bledisloe Cup decider.
"What has happened since he began chemo has been great, and really important. But the word 'remission' might be a bit misleading in this instance because he's not 'cured' yet." Golfer JARROD LYLE'S wife Briony wants his many well-wishers to know that his third fight with cancer is far from over just yet.
"The Aussies can be very, very rude. I have no regrets saying this: there are times they overstep boundaries." West Indies legend VIV RICHARDS, not for the first time, has a crack at the Australian cricketers for perceived racism and double standards.
"I'll be bitterly disappointed if, having nominated for the third time, Order of St George doesn't travel to Melbourne this year to run in the greatest staying race over 3200m in the world." Handicapper GREG CARPENTER pours the pressure on to leviathan owner Lloyd Williams to run his UK star in the Melbourne Cup regardless of the weights.
"Behind this little black dress and the Swarovski crystals, there is a little girl with a lot of grit and she's not going anywhere." Tennis diva MARIA SHARAPOVA is jubilant after winning her first Grand Slam match since completing her doping suspension.
"I'm not that guy." Tennis's tortured talent NICK KYRGIOS admits – again – that he just hasn't got the dedication to match his huge talent.
"Politics is the art of speaking and saying nothing. Footballspeak is the art of talking even when you have nothing to say." The Age's MICHAEL GLEESON, reporting that there is nothing to report on Dustin Martin, might have forgotten to mention that sportswriting is sometimes the art of writing when you have nothing to write about.
"If he wins a flag, there is the statue of Jack Dyer at Punt Road and there will be a guy next to him with pretty big calf muscles." Former Richmond coach DANNY FRAWLEY reckons the Tigers will make current coach Damien Hardwick immortal if he can break the long drought.
"Obviously after this Test they'll show a lot more respect." Bangladesh's man of the match SHAKIB AL HASAN rubs it into Australia's embarrassed cricketers – quite rightly, too.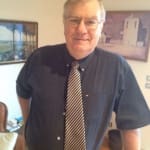 Author:
Ron Reed
RON REED has spent more than 50 years as a sportswriter or sports editor, mainly at The Herald and Herald Sun. He has covered just about every sport at local, national and international level, including multiple assignments at the Olympic and Commonwealth games, cricket tours, the Tour de France, America's Cup yachting, tennis and golf majors and world title fights.
Comments
comments
0 comments