---
Reading Time:
5
minutes
THE LAST CLOKE may have left the AFL but TERRY BROWN still looks forward to centuries galore from the three bathtub boys:
TRAVIS CLOKE wasn't chaired off so much as slopped out like the family bathwater. No doubt he was filthy, and he should have been dirty too, dirty as the Dog he should never have been.
No last hurrah. No redemption. No cheesy end-of-an era montage. No fair.
Last year the Pies slipped Trav to the Woofery so slick they must've soaped him up first, and I think I got some soap in my eye too …
This year, though, he was scrubbed silently in the dog bath of selection and left beside an open gate.
I hope he finds something nice to roll in now, and I think perhaps he might.
For most of 246 games, Clokey had opposition backmen and most Pies fans cringing in terror.
But not everyone, and an era ended when the supply of Clokes ran out.
They left their mark. I bet the bathtub ring never came off.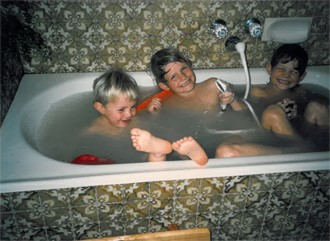 And at home we have a thing still for the brood. It's complicated.
When the stab of treachery at Trav turning coat last year turned to the familiar dull ache (McKenna, Billy Picken, Heater … why, God, why?), I couldn't stay angry.
I went out to the garage and got busy with a hammer.
Six or seven bent nails came out easily and down came a sign, "The Clokey Stand". Inside the house it went for the first time ever, out again (eee, spiders, swish, stomp), inside again, into brown paper and off to Dubai (Aus Post, $68!) to the only Dogs fan in the world who might want such an artefact. I didn't tell him first.
Paul Stafford is a terrific journo despite his lousy choice of teams. He heard of that sign at work at the Herald Sun or as likely, killing worms with some happy hour brew with me in Southbank. He later fled for less green pastures.
Staffy wrote about The Clokey Stand years later for a Dubai paper, to explain fanaticism to Arabs.
This seems cruel in a region in more confusion already than Senator Bob Roberts at an Ashes Test. Or anywhere, really.
It was never planned for the Clokey Stand to become internationally renowned, but Noah probably started with a tinnie and a budgie.
Way back, someone must have mentioned a Cloke kid at work. While I have no fondness for David Cloke, ever, after 1980, I liked he that didn't want a bar of Richmond for his boy.
"And there's more at home," I remember someone cackling.
That night I would have excitedly told my kids about it. A dynasty of Clokes? Hell. You tell the kids straight away!
And it started.
Over summer, 2001, Jason Cloke became a Pie and the whisper was that the second kid was even better.
Brainwashing mine black and white, I had built a cosy lair in the garage for TV games, where mum couldn't hear us but the neighbours sure could. We installed an advanced chalk scoreboard for missed Collingwood unfrees and opposition ungoals. It only updated with the Pies ahead.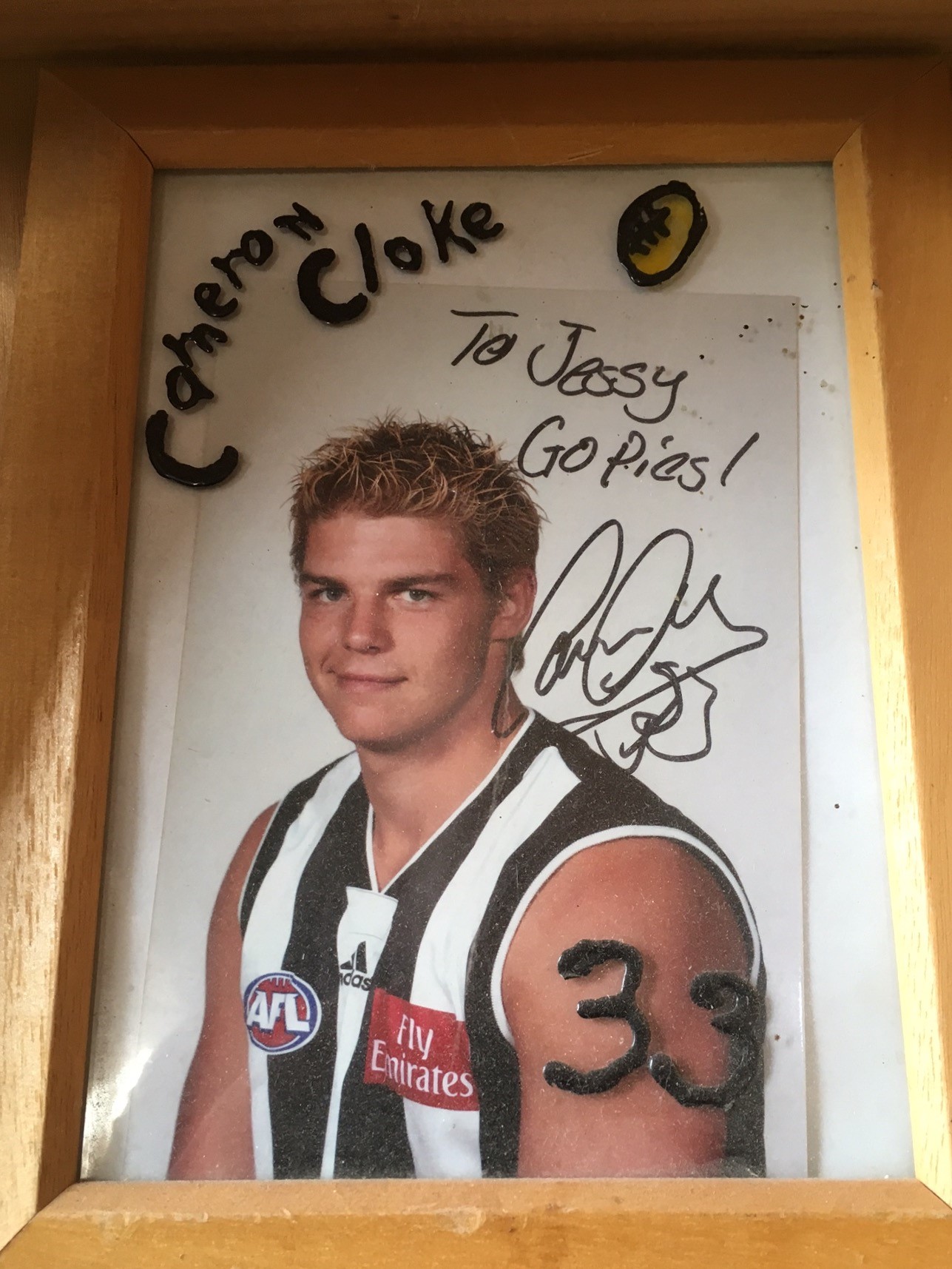 A punchable Thump an Ump inflatable found its way there after being deemed too extreme for the Herald Sun newsroom.
A pie warmer and spare pie warmer, floggers, cage over the TV screen and things to throw at it, seating three or six standing as God intended. No Carlton Supporters. It almost had it all but it needed a name for the ages and, hell yeah. We had ourselves a dynasty.
I made a sturdy sign. The Clokey Stand.
And we three foundation members started talking and stalking Clokes. I found a picture. Of three baby Clokes in a bath of what hopefully was Yarra water. We stuck it up.
Jason Cloke was my kind of player. Slow, short, terrified, should have quit at 11… Nah. He was fearless!
JC didn't kick or handpass much, but anyone can do that. He took a few nice grabs but that's not what grabbed us.
Clokey (J) could punch a ball. He got more productive punches in than a King St bouncer.
His always dependable flying fist assumed Thor Hammer status in our shed.
By the end of the 2002 prelim, he'd played every game that year and had 137 of those ham-fisted one percenters.
But there was this one other punch.
Ladbrokes recently compiled one of the few all-time lists Jason Cloke makes – 10 Most Shattering Suspensions.
Two weeks for love tapping Tyson Edwards seemed a bit stiff to the Clokey Stand faithful. We deemed it accidental, statistically inevitable from a kid who punches everything.
Harsher still, this from Ladbrokes, who put him on the list at a creditable No 5.
"Could Cloke have proven the difference in a very close Grand Final? Probably not."
Clokey (J) and Pebbles Rocca are the only players to be rubbed out for a grand final this millennium under the AFL's Nobble the Pies Policy. (Phil Carman only seems like yesterday.)
Jason might have stopped two goals? Or kicked some?
He lined up at centre half forward in the 2003 granny, ripe for revenge and got one kick in a 50-point bollocking, but we were over it swiftly at home. The next Cloke was pushing six foot five!
Cameron Cloke was all puppy fat and perm in 2004. He had a weird thing where he would flick his tongue like a lizard for no apparent reason. My baby girl worked out the age gap, for marital considerations. In prostitution of my journalistic principles, I begged Cam to sign a picture for her.
Over winter we huddled. We waited for the Cloke thing to all come together -but it didn't, and we didn't care.
The third Cloke kid was gonna be the best. Bigger, meaner, with the toughness you'd get in bath water like that with big brothers like that. Imagine the fight for the face washer? The soap? Air?
Trav turned up on Anzac Day, 2005, beside Cam. Jase was already on the nose like a glovebox yabby, or injured again – no Cloke trifecta but a handy quinella.
Not even that would last.
Cam got eight kicks in 2006 – lousy for a game but worse for a season! Good enough though for Carlton. Heh heh.
He shared the cab out with Jason in 2006, but we figured third time was always going to be the charm anyway.
In 2010 Trav put the Pies in front with the last goal of the first grannie and me into hospital with a hernia from screaming.
For years after that we kept barracking our guts out for Clokey, me literally, the kids only figuratively, but that goal in the draw was as good as it got.
For what looked like his last Dogs game last month, I brought out his badge and wore it to the clashing Pies game at The G. I winced at the phone scores until the live Pies gave me bigger problems.
And the Clokey era ended there, I figured, with a metaphorical plug hole gurgle.
But I might be wrong.
Last weekend of July, after a series of cursed seasons of 98s and 99s, Cameron Cloke cracked the ton for Jacana in the EDFL. Big deal? Only the first senior 100 in the family, dad included.
Then Jase kicked one at Parkside in the WRFL. Who knew he could kick?
Next year, I reckon Trav will be loose as a goose, showing suburban hacks a cleanish pair of heels, happy as a clam which would die in that bath. He'll want to jump in too.
A clutch of Cloke tons somewhere or other, 200 for Travis?
I'm tipping a threepeat, and you can play in those leagues till you're 60!
Sorry, Staffy. I need the sign back mate.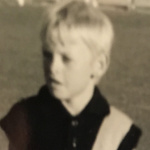 Author:
Terry Brown
TERRY BROWN worked for many years as a general reporter, columnist and colour writer at The Sun and Herald Sun. He is now an academic lecturing in journalism and is an unpublished novelist.
Comments
comments
0 comments