---
Reading Time:
8
minutes
THEY HAVE been around longer than Neighbours and surpassed World of Sport. They are a dozen years older than the Footy Show. Now in their 37th consecutive season, how do the Coodabeens keep it up? COLIN DALE headed to their live show in Geelong and the recording of their 1,026th broadcast to find out:
WAY DOWN in the Green Room, in the bowels of the Geelong Performing Arts Centre, the Coodabeens are being given the compulsory occupational health and safety lecture, including an instruction to report any "near miss" to authorities.
 "What's a near miss? How do we know if we've been missed?" producer Andy Bellairs asks as the rest of the "Coodas" break up laughing. "Ok, alright then," Ian Cover interjects, "I'll sign your safety document – seeing as we're all in my home town. And by the way, have you still got that poster we signed when we were last here two years ago?" The lads continue to crack up.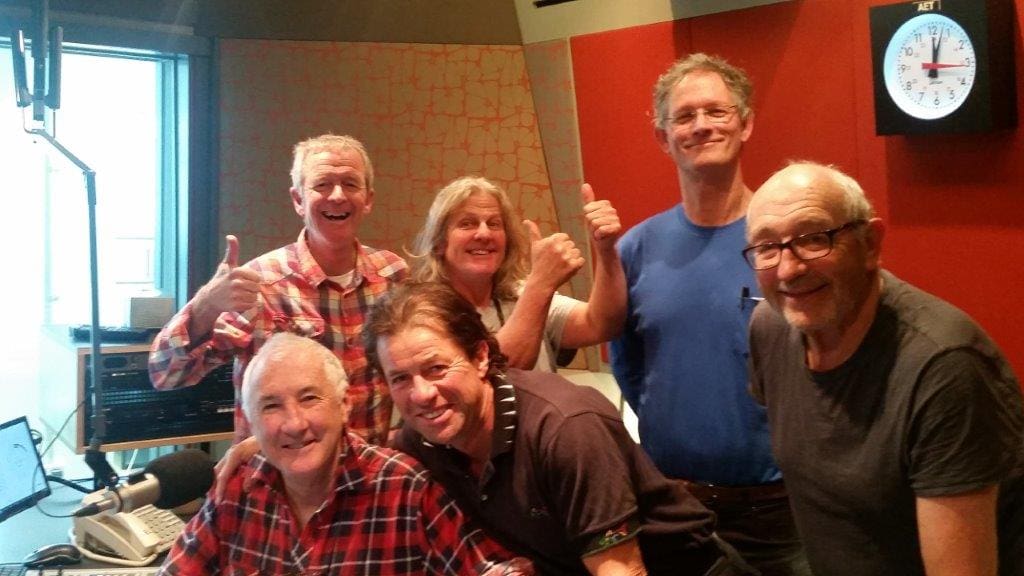 It could have been the scene of an excited bunch of kids about to go on a school excursion. But no. This was how the team of radio's longest running sports show were prepping to go on stage – and it's how they have been "preparing" for the past 37 years – by having a laugh.
The Coodabeen Champions were founded on community station 3RRR by a couple of young graduates because they felt back in 1981 there was nothing on air where fans could have a voice. It's evolved into a unique, rambling two-hour Saturday morning show that has truly past the test of time. They basically take the mickey out of all things football, while embracing their passion for it at the same time. A bunch of footy mates, cracking jokes, entertaining the listeners with songs and interviews, ditties, anecdotes, comical phone-ins, all with their unique home-spun humour.
Despite football media having gone ballistic in the 21st century, not only are the Coodabeens generally winning the Saturday morning ratings, they are among the ABC's most podcasted shows. So how can some old mates last so long in the cut-throat media world? How is it a group of aging footy fans can still be relevant in this modern 24/7 digital age?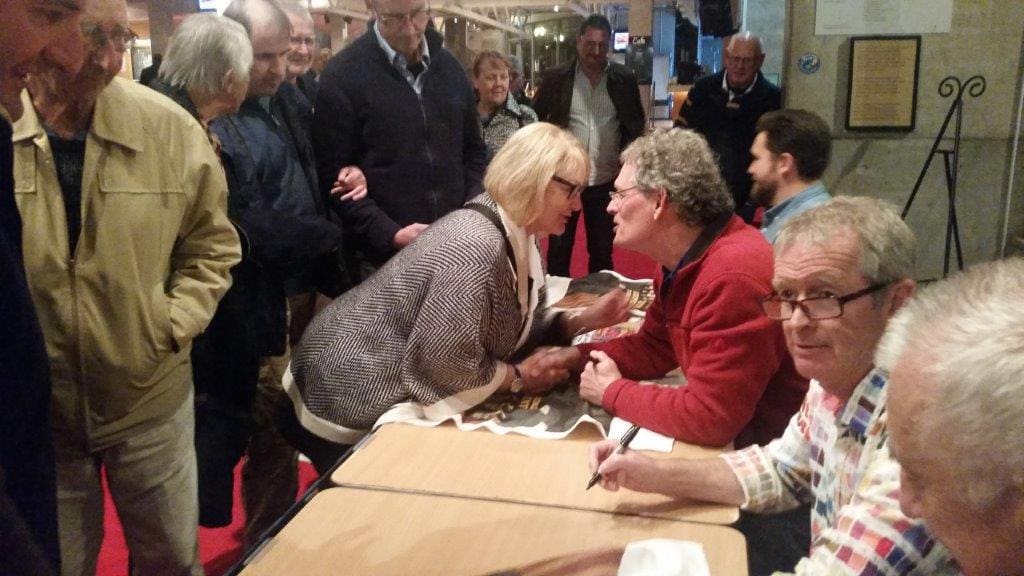 A person who probably knows best is their producer of the past 12 years "young" Andy Bellairs. "Their longevity is down to a combination of things," he says as he attempts to get the lads organised for their live gig. "To them this is just a hobby that they enjoy – and it makes a big difference. If they were full time professionals they'd burn out. These guys are very intelligent but most of all they don't take themselves too seriously. They consider themselves just to be ordinary fans and it resonates week in week out. They are simply having an enjoyable conversation and it's something you don't tire of."
Over the past decade Bellairs has introduced several initiatives to the program, which he believes are important to keeping the team refreshed. "When they look at the run-through they're genuinely excited about what's coming up. They're just fans. So, I book guests who I think the Coodas are interested in and therefore the audience are hopefully interested in. For instance, when they saw that we had Barry Price (Collingwood 1966-75 and 79) on last week, from what they call the 'golden era', they couldn't wait to talk to him, and kept talking about him well after the show had finished."
While Bellairs – who some now refer to as the Coodabeens "5th Beatle" – is the consummate professional ABC producer – it's the team's preparation, or lack of it, that both he and the lads believe is a big reason for their long running success. The show begins with a 10 to 15-minute chat session between the team – led by Jeff "Richo" Richardson, Ian "Cove" Cover, chief song-writer and singer Greg "Champs" Champion, Billy Baxter and Jeff "Torch" McGee – that is totally unscripted. They have no idea what they are going to talk about until the red light goes on or when they walk on stage for one of their rare live shows.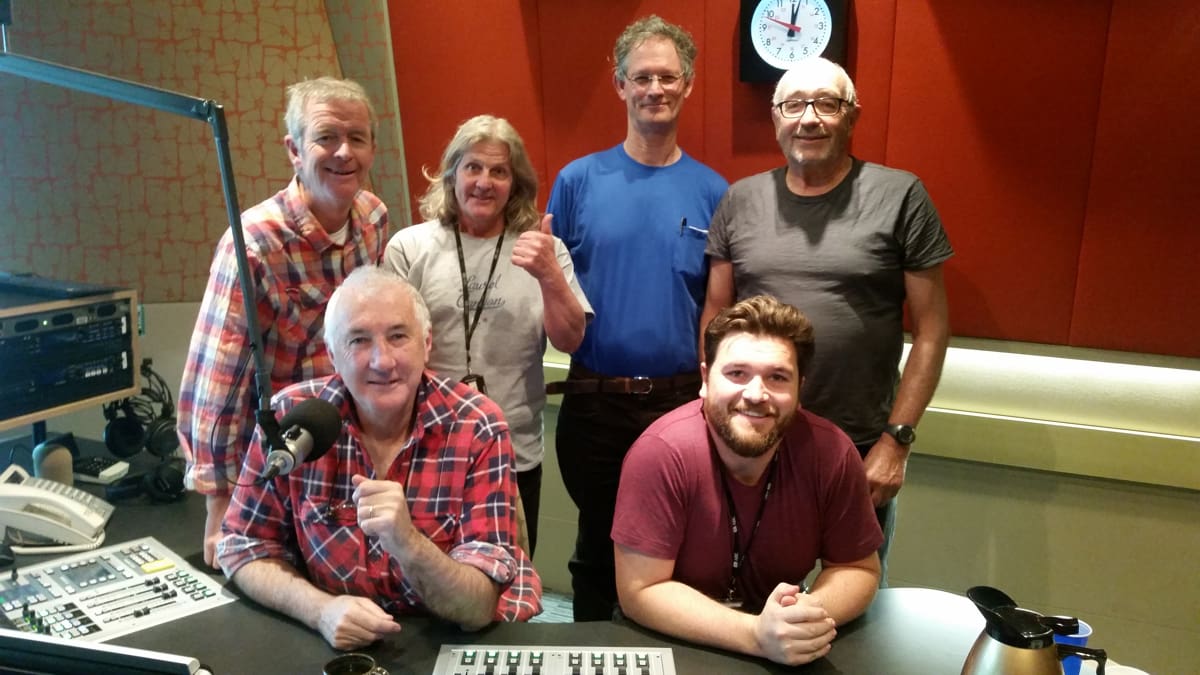 Back in the Green Room in Geelong, with 10 minutes to show time, there is finally some action from the boys. Champ's prep for over an hour of live songs is simply to tell Cove and Richo not to hum to a particular song. Cove changes his shirt and then spends less than a minute on a four-line run sheet, finishing with "K.I.S." – keep it snappy – a typical "Coodas" acronym, which Cove confesses, as he heads to stage, that he has never really understood.
"Being totally impromptu is enough to keep us fresh," says Champion. "Football keeps evolving as we do by being totally unscripted. It's something we make up as we go and that's enough for us to reinvent ourselves."
He likens the show to going out to dinner with six to eight courses. "You know what's coming from the menu, but have no idea of what you're going to talk about in-between courses. Andy lines up the segments or courses and we make up the chat."
Champion says they try to avoid each other during the week as much as possible – so the chemistry is fresh when they catch up on a Saturday. "We then set about trying to amuse each other."
Bellairs isn't concerned that their core audience is clearly an aging group of devotees, just like the Coodabeens themselves. The age demographic was clearly on display as the Coodabeens signed tea towels for fans after the Geelong show. "It doesn't matter,", Bellairs says. "This era of fans isn't going anywhere and, while we would always like to expand our audience base, we're not going to alienate the loyal base either."
Their line-up has remained remarkably stable over nearly four decades of broadcasting. Co-founder Simon Whelan was with the team for 23 years until he was appointed to the bench of the Victorian Supreme Court in 2004. Being elected as a MLA for Geelong in 1996 forced a six-year break for Cover. Another former member, veteran football caller and analyst Tony Leonard, was with the team for 22 years. Leonard stayed on at 3AW after the Coodabeens moved back to the ABC in 2003 after a 10-year stint on commercial radio.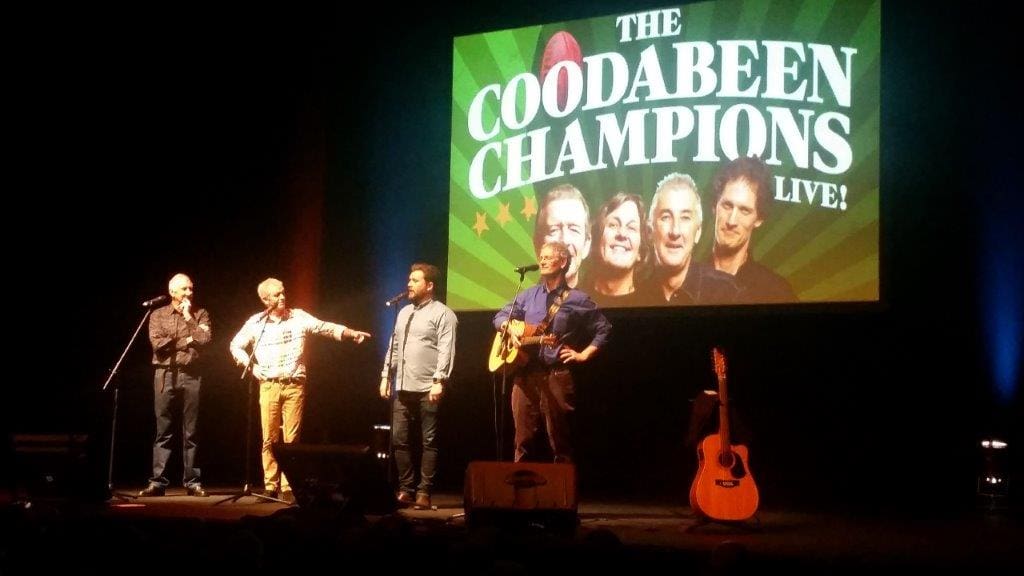 According to Leonard, the reasons for their longevity is multilayered, but he believes a key fact is having one person in charge over the journey. "If anything needed to be done, Jeff would do it. Whether it was contracts and things like that. One boss, one direction." Avoiding going on television and being "chewed up" by that industry also has helped, Leonard believes.
"They've never got ahead of themselves or become egotistical. It's a show that never talks down to its listeners. These are people with a genuine love for the game and this can't be forced – and that is recognised by the fans. And their theme of observing football with all its beauty and foibles certainly hasn't changed."
Champs says the closest they came to splitting up was when members started having families. "Tony said he had a young family and didn't know how much longer he could go on. Then two years later he pleaded that he needed more time away from the family," says Champion laughing. "Then for the past 20 years no-one wanted to be the person to break up this Rolling Stones-type thing we've got going."
Cover adds: "We started in 1981, the same year as Kevin Sheedy at Essendon where he remained untouched for 27 years. So, we just had to see off Sheeds. Which we did. Then he came back!"
They've dealt with numerous administrators and station managers.  "And we intend to see off a few more of them," says Cover, before they hang up their boots. "It's certainly been a rollercoaster. In the end, we probably won't have say in it, it will be management. Like players in their prime, we used to be on long-term contracts, that became three years, two years and now it's year-by-by year. I reckon we're playing better on yearly contracts as we're never in the comfort zone."
Bellairs says it is amazing how they have navigated through the ins and outs of the industry over the years. "They've made subtle changes over the years, but the willingness of these guys to take anything on is a big factor in their long-term success."
Their style has always been that of a group of friends simply having a yarn about the football. Bellairs says they are genuinely no different to every-day footy fans, except they have a microphone in front of them. Champs adds: "It's really just like eavesdropping on a bunch of mates at the pub before or after any game."
It's business as usual in the ABC studio kitchen with 15 minutes to go before the recording of their 1,026th show on Saturday. The chat is about what an ordinary game it had been the night before. Not a word is spoken about the upcoming show. A brief one-page A4 run-down is handed out by Bellairs. A few minutes later they are sitting around a table live in the studio …. talking about how bad a game it was last night. Champs then hands out the song sheets – just 30 seconds before he pulls out the guitar. The laughs and banter continue as Bellairs feverishly organises replacement headsets, calling guests, joining in on the sing-songs and setting up the social media question of the day. It is truly the likes of the legendary "organised chaos" of Channel 7's World of Sport, but on 21st century radio.
There have been many attempts in football media to replicate the "mates style" of coverage. Something slightly similar and winning many accolades currently is Channel 7's successful Front Bar program. However, the Coodabeens is not your normal AFL show, according to Cover, because "it's not an AFL show". It's this point of difference, they believe, that still makes the show unique in the saturated world of football media.
"Real footy fans and real football is being played in games throughout the country and the suburbs," says Cover. "It's not just about those going to the G this afternoon. The AFL should send one of their highly- paid executives out to a grassroots game every weekend to see that football is not just about 18 elite teams."
"Going bush" has long been a weekly segment on their show, where they interview a captain or coach of a country team. They were the first to run regular segments on women's football, which they have been championing for over a decade. This year they are interviewing football mums on a weekly basis.
With their 1,026th show now safely in the can, and with Richo doing the dishes back in the ABC kitchen, he remembers well the day the day back in 1981 when he and Whelan were walking across a muddy Yarra Park to the MCG and came up with the idea for their own show. "Simon and I had been listening to an hour or so of typical football shows on the radio and we both were reflecting on how boring and how straight they were. They were just full of old players who simply did not reflect how people who actually went to game thought.
"We then stood in the outer and realised that all the people around us knew loads about football – but radio never reflected their perspective on the game.  All the ex-players had been professionals and none of them had ever stood in the outer and knew football from that view. Their perspective was not the football followers' perspective."
With no definitive plan, they then simply walked into the studios of RRR. "We just went on air, started talking footy, being ourselves … and yeah, 37 years on, we're still doing the same."
Coodabeen Champions. ABC Radio Melbourne: 10.00am to Noon.
Live concert tour: Adelaide 13 August. Albury 19 August. Bairnsdale 31 August. Melbourne – 3 September.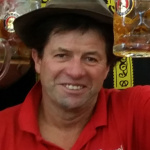 Author:
Colin Dale
Melbourne-born sports nut, Colin "Bomber" Dale began his career in journalism with The Herald as copy boy in 1980. Stints with the Sunday Press and The Sun followed along with a year with NTV Channel 8 in Darwin. Chasing his dream to work in Fleet Street and follow all sports and drink beer around the world, Bomber landed on his feet in the UK, founding a tour company specialising in festivals such as the Oktoberfest in Munich, Rugby Internationals and Royal Ascot. Prost!
Comments
comments
0 comments