---
Reading Time:
4
minutes
WHEN THE villain turns out to be the victor, stand by for the jeers. Chief writer RON REED tunes into the aftermath of Usain Bolt's dethroning at the athletics world championships.
THE WINNER was booed off the track and the third placegetter did a lap of honour. You don't see that in big-time sport very often – in fact, it may never have happened. But then, we have never seen the like of Usain Bolt before and probably never will again. So his defeat by Justin Gatlin – and by another American, Christian Coleman – in the 100m at the track and field world championships in London was a melancholy moment for fans of all sports, not just athletics.
It is being called a triumph of evil over good, which might be a slightly melodramatic way of putting it but accurate enough nonetheless, and a public relations disaster, which is undeniable. Track and field has the same image problem – if not quite as deep-seated, possibly — as cycling did until Lance Armstrong was exposed and it began to clean itself up, a process which has, thankfully, recovered a lot of lost ground.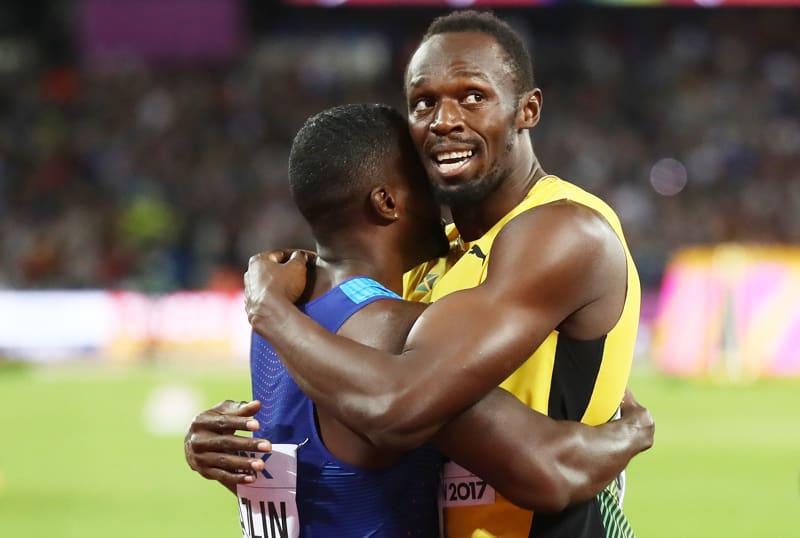 Bolt was the antidote to that. In that, he has one important thing in common with an Australian sports star of the very recent past, namely Cadel Evans. Both have been high-achieving flag-bearers for clean sport during periods of widespread corruption. Evans began his long campaign to win the Tour de France while Armstrong was still riding and when, as history has pretty much proven, it was impossible to be sure than any winner of the great race going back many years had ever been clean. That might be unfair to certain individuals – we'll never know for sure — but it is reasonable to suggest that until Evans came second twice and then triumphed in 2011, the first Australian to do so, the sport was crying out desperately for someone to believe in. The boy from Barwon Heads was that saviour, a factor which adds even more weight to my oft-repeated assertion that his win was the greatest individual feat by an Australian sportsman in at least the last 50 years, probably ever. His legacy will be that he demonstrated to all young cyclists – all sportsmen, for that matter – that it was possible to do great things drug-free.
Ditto for Bolt. That's why it is so unsettling that if he was ever going to be beaten at all, it had to be by a performer who has had no compunction in using illegal short-cuts to get where he has and who, therefore, cannot be regarded as completely trustworthy even now. To be charitable to Gatlin, it's a pity that he will always be remembered that way because the 2004 Olympic gold medal and now two world titles more than a decade apart suggest that he could have been anything anyway – well, not quite; nobody else could be Usain Bolt. That's why he at least had the good grace to bow down on one knee to Bolt the minute the dethroning was completed. In that emotional moment, Bolt was still the king and in the eyes of most people he always will be. In his final race – except for a relay to come – he was defeated, but that's not the same thing at all as bowing out as a loser.
Was the outcome a surprise? Not really. Bolt is getting no younger, has not been in good form all year and has battled a back injury. In his preview of the titles for sportshounds.com.au veteran athletics writer and coach Mike Hurst warned that Gatlin was poised to pull off the unthinkable, or at least the unwanted. Being as deeply embedded in the welfare of the sport he has always loved, Hurst will be taking little joy out of being proven right – again. The winning time, 9.92 seconds, would have been eaten alive by Bolt at his best, but a lumbering start and the absence of any surge at the finish restricted him to 9.95.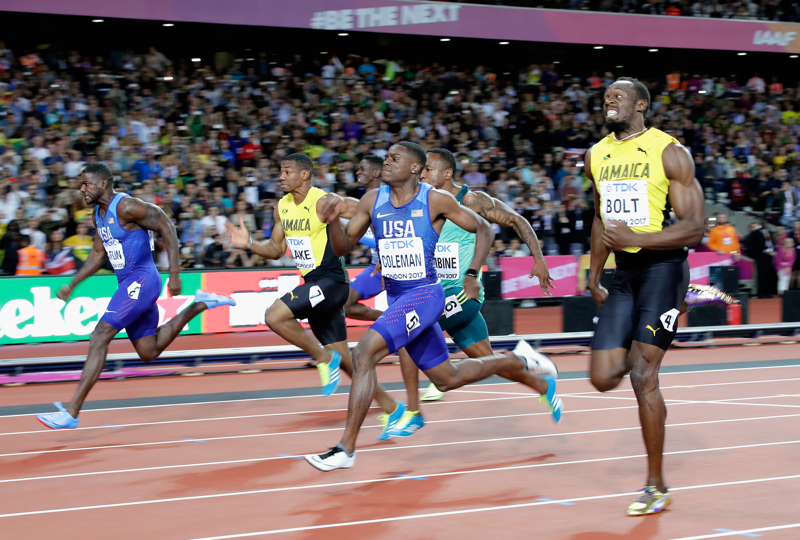 Not surprisingly, the arrow-shooting showman was absent in the aftermath – there was nothing to celebrate – but the sense of sportsmanship wasn't. He said he was disappointed but there was no hint of acrimony towards his conqueror. Quite the opposite. He congratulated Gatlin and told him he did not deserve the jeers. On TV, he praised the American as a competitor who always shows up and does his best. It was a classy exit.
As for Gatlin, he said all the right things about his rival. But the one thing he has never said, and still hasn't, is any expression of remorse or apology for the damage he inflicted on the greatest of all Olympic sports – not once but twice. That's why Bolt was wrong in one respect. The booing was entirely justified.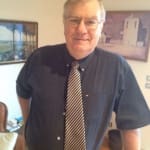 Author:
Ron Reed
RON REED has spent more than 50 years as a sportswriter or sports editor, mainly at The Herald and Herald Sun. He has covered just about every sport at local, national and international level, including multiple assignments at the Olympic and Commonwealth games, cricket tours, the Tour de France, America's Cup yachting, tennis and golf majors and world title fights.
Comments
comments
0 comments