---
Reading Time:
7
minutes
BRIAN MELDRUM has watched many thousands of races but there is one race and one horse that live on in his memory above all others:
There are some pretty good jumpers set to go around in the Crisp Steeple at Sandown this coming Sunday, but with apologies none of them would have lived with the horse after which the race is named.
The big bay, almost black, son of Rose Argent was a brilliant steeplechaser, and quite possibly ranks as the best jumper of any horse that has ever raced over fences. And I'm talking about the world, not just Australia.
They say once you are out on a limb you've nothing to lose, so I'll go further and say it's my belief that Crisp's run in the 1973 English Grand National Steeple is the greatest single performance by a thoroughbred in the history of racing.
No, he didn't win. After leading for almost all of the 7.2 kilometres and barely making one mistake at fences ranging from hair-raising to absolutely frightening, he was run down in the last 20 metres by Red Rum, who went on to become the greatest Grand National horse in the race's 179-year history.
In horse racing the line "he should have won" is usually taken with a grain of salt, but Crisp SHOULD have won, and the man who believes that more than any other is his jockey, Richard Pitman, who blames himself for getting beaten. But more of that later.
My earliest memories of Crisp are of him winning Moonee Valley's Hiskens Steeple, then one of the "big three" jumps races in Australia, two years running, in 1969-70.
But my most vivid memory back then was of him leading the field in the Cup Steeple on Melbourne Cup day, 1969, and coming to a fence in the steeplechase lane, right opposite a packed Hill Stand.
Crisp took off a stride too early. Thousands of people held their breath as he appeared destined to fall, then as he somehow floated over the jump, let out a mighty roar as he landed safely and galloped on to eventually record another stunning win.
Eventually Crisp was weighted out of races in Australia, so his owner, the former VRC Chairman Sir Chester Manifold, who incidentally was the driving force behind the establishment of the TAB in 1961, decided to race him in England.
And he went to the best. Fred Winter had carved out a hugely successful career as a jumps jockey – he won four jumping titles plus two Grand Nationals and two Cheltenham Gold Cups – and produced two Grand National winners in his first three years as a trainer. He went on to win eight training titles.
Crisp heralded his arrival in England with a 15-length win at Wincanton, and completed his first jumping season with a dominant performance in the 1971 Group One Champion Chase at the famed Cheltenham Festival in March.
More wins came the following season, but rather than have Crisp defend his Champion Chase crown at the '72 Cheltenham meeting,  Winter elected to run him in the festival's biggest race, the 5200-metre  Cheltenham Gold Cup.
There were plenty who doubted Crisp's ability to run the distance, and they felt justified when he could finish only fifth. But to help him get the trip Winter told Crisp's jockey, Richard Pitman, to ride him in behind. "He didn't like it; he sulked," Pitman said. "It wasn't natural for him."
I arrived in England not long after that race, and I soon came to realise that a lot of racing people in England by then were already fans of the big Aussie. I couldn't wait to see him race, and at Kempton late in the year, he obliged me by winning easily.
Early in 1973, as the English jumping season approached its finale, there was talk that Winter was contemplating running Crisp in the Grand National. "Steady on, Fred," I thought. "Four and a half miles might be stretching it a bit."
Two weeks before the National I took the train up to Cheltenham, full of optimism that Crisp would win his second Champion Chase. I wasn't alone. He was sent out a long odds-on favourite, and a lot of bookies were content with framing a market around who would finish second.
He didn't lead, and in fact didn't even run a place behind the brilliant US 'chaser Inkslinger, but I wasn't disappointed. Ridden back in the field Crisp made steady ground through the last half mile, and never flinched in the run home up the steep Cheltenham hill. Hmm, I thought, Freddy might be on the right track here.
As far as the public is concerned The Grand National Steeple is to the English, what the Melbourne Cup is to Australians. Everyone has a bet on it, regardless of whether or not they're interested in horse racing. The race is generally considered to be something of a raffle, and the '73 running was no different. But in the end the punters latched on to two horses in particular, and so Crisp and Red Rum, who'd won five steeples on the trot early in the season, were sent out equal favourites at 9-1.
Winter and Pitman were intent on Crisp leading, but the idea was to try to slow the pace down. That plan went out the window very early. "There's a long, long run to the first fence, and when he spotted it he couldn't get there quick enough," Pitman told English journalist Brian Viner some years ago. "Before he touched the ground he could see the next one. He was almost galloping in mid-air, it was just magic. "
Crisp went at the much-vaunted Aintree fences like they were hedges in a spelling paddock. "He jumped for fun. When he saw a fence he'd be, 'Let me at it!'" Pitman said. And the ones with the biggest reputations, he jumped the best.
Becher's Brook, for instance. Said Pitman, "The drop at Becher's was 10ft from the top – it's not as big now – and you had to let the reins slip through your fingers, and sit back in the saddle to act as ballast and keep the horse's backside down, because once his tail comes past your eyeline, you're in trouble. On landing, a lot of horses' noses touch the ground. But Crisp jumped it so cleanly, I never even felt the jolt of the drop."
And this is how legendary British racecaller, Peter O'Sullevan, one of a number required to call the National, described Crisp at The Chair, a massive jump in front of the grandstands. "Coming to the Chair now – this is one of the biggest. Crisp, his ears pricked, jumps it beautifully in the lead – he just pecked a little bit but got away with it."
Further on another fine caller, Julian Wilson, takes up the commentary. "And Richard Pitman over that one on Crisp, and what a fantastic ride he's having! I can't remember a horse so far in front in the Grand National at this stage!"
Neither could Pitman. "I had ridden in the Grand National before, but the experience on Crisp was slightly eerie. He was so far out in front – 30 lengths clear of the second horse at one stage – that I couldn't hear any of the normal race sounds. Usually, you will be able to hear the thundering hooves of those behind you, the jockeys shouting and calling, but there was none of that. Just silence."
And on they went. "Crisp comes on his own to Becher's Brook for the second time, Crisp the topweight. Richard Pitman over it in tremendous style, and he's about 20 lengths clear from Red Rum."
Jumping the third last fence it appeared Crisp couldn't be beaten, but within a matter of seconds everything changed.  "Suddenly his legs started going sideways," Pitman said. "He had these floppy ears, which he kept sort of half-cocked, and the strength even went out of his ears. He had gone to the bottom of his barrel.
"He jumped the second-last out of instinct, and went to the last, and now I can hear Red Rum coming. It was then that I made a mistake that will haunt me for the rest of my life.
"I thought, 'I've got to wake the old boy up, get him out of his reverie.' And I made a mistake that a boy starting out shouldn't make, let alone a senior jockey. I picked the stick up in my right hand to give him a whack, but I had to go right-handed to get round the Elbow (the cross over on to the finishing straight). The instant I lifted my hand, he fell away left-handed. So, I quickly put the stick down, gathered the reins, and pulled him back.
"But I had to change his stride pattern, and he lost momentum. I got him to the Elbow, which is half-way up the 494-yard run-in, and I've got the rail to lean on now, because a horse's instinct is to race a rail. He could sense Red Rum coming. Even in his almost drunken state of exhaustion he tried to quicken, but he'd given his all."
Red Rum was relentless. Crisp was almost out on his feet. O'Sullevan was screaming. "He's going to get up. Red Rum is going to win the National." By three quarters of a length.
It was heartbreaking, even more so as Crisp returned to the enclosure, stumbling as his fetlocks buckled with exhaustion, the lad who looked after him as white as a sheet, but then the sight of Winter putting his arm around Pitman, as ever a gracious loser. I was lucky enough to interview Winter a year or so later, and he was generous in his praise for Crisp, who he described as having a heart as big as himself.
So why, you might ask, do I believe that Crisp's racetrack performance that day ranks as the greatest of all time. Consider the facts.
Crisp carried topweight of 12 stone (76 kg) as compared to Red Rum's 10 stone 5lbs (66kg), the difference a massive 10kg.
Red Rum's (and by a second or so more Crisp's) time for the race was 9 minutes 1.9 seconds, breaking a record set in 1934 by one of England greatest ever 'chasers, Golden Miller, by a whopping 18.3 seconds, which in distance equates to more than 200 metres. And until 2013, some 40 years later, when the distance of the National was shortened, Red Rum's time was bettered only twice.
Red Rum won the race again the following year, by almost eight lengths, and this time ran 9.20.4, some 18 seconds slower than in his battle with Crisp.
In their only subsequent meeting, in a level weights race at Doncaster, Crisp won by 10 lengths.
Between 1973 and 1977, Red Rum ran in five successive Grand Nationals, finishing first, first, second, second, first. He was the greatest.
And if you still have doubts, click on the YouTUBE video below. Have a tissue handy.
Oh, and a couple of things to close. Crisp, if you're wondering, suffered an injury shortly after the race at Doncaster and was retired, to spend the next 10 years enjoying life as a hunter in northern England.
Pitman eventually retired from race riding and joined the BBC's racing coverage. He says he and Winter never discussed the '73 Grand National, and it was only ever mentioned once, about three weeks after the race. "We were on our way back from Plumpton one day, and he was slumped in his seat, asleep. He woke up, opened one eye, and said to me: 'You know why you got beat, don't you?' I said: 'Yep.' He said: 'Well, there's no point discussing it then.'"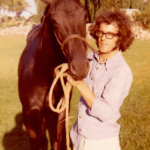 Author:
Brian Meldrum
Brian Meldrum has been a racing journalist for more than 47 years, and is a former Managing Editor – Racing, at the Herald Sun.
Comments
comments
0 comments