---
Reading Time:
6
minutes
Controversial rule changes? The future of the bounce? No need for the AFL's Laws of the Game Committee when we can turn to two country umpiring legends with over 1,200 games (and counting) experience between them. COLIN DALE meets the marathon masters of the whistle:
OFFICIATING in his 600th appearance at Wedderburn last Saturday, certainly qualifies umpire Mal Burge to comment on the state of the game with more knowledge than most. But as he ran out through a players' line of honor at the annual Woosang Challenge Match against Charlton, there was another ump in the crowd with even more experience than Mal.
Having just completed his 630th game as central umpire in the under 16s earlier that afternoon, Peter McHugh stayed around for the main game to lend "young Mal" a bit of support and encouragement on this big day in the North Central League.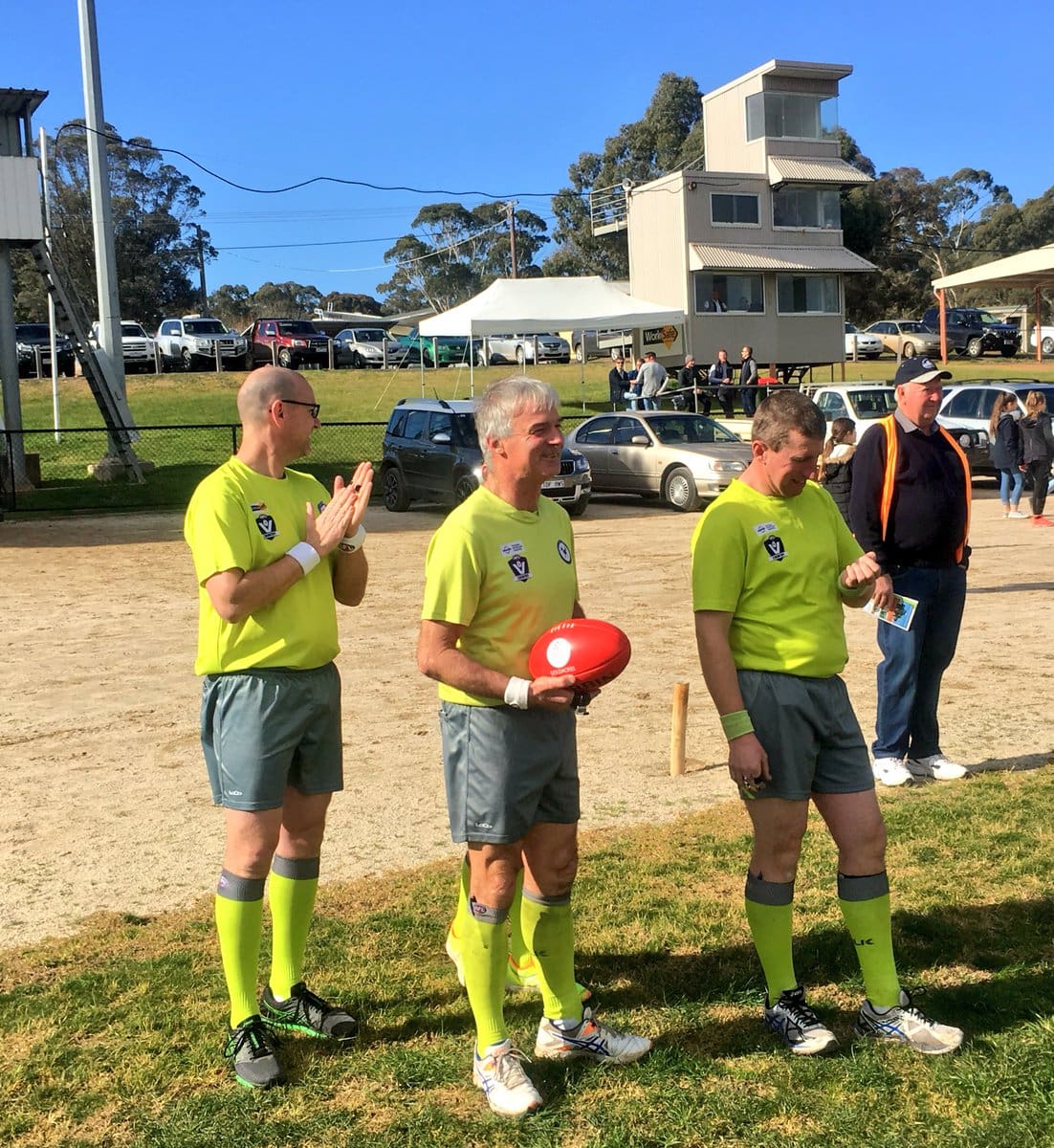 So, who better to talk to about the never-ending rules issues, the challenges of umpiring the modern game as well as keeping fit enough to make the games records of Harvey, Tuck, Bartlett and Fletcher seem minor? And the umps' simple advice: leave the game alone!
"I'm not keen on all these rules changes," Burge says from his 1,100-hectare sheep farm at Woosang. "It simply puts added pressure back on the umpires. Like dealing with the out of bounds rule … you're damned if you do and damned if you don't".
And it's very much the same when it comes to the future of the bounce. "It's a great feature of our game," says former local Wedderburn primary teacher and part-time farmer, McHugh. "I'd be really disappointed to see it go. While it's not seen in the country anymore, it is something that takes a lot of skill to do and is a great spectacle to see. It's a spectacular part of the game."
According to Burge "it simply should be left alone". "It's a great tradition of our game and great to watch".
Both men enjoyed the bounce in the early days, but admit it does take a toll on the back and especially the hamstrings as the years go by. But they see no reason why it should disappear from the very top level of the game. McHugh, 62, said he found it a relief when he didn't have to bounce anymore giving him "another 10 years out of his body" but still felt it was a "great thing for the game".
Burge's 600-game umpiring stint started back in 1991 after a 200-plus playing career for Wedderburn as well as 50 odd games while studying agriculture at Horsham. The veteran whistler blower's amazing journey was almost cut short thanks to an "all in" in one of his very early games at Gunbower.
"I don't know what happened, but suddenly all hell broke loose. I was stuck in the middle of what seemed like every player on the field. It certainly was not that pleasant. I did almost give up after that, but decided I better stick it out, which I'm glad I did, as it certainly gets much better."
Similarly, McHugh's marathon run with the whistle which began back in 1984, looked over early after he was badly assaulted in the Mallee league. "In those days if a player was having a go we were instructed to confront them and ask: 'Are you talking to me'? I was being abused by this fellow, so I went up to him. Then 'bang'. I was knocked unconscious. I eventually got up, where I was bleeding quite badly from the throat. I did finish the game off that day, but it nearly finished me off."
His badly injured throat meant he couldn't speak for weeks, making his job as a local teacher nearly impossible, and he was forced to sit out the rest of the season. "It really knocked the wind out of my sails," McHugh admits. "He was should have been banned for life but was only rubbed out until the end of the season, which was quite ridiculous". Frustrated with the penalty, he stood out of the game for a year playing golf, before returning to blowing the whistle. "I really enjoy the competition of football and all the fantastic people you meet through the game. And golf was not quite exciting enough for me."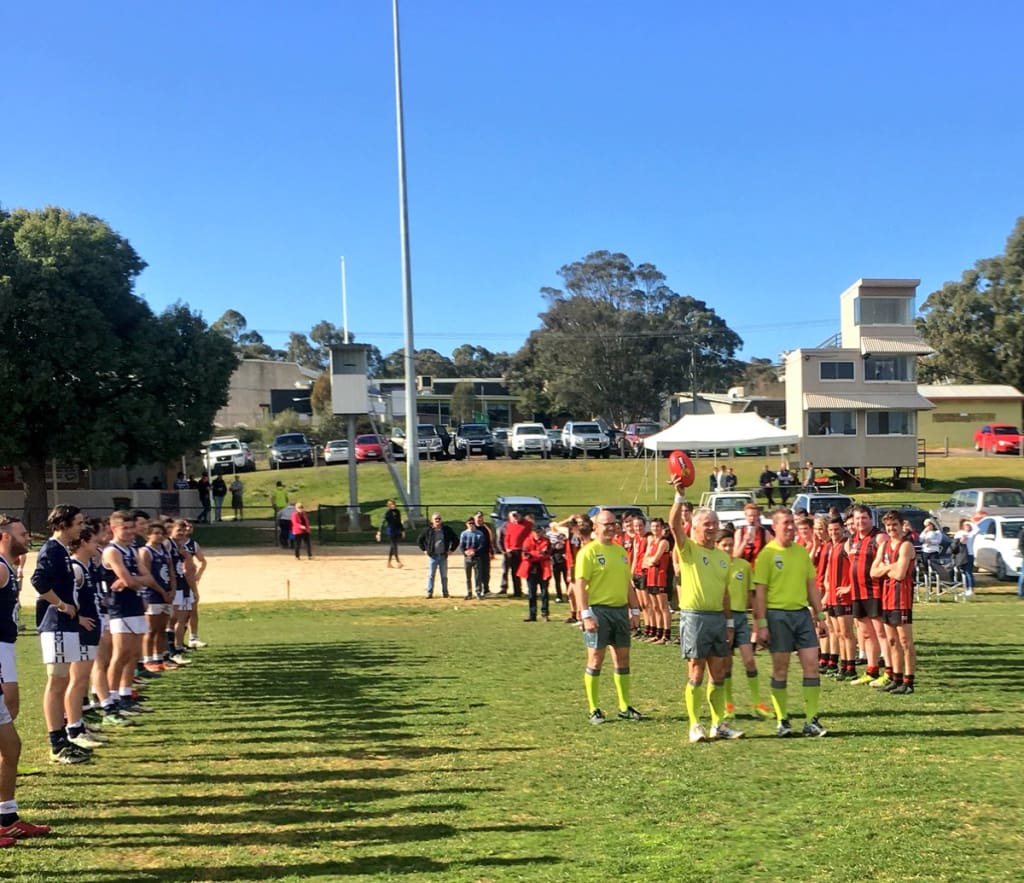 There are many more lighter moments in decades of umpiring, according to these veterans. Like the time Burge, who had just umpired a reserve grand final was called upon to chase a streaker in the senior Ouyen v Walpeup match, only for the dashing nude bloke to totally out-run him and disappear into the trees. To make matters worse for Burge, the chase was filmed and it later won the "Almost Legends" segment on the Footy Show.
McHugh has kept a record of every game he has umpired, which he estimates is in about 10 different leagues around the state, thanks to regular umpire swapping. "Southern umpires would come up here and they couldn't believe how much they enjoyed themselves. The atmosphere, the fantastic people you meet and friendliness after the game." On top of all their official games on record, both McHugh and Burge have also umpired in countless practice games, school matches and lightning premiership games over the decades.
McHugh is also very proud of his international career, umpiring Aussie Rules in Cork, Ireland, as well as a two-year stint for AFL Middle East, where he officiated in two grand finals. "I couldn't believe it, we'd get on planes for 20-minute flights to places like Muscat, Bahrain and Qatar, while back home a 20-minute drive would not get you quarter of the way to a game.
While teaching has taken McHugh from Gippsland to the Mallee and on to the Middle East, Burge is a 40-year plus farming veteran of the Woosang area. "Farming does keep you reasonably fit," he modestly states, having spent the best part of the last decade hauling 50,000 litres of water on the back of his old Bedford three times a day, three times a week, just to keep his stock alive. The other days, mainly in the summer months, he's carting feed to his sheep. He is now celebrating the start of construction of the $80 million Wimmera-Mallee pipeline, which was announced by Premier Daniel Andrews only a few miles from his farm last year after much lobbying by himself and fellow north-central farmers.
Burge says while he's no Cliffy Young, chasing his stock in gumboots, his continual active farm work has got him through 26 seasons. "I've been pretty lucky over the years, only missing a few weeks with very minor injuries.  I train one night a week with the Bendigo boys, but on the farm there's always lots of sheep work to do, plus fencing etc. I've got a dog to do most of the chasing, but keeping active on the farm certainly helps."
The hardest part of the game, according to Burge, is the holding the ball decision. "We were taught that when someone has the ball and is tackled, you have to go through a whole series of questions regarding intent, disposal, prior opportunity etc – it's the toughest thing to work out."
While not referring to reigning Brownlow medalist Patrick Dangerfield's issues with the MRP this week, Burge strongly feels the most important thing to get right for an umpire is the safety of a player's head. "When a bloke is over the ball, the head has to be protected, no matter what."
There must be something in the air in the district, as Burge and McHugh are certainly not alone in officiating in an incredible number of games. McHugh says there are "stacks of old blokes" either still running around or who have similar records. Such as his mentor Ian "Fizzy" Jackson, who McHugh often takes to games. Fizzy played over 300 games with Wedderburn before umpiring in well over 500 matches in the district.
And there's no end in sight for the boys. Burge believes he has two or three seasons left in the seniors, before he might have to drop back to the reserves. Both men saying it's all about the people they meet that keeps driving them on.
And advice for anyone considering taking up the whistle? "You've just got to get past the initial stress and trauma," says Burge. "Grit your teeth as it gets better, a whole lot better. Stick at it. You'll earn respect and you'll love the people you meet in the game."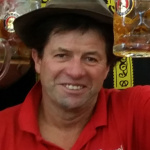 Author:
Colin Dale
Melbourne-born sports nut, Colin "Bomber" Dale began his career in journalism with The Herald as copy boy in 1980. Stints with the Sunday Press and The Sun followed along with a year with NTV Channel 8 in Darwin. Chasing his dream to work in Fleet Street and follow all sports and drink beer around the world, Bomber landed on his feet in the UK, founding a tour company specialising in festivals such as the Oktoberfest in Munich, Rugby Internationals and Royal Ascot. Prost!
Comments
comments
0 comments