---
Reading Time:
4
minutes
HE MIGHT be St Kilda's greatest-ever player and the most popular so it's no wonder the applause was loud and long as Nick Riewoldt called time on a magnificent career, writes RON REED
TRULY, he is Saint Nick – as popular as he is admired. You only had to tune into Nick Riewoldt's 30-minute retirement announcement to realise why. It was a masterpiece of a difficult genre – articulate and confident, just the right mix of pride and modesty, an emphasis on friendship and camaraderie, no regrets about the past and no fears for the future, a genuine sense of amazement that he has been lucky enough to live the dream and call it a job and, just for a few seconds when the words ran out briefly, a welling-up of the emotions that stopped just short of tears. The media offered a lengthy round of applause at the end of it, which doesn't always happen on these occasions – but then, not every departing veteran, not by a long shot, manages to pull off  their exit announcement with that much class.
He has taken his time coming to the decision – the rest of the footy world has been on his case about it for months – and he didn't pretend it was easy. "I wanted to defy it," he said, adding that it was just his nature to "fight and scrap and get every ounce of myself." No surprises there. There was a little bit of petrol left in the tank but not much. Not enough to go around for an 18th season.
Has anybody ever said a bad word about him? It was hard to hear one when the news broke several hours before it became official. In the comments space on the Herald Sun's footy-centric website, there was almost no negativity about any aspect of his status. Fans from all clubs were pretty much unanimous that he was, to employ an ancient cliché, an ornament to the game – and that doesn't always happen. Recently, Hawthorn superstar Luke Hodge made a similar announcement and was, naturally, generously applauded, but not without his share of barbs about perceived sins on the field and even a couple of lapses off it. All that proved was that nobody is perfect, certainly not in the hurly-burly of League footy. But here's St Nick, perhaps the exception to the rule.
His status as a champion is beyond debate. Six best and fairests, five all-Australian selections, an AFL Most Valuable Player Award, the Rising Star Award, 714 goals and more marks (currently 2922) than player in history will do that. As a collection of accolades, that is beyond impressive. Only the Brownlow is missing and that's probably an aberration. When I first saw him play all those years ago, the blonde hair making him stand out even more than the skills and courage did, I assumed he would win at least one. Amazingly, he never really got close, finishing equal seventh with 17 votes in 2004 and equal 10th with 19 votes last year, neither tally anywhere near the winners, Chris Judd and Patrick Dangerfield. But in 16 completed seasons he has 149 votes which is close to a double-figure average.
He is definitely in the conversation when it comes to St Kilda's best-ever player, especially as he has played his entire career there, which might put him ahead of two other candidates, Ian Stewart and Tony Lockett. That leaves Darrell Baldock and Robert Harvey and maybe the late Trevor Barker, with Harvey the only Saint to have played more games, 383, than Riewoldt's 333 and still counting. Riewoldt played most of his career at centre half-forward, or the modern versions of it, which invites comparisons with latter-day superstars of the ilk of Wayne Carey, Jonathan Brown, Matthew Pavlich and Matthew Richardson, among others. Let's just say Riewoldt is not out of place in that debate either, although Carey and Brown in particular are hard to beat given their starring roles in multiple premierships. Riewoldt had three chances to win a flag over two seasons and did not heavily influence any of them, which is where some critics are prepared to mark him down. It's hard to argue with that, but Riewoldt has no lingering regrets. He admitted that he had "beaten myself up over it at various stages" but says he couldn't have prepared any better or trained or tried any harder, so he is comfortable with it.
His leadership is another important part of the package. He captained the club for a record 220 matches over 11 seasons before passing the job on to Jarryn Geary this season. Coach Alan Richardson said he had never seen a better leader at any football club, particularly in his willingness to make changes to his role in the team's best interests. That saw him move to the midfield last year, a challenge that he met so well that he had his best year in the eyes of the umpires.
As an ambassador the club and the game, he will also be remembered for his part in creating Maddie Riewoldt's Vision to help find a cure for bone marrow failure syndromes after his sister Maddie died two years ago.
It adds up to an incredible career package – and no doubt there will be more to come when he decides how best to tackle the footy afterlife.
With another champion, Leigh Montagna, also likely to call it a day, the club is bracing for an emotional end to a roller-coaster season. Perhaps they should change the theme song to "… oh when the saints go marching out."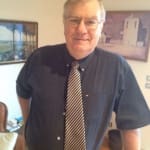 Author:
Ron Reed
RON REED has spent more than 50 years as a sportswriter or sports editor, mainly at The Herald and Herald Sun. He has covered just about every sport at local, national and international level, including multiple assignments at the Olympic and Commonwealth games, cricket tours, the Tour de France, America's Cup yachting, tennis and golf majors and world title fights.
Comments
comments
0 comments