---
Reading Time:
4
minutes
TO STAND or not to stand? Is it man versus woman? Right versus wrong? CHERYL CRITCHLEY and TERRY BROWN debate this highly contentious football issue: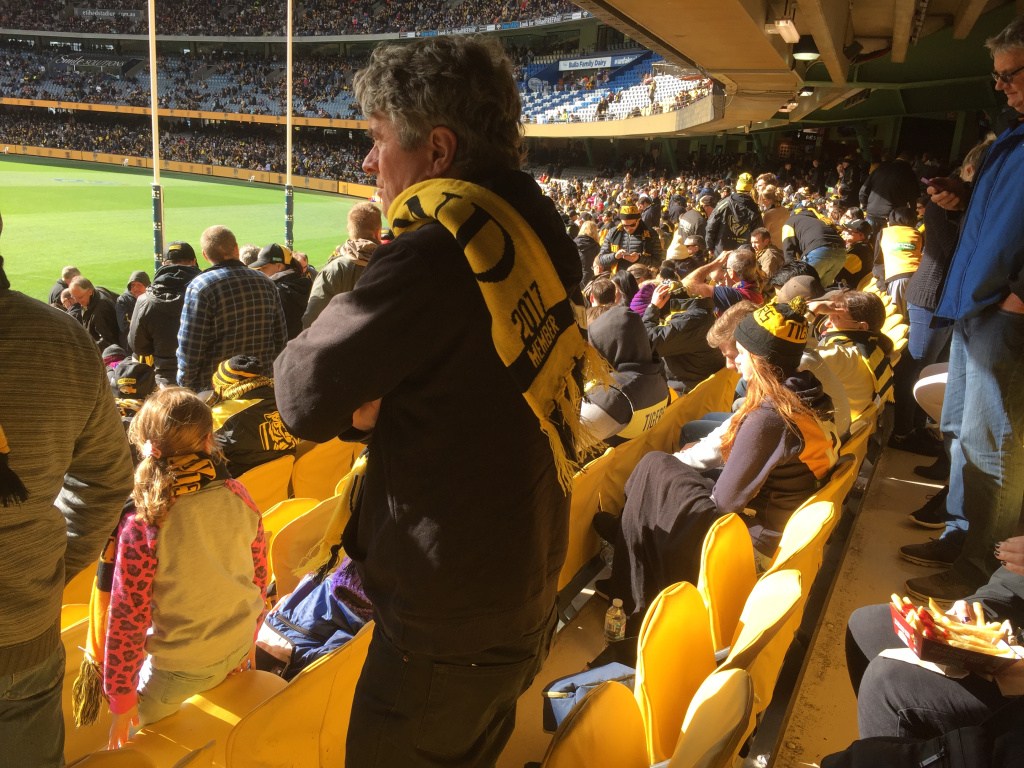 Tiger tragic Cheryl Critchley doesn't get blokes who stand up at the footy.

Mad Magpie Terry Brown reckons footy seats are for wusses.

Is there a footy rule that says blokes must stand up at quarter time?

As soon as the siren sounds, before you can say, "We're already 10 goals behind,", they've popped up like mushrooms, standing aimlessly, hands in pockets, staring into space.

It reminds me a bit of that famous scene in The Time Machine, after George lands in the future and a loud Mosque siren sounds, drawing the Eloi to certain death at the hands of the Morlocks…

"What's happening, what's the matter with you all?" a frustrated George yells as they walk past him, staring blankly like zombies.

They might not be that bad (unless they're praising Collingwood), but footy-standers are one of life's big mysteries, up there with the Loch Ness Monster and why Richmond always loses after being talked up in the media.

When pressed, my male Facebook friends did their best to explain their urge to stand during breaks:

"To stretch and adjust."

"To rearrange the furniture."

"To look bigger."

"Cos our bums get sore."

"We generally have more muscles that need stretching."

"Because that's what quarter time is for, isn't it?"

"Old dudes. Prostate. Beer. So, thinking of having a piss."

"I hate having to sit down at the footy. Seats are for sooks."

Call me a sook, but I love a comfy seat after putting up with splinter-filled wooden benches in the 1970s. Why wouldn't you?

Some blokes hanker for the old days of sprawling standing room sections on gravelled terraces, where we'd perch on Dads' beer cans for a better view.

My husband, Brian, watched Richmond spank Collingwood in the 1980 Grand Final (sorry not sorry Tezza) from the old standing room area that took up a big section under the Ponsford end scoreboard.

He'd just turned 18 and you could buy six tins at a time. No-one could move and they were packed in like sardines.

Do we want to return to that? Result aside, no thanks.

I'm all for character at the footy. As someone who religiously wore my Michael "8" Roach duffle coat as a teenager and sat in the Richmond Cheer Squad at that famous Grand Final, I'm far from a footy snob.

I even refused to put my kids' names down for MCC membership when they were born because I'd rather sit in the outer.

But I just don't get this standing thing.

And try watching the Auskick kids with a bunch of upright boofheads chewing the fat in front of you.

It's almost as annoying as the nongs who turn up 10 minutes late, squeeze past you as Dusty slots a miracle goal, then go to the toilet 15 minutes later.

Sit down in front!

THEY came for our smokes – and we coughed 'em up.

At night, when it is civilised to have a slurp, they do a Reverse Jesus and turn the beer into water.

And now the civilising influences in footy want to chop us off at the knees?

Carlton Mid comes in a plastic bucket so you can't self-harm when you taste it and think "$8!".

Water it down. Plonk it in a plastic bucket. It the politeness police's answer to everything!

But, just maybe it is time to stand up for what's good in footy?

I stand at quarter time because if I stood up all the time someone like Cheryl Critchley would txt the hotline and have me kicked out. Or kneecapped. I've met her friends.

On my own, I will stand behind the Punt Rd goals with a view of half a goal, half a pocket and the balding women of the Richmond Beer Squad. It is still more fun than sitting. I'm too nervous to sit anyway, and of course there's the banter.

(And, no, Cheryl. I am not standing to rearrange my underpants like some sweaty quoll smuggler outside Customs. Collingwood is not playing that well.)

It is 25 years since we let the MCG trash 20,000 Grand Final spots to install seats designed by Slater and Gordon with a haemorrhoid class action in mind.

They will win. Sitting is The New Smoking according to VicHealth research so fresh the rats are still trembling.

Veins, cancers, lotsa clots, bowel issues that could be neutralised by reading Robbo… …

(Ironically, smoking at the 'G is probably good for you now. Each ciggie comes with an eight-flight trek.)

But as much as I would like to (and can) argue the health benefits of standing, anyone who thinks footy is in any way good for you isn't a Pies or Tiges type. So, standing is not about that.

Cheryl has no time for the rough old days, fine, so she can stop reminding me about KB and 1980.

I'm ok if she would rather sit in a bucket, on a rug, wrapped like some yellow and black wonton with eyes and Richo badges.

But, gee, what's the number for antisocial behavior, Chezza? Where's your banter?

When a crowd's at its feet, the hills are alive.

"Silvagni's adopted."

"Least he's got teeth."

"Don't get too fond of yours …" and on it would merrily go.

I miss that like I miss canned beer, like the Pies miss goals (but sometimes get home on points, yay!).

And it is the Great Southern Stand anyway, not The Southern Sit.

So, come on barrackers. Arise.

All you have to lose is your lap.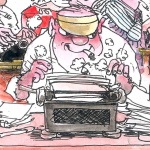 Comments
comments
0 comments