---
Reading Time:
4
minutes
AROUND this time each year KEN PIESSE finds himself thinking of his good mate, Allan Jeans, the legendary coach who died in July six years ago. Here, Ken recalls their friendship and reveals why Jeans would never write a warts-and-all autobiography and why he felt obliged to take the job at Richmond:
IT IS a red-letter day when a new book you've written arrives. I immediately rang Allan "Yabby" Jeans and said: "Our book is here, Yab." It wasn't his life story – years earlier he'd told me the truth and nothing but the truth would affect too many. Instead, he had written a foreword to my book Football Legends of the Bush. Hailing from Tocumwal high up on the Murray where he first ran the local pub as a teenager, Jeans was an old bushie at heart who loved to yarn and reminisce.
His autobiography would have been fascinating and full frontal. Contributing a foreword to someone else's book was less demanding and less likely to hurt others. He'd been thrown into League coaching at 27, still the youngest-ever. Suddenly he found himself coaching men who had once been his idols. Some resented a kid telling them what to do. His peers like Len Smith were all embracing and encouraging. Jeans was at the coalface when St Kilda vacated the Junction Oval. He always reckoned the cricketers had too much power. Coaching champions like Baldock, Stewart, Howell and Ditterich had been incredibly rewarding – but stressful.  He trusted me enough to elaborate – but not for the record.
"Coaching," he'd say, "is the art of surviving." Every now and again I'd playfully suggest that he had a good story to tell – and how it would be something for the grandchildren… "You know why I can't do it mate," he'd say.
Every visit without fail, Mary Jeans would prepare morning tea, with percolated coffee and home-made cakes. It was country hospitality in the city. "You didn't need to do all this Mary," I said once. "Oh yes I do, Ken."
While Jeans was uncomfortable with penning a warts-and-all autobiography – one he'd just read had somehow neglected to mention the hero's longtime illicit lover, making it a less-than-true account – he had no problem in dictating 3,000 words or so on his bush upbringings – especially as it also involved Mary, his wife for more than 50 years. She was a nurse completing her training in Melbourne and Jeans wanted to be closer to her. Initially he'd knocked back the advances of Les Foote and St Kilda, saying he was a country boy and had responsibilities to his mother.
His father had disappeared to goodness knows where during the War and Mrs Jeans had to raise the family herself. She worked three different jobs to feed and clothe them all.  Jeans had been promised 500 pounds, a small fortune back then, to come to the Big Smoke and play six games. On the night of the sixth, back he was at home again, with an envelope.
"Here you are Mum, this (money) is yours," he said.
"What are you doing here Allan?" she said. "You're supposed to be in Melbourne (playing football)."
"Mum, I've played my six games. They gave me all this money… 500 pounds… this is for you."
"Allan," she said, "you can always come home, but you can't always move forward."
I faithfully transcribed his foreword, including the anecdote on how he got his nickname: "I used to follow my big brother around," said Jeans. "He was pretty red in the face and was known as 'Lobby' – short for lobster. They asked him one day who the little tyke tagging around with him was? 'Oh that's just a little yabby,' he said."
I dropped the deluxe version of the book around for his approval and as I was leaving, he called: "Mate, (he always called you mate) you don't want me to come to the launch (of the book) do you?'
"You'll be right Al, you're fine." But even then, his lungs were shutting down.
Some months later I rang him again. This time he was in the Allan Jeans Wing at a nursing home in Cranbourne. He was seriously ill. "Come around… now," he said.
He'd lost an alarming amount of weight and was hooked up to an extra air supply. He couldn't even get out of chair without assistance.  As he'd confided a year earlier, he was stuffed.
"Hello Al…  thought you'd like some copies for the family," I said.
We had the best hour together, chatting about his coaching, his mates and Mary.
"What I'll never forget," I said to him, "were the feasts Mary would prepare when you knew I was coming over.  It was so very kind."
Jeans looked across the room to Mary and grinned. It was a true love match that one.
"How's the cricket going?" he asked with a mischievous smile.
He'd never let me forget the time he provided a character reference following my one-and-only umpire's report in a lower-grades District game at North Melbourne. I'd been given out lbw and told the umpire he was guessing, repeated it afterwards and he put me on report. Jeans loved that one.  "Fancy me giving a reference for you… a member of the meed-ya," as he liked to pronounce it.
He signed some books and photographs in his impeccable hand, including one of him with Cameron Schwab at Richmond in 1992. I'd never asked him why he'd coached the Tigers. They were debt-ridden, had a poor list and in a decade hadn't finished higher than eighth: "Alan Schwab refused to take no for an answer," he said. "He kept on saying I had to help."  From the corner of the room, Mary spoke up: "Ken… do you know why he did it? Poverty… we needed the money."
They'd lost whatever savings they had in the Pyramid Credit Society collapse. Jeans had also been one of the many creditors at St Kilda who were paid peanuts via a scheme of arrangement, despite his status as the club's only premiership coach. With four children to raise and care for, times had been tough.
We shook hands and I wished him well. A day later the nursing home cut off all access to visitors other than the family and within a week he was gone. More than 5,000 attended his funeral at the MCG. For so many of us it was like losing a father all over again.
* Ken Piesse has written, edited or published 73 books on cricket and football. The best seller? Gary Ablett. The worst? He's not saying!  His website is cricketbooks.com.au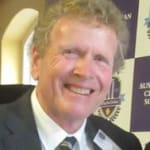 KEN PIESSE has covered cricket and football for more than 30 years in Melbourne. He has written, edited and published more than 70 sports books. His latest book, Favourite Cricket Yarns, is available from www.cricketbooks.com.au
Comments
comments
0 comments