---
Reading Time:
4
minutes
STEVE PERKIN was executive producer of The Footy Show for three years when Eddie McGuire was host. He now examines Eddie's return:
THERE ARE SOME who say that you never go back, just as many who believe that sometimes you need to go back before you can move forward. Well, we're about to find out who's right.
The return of Eddie McGuire to The Footy Show is the program's last lifeline. If it doesn't succeed, it's surely gone.
McGuire's return is a surprise for several reasons.
The biggest one is that Channel Nine is, we're told, relinquishing all or part control of the program to McGuire's media company. There are dangers in this, as evidenced by Hey Hey It's Saturday, which was produced by Somers Carroll Productions for the Nine Network.
When Hey Hey started to slip in the ratings and changes were required, Nine had little or no say. Somers Carroll stayed loyal and resisted change, and the show eventually petered out and got chopped.
When I was appointed executive producer of The Footy Show at the end of the 1998 season, one of my instructions was to prevent McGuire Media from getting production control. Nine didn't want a repeat of Hey Hey.
It wasn't that Nine didn't regard McGuire highly. Clearly it did. After all, it made him CEO of the entire network a few years later. What it thought of McGuire Media, however, is less certain.
These days, Eddie's head producer is Cos Cardone, who was my deputy for two years at The Footy Show before he moved on to executive produce his own program.
Cardone is vastly experienced and will maintain high production standards, but Eddie will be running the show, because that's the way Eddie works.
So, who will pull the rug from under Eddie if his return fails? Who will tap Sam Newman on the shoulder and say, "Time's up, mate!" when, and if, that time comes?
It won't be Eddie. We already know his loyalty is extreme. Just look at Nathan Buckley's career path. And Eddie holds Sam in the same high esteem as he does Bucks.
Eddie's already talking about bringing fun back to The Footy Show, but if it doesn't lift its of-late dismal ratings, then there won't be too much laughing behind the scenes. There will be blood on the floor and it will be Eddie causing the spilling.
The success of The Footy Show now just doesn't rest on Eddie's hosting skills, it also rests on the capabilities of his media company, and those two things make the stakes higher than ever.
McGuire's also talking about letting Sam off the leash. While much of this talk is simply hyperbole, there's no doubt Sam will enjoy getting Eddie back and seeing the last of Craig Hutchison, with whom he had little or no on-camera warmth.
But is Sam now crucial to The Footy Show's future? Are we tiring of his style and has the modern world caught up with him?
Nobody knows the answer to that, and to underestimate Sam's talents in creating "must watch" television is to give him no credit for 20 years of experience at doing just that.
Nine obviously thinks he's crucial to the show's future because he's still there and presumably they've done research to determine whether the viewing audience thinks the same way.
But Nine makes mistakes. It made one, in my humble view, when it let Eddie become president of Collingwood. Immediately, The Footy Show lost so much of its news-breaking capabilities and its objectivity.
It made one when it let Trevor Marmalade go. Trevor's best performances were the nights when other elements of the show weren't as strong. He saved the bacon more than once.
It apparently made a mistake with Hutchison and it has certainly made a mistake in being too flexible this year with its time-slot. That, more than anything, has been a reason for its dip in the ratings.
The success of Channel Seven's The Front Bar has also raised questions, the main one being whether viewers are screaming out for a fresh change or whether there is simply a short-term curiosity but no long-term substance.
And don't forget, there have been other challengers to The Footy Show over the years but they've all come and gone.
To be a great television host you need not just a warmth with your viewing audience, but clarity of mind all the time, especially under pressure.
I saw this first hand when the story of Alastair Lynch's chronic fatigue broke late on a Thursday.
For 30 minutes before The Footy Show was to come on air, Eddie was working the phones, finding out what was going on and getting details about the drugs Lynch was taking to manage his condition. It was all the more difficult because Lynch was living and playing in Queensland, but Eddie had a scoop and he was going for it.
With a handful of minutes left before we were on air, and with the sound man busily attaching a microphone to Ed's suit, I asked if I could do anything to help.
"What's on tonight?" he asked.
"Well," I said, "we've got John Kennedy senior, street talk from Frankston, our greyhound's running…" and one or two other things.
Eddie was walking to the set and listening. No notes, just memory.
Five seconds after I'd finished, it was: "Welcome to The Footy Show and what a big week's it's been in football. Tonight, we've got…" and he nailed the lot. Didn't forget a thing, and even managed to get in a plug for the big story from Brisbane about a Brisbane star.
To be so calm and clear would have been impressive had he been talking into a mirror, but to do it live, on national television to an audience of hundreds of thousands, it was uniquely professional. And the journalistic merit of what he'd just done didn't escape me either. It was a very good story and Eddie had nailed it.
Presumably, Nine, looking forward, would have weighed up all its options, the obvious being to simply have Rebecca Maddern as the go-alone host, or the less obvious option of bringing Tony Jones out of the newsroom and putting him into Hutchison's chair.
But they've punted on McGuire and, just as importantly, on his media company.
In the short term, The Footy Show will experience a ratings spike and McGuire and Nine will talk that up big time. The test will be two, three and four weeks down the track and whether enough energy can be created to convince Nine to go with The Footy Show again next year.
What a big week it's been in football, indeed, ay Eddy?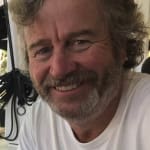 Author:
Steve Perkin
STEVE PERKIN had a long and distinguished career as a journalist, covering sport and general news and writing daily columns for The Age and the Herald Sun. He was also executive producer of The Footy Show on Channel 9 for three years.
Comments
comments
0 comments