---
Reading Time:
5
minutes
NOTHING HAS BEEN able to stop our man at the Tour de France clocking up a mighty milestone, with chief writer RON REED reporting on what it was like going along for the ride.
SOME PEOPLE now call it the Tour de Iffy, and for good reason. John Trevorrow, known far and wide in the cycling world by that four-letter nickname, hasn't missed a Tour de France for 20 years and at the weekend was honoured for it by the organisers of the world's greatest bike race. As they do for any media person who clocks up two decades on the job there, they presented him with a memento at a ceremony in the race village before stage 14, which, appropriately, ended with an Australian victory by Michael Matthews several hours later.
Almost exclusively the recipients are Europeans who do not have to travel far from their own backyards. Sportshounds is aware of only one other Australian to have been given this accolade, Sydney freelance journalist Rupert Guinness, a close mate of Iffy's. Both are among our inaugural team of contributors, Trevorrow reporting regularly on the race and Guinness soon to add his vast experience of the sport to this site once he has completed other commitments. On hand to share the moment were close friends Stuart O'Grady, who contested an amazing 17 Tours in the saddle, and Gerry Ryan and his wife Val, who own the first and only team to fly the Australian flag in it, Orica-Scott.
Congratulations to Johnny Trevorrow for 20years of service to Le Tour De France! What a Legend! @LeTour @OricaScott pic.twitter.com/aUAiSzeTOQ

— Stuart O'Grady (@StueyOG) July 15, 2017
Somewhere around the middle of this double-decade odyssey Trevorrow persuaded Ryan, already a big fan of the sport but yet to become the towering influence on it that he is now, to accompany him to France for the three weeks of July, and his enthusiasm – no, make that his passion – rubbed off.  Ryan wondered why a nation with Australia's proud cycling heritage did not have a presence. To the delight of everybody in Australian cycling, the birth of the team, originally named Greenedge, followed. Trevorrow has never been an official or formal member or employee of it, but not for nothing does he wear the self-nominated mantle of mascot. He is as familiar a face at the team bus before each day's racing as any of the big-name riders.
Trevorrow, 68, has dedicated his life to his sport, as much deserving of the title Mr Cycling as any other Australian. The son of a pro rider, he started racing at age 11 when his father started the Morwell Cycling Club in Gippsland and was to reach impressive heights at home and abroad. He won four national road championships, three Sun Tours (now the Herald Sun Tour), a Commonwealth Games bronze medal at Edinburgh in 1970 and raced at the Olympics in 1972. He was one of the first Australians to compete professionally in Europe in the late 70s and early 80s, riding the Italian Giro in 1981.
He has written about the sport for the Herald Sun and Geelong Advertiser and appears regularly on radio. He has also been a prominent promoter, notably of the popular Bay Classic criteriums every new year, and is now race director of the Herald Sun race, both of which are sponsored by Ryan through his Mitchelton winery and Jayco caravan empire. In short, there is little Trevorrow hasn't done in or for cycling, which is why his Facebook page was inundated with congratulatory messages at the weekend. O'Grady noted how many careers he had helped kick-start through the Bay Classic, calling him "a legend."
If the Tour de France was never going to come to Australia, Trevorrow decided he would take himself to it – and a lot of other people besides. He first went with a mate, the late Simon Townley, a former sports editor of The Sun, with the two of them hiring a car and sleeping wherever they could find a bed – if they could find one. Occasionally the car sufficed. More and more people joined in as the word spread that Trevorrow was adept at organising hard-to-get official accreditations so that his "campers," as he calls them, could see the race and its associated razzamatazz from the inside, and never mind if the accommodation was a bit (or very) rough and ready and the daily road trips not so much A to B as A to most points of the alphabet. Over the journey he has driven hundreds of thousands of kilometres. It was often chaotic but usually an experience not easily forgotten.
I know. In 2003 I joined in for the centenary tour – 100 years after the first one, but the 90th to be held because five were lost for each world war – and it was memorable, with Australians Brad McGee, Baden Cooke and Robbie McEwen dominating the first few days, Cooke eventually going on to narrowly defeat McEwen for the prestigious sprinters' green jersey. I went back four or five times as well as accompanying him to three chapters of the second biggest Grand Tour, the Italian Giro, the last one just a couple of months ago. In 2013, with some assistance from Ryan, Iffy and I wrote a book – Green Gold & Bold – about the 100th Tour and Australia's part in it and all those that had gone before.
We should never have even tried to do that – or at least, he shouldn't have, because he had recently been diagnosed with cancer of the oesophagus, one of the more difficult versions of that dreadful disease. He was due to have surgery in a month and reasoned that gave him time to make the trip, even though his health was extremely precarious. He simply wasn't willing to break his sequence and he could easily have lived to regret it. There were several days when he was too unwell to take much part in what was happening, one in particular when, with no doctor on hand, our travelling mate Ron Gower, another old cyclist, and I had to leave him in a darkened room with his temperature hovering around crisis point and just hope for the best. He survived, somehow, and finished the tour, returning home for the operation – and survived that too. He truly is indestructible.
A born raconteur, he has an endless fund of what are known as "Iffy stories" and some are remarkable. For instance, I was in the passenger seat one day when we noticed spot fires along the rural back road we were using to try to catch up with the peloton in a hurry, when we came across a farmer with a huge load of hay on wheels – on fire! The inferno meant there was no way past – or shouldn't have been. Iffy simply ordered me to wind up the window and drove straight through the flames, much to the shock of the farmer – and much to the horror of me and the other passenger. As usual, we lived to tell the tale.
There are usually at least two or three of these anecdotes every year so after 20 years he has enough to write another book. He'll have to do it without me this time, though, because I've retired from the tour, too old now to handle the rough and tumble of three hectic weeks on the road – but he certainly hasn't. He's probably planning another 20 years.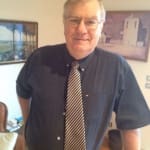 Author:
Ron Reed
RON REED has spent more than 50 years as a sportswriter or sports editor, mainly at The Herald and Herald Sun. He has covered just about every sport at local, national and international level, including multiple assignments at the Olympic and Commonwealth games, cricket tours, the Tour de France, America's Cup yachting, tennis and golf majors and world title fights.
Comments
comments
0 comments