---
Reading Time:
3
minutes
LAWRENCE MONEY returns to the golden days of Boot In Mouth when the football callers kept getting tangled up in words:
The Ablett brothers are hard to tell apart – although one has a beard." It's a footy howler that rings down through the ages – so how appropriate that the radio commentator responsible, former Cats and Roos superstar Doug Wade, now sports a beard himself, 37 years later.
In fact, if any of the Ablett brothers still have whiskers Doug might almost pass as a sibling. "I can't remember now which Ablett brothers I was talking about," says Doug. "I don't think it was Gary – reckon it was Kevin and the other bloke. I saw you used the quote at the time and thought: 'What have I said!'"
Nevertheless, Doug was sufficiently forgiving in 1981 to donate one of his football boots for a perpetual Boot In Mouth trophy which still sits on my office desk.
It was not until years later that I learned this turf-stained right Puma was one-half of the pair he wore in the 1975 Grand Final, the first flag for North Melbourne, which until then was the last of the old VFL clubs not to have won a premiership. Doug was full-forward that day, kicking four goals with that Puma. This is fair-dinkum historical footwear.
A cartoon sketch of the boot became the BIM dinkus that ran atop each week's offerings in my column from the start of season 1981 — although a hasty revision was made mid-season when Doug pointed out that the cartoon boot mistakenly bore Adidas stripes.
These days Doug lives with Chinese-born wife Liz in a beautiful mud-brick house on 50 acres at Drysdale. "We bought one old farm, then bought the place next-door," he says. He claims he was not much of a commentator, that rival full-forward Peter McKenna was better.
But Doug was one hell of a sharp-shooter who still rates Number 4 on the all-time list with 1,057 goals. The tragedy for your Demons columnist is that he might well have come to Melbourne. He had been tempted by the Dees with an offered membership to the Melbourne Cricket Club but was swayed by Geelong's persuasive Bobby Davis. "He offered me a $10 discount on a reefer jacket," says Doug, who years later joined the Roos on $10,000 a year with a $20,000 sign-on fee. He bought a house with the money and gave it to his first wife, with whom he had two daughters, when they parted.
For the past 36 years I've had custody of his right boot from the 1975 Grand Final. Doug and I met for lunch recently in a Geelong restaurant (in a building owned by former Cats skipper Cameron Ling) and Doug autographed the boot for posterity. The trophy has annual winner's names and quotes engraved on the side. Whose name will appear for 2017?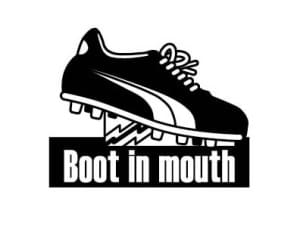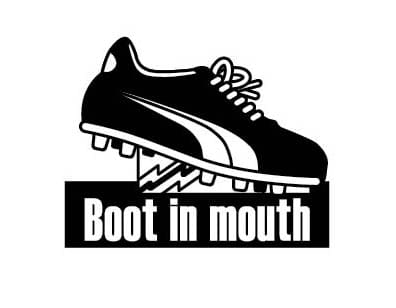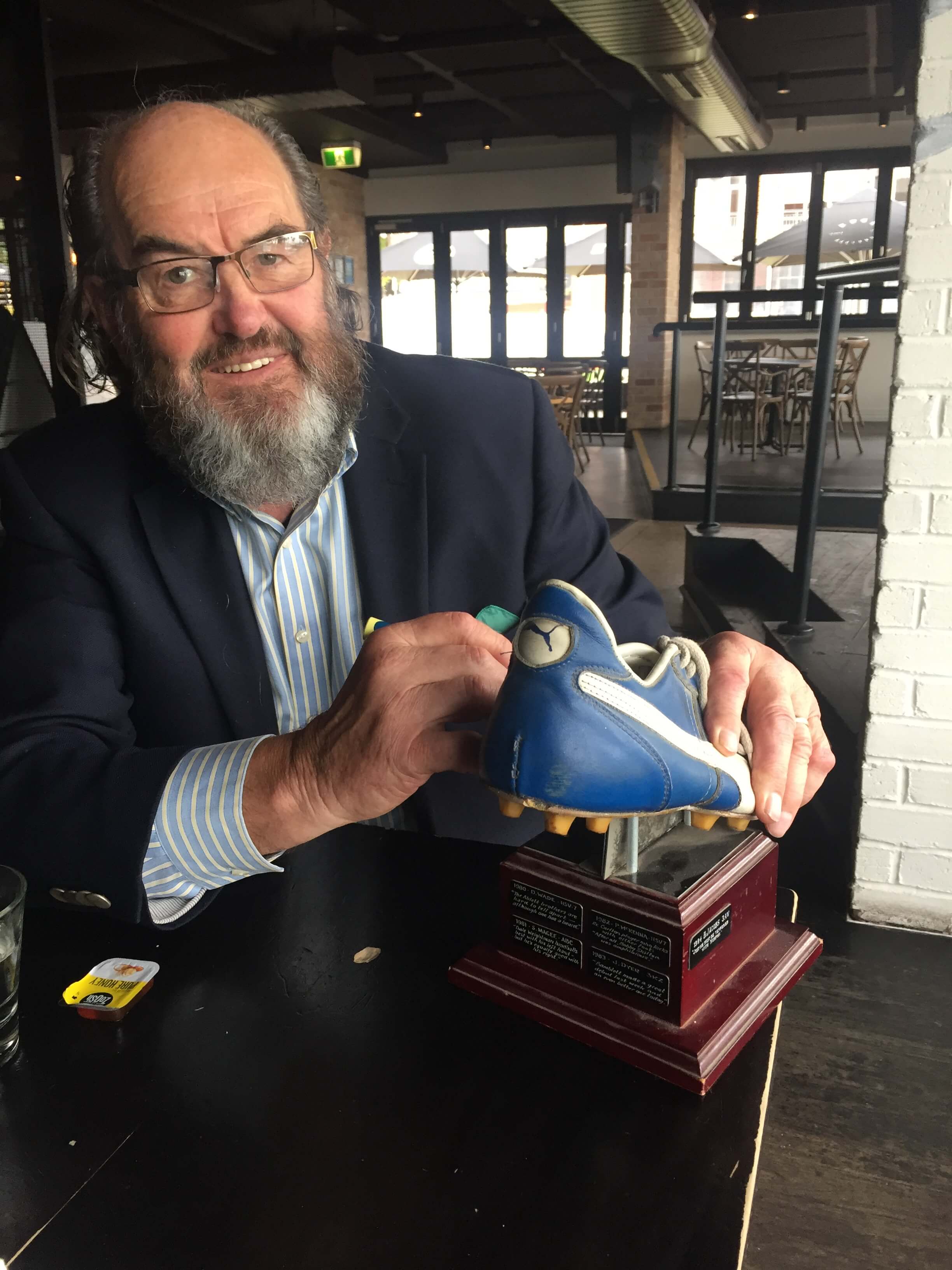 Luke Darcy (May 2017): "Riewoldt always dangerous, works his way in front, well done Begley, just kept his eye." (God gave Begley two eyes and he wants to keep 'em both.)
Paul Roos (May 2017): "Jake Stringer was leaking out the back, a little bit over the back, I think it was Roberts…" (Too much Gatorade before the match?)
Kelli Underwood (2009): "Harley did everything right, just spilt it right at the last minute." (Aw c'mon umpire, you don't disallow Harley's mark just because he dropped it. What sort of crapola umpiring is that!)
Lou Richards, on League Teams (1984): "I'd like to say hello to all the blind people who watch the show."
Contributions (preferably giving match and date) are welcome: [email protected]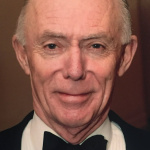 Lawrence Money has twice been named Victoria's best newspaper columnist by the Melbourne Press Club. He wrote columns for 37 years on the Melbourne Herald, Sunday Age and daily Age — and in Royalauto and Your Sport magazines — before retiring in 2016 after a 50-year career in journalism.
He still treads the speaking circuit, does radio gigs, tweets on @lozzacash and chases a long-gone 13 golf handicap. He clings to the eternal hope that the Melbourne Demons will once again win a flag.
Comments
comments
0 comments