---
Reading Time:
3
minutes
OUR favourite food Hound, BOB HART, has some timely advice on how to drive the chill from the bones. Your own:
HORSES and I have never been close. I have always considered them to be ill-tempered, uncomfortable and a mediocre form of transport.
So imagine my surprise when a friend, whom I would have expected to have known better, invited me to join his club – a polo club.
Now I had no desire even to sit on a horse, let alone to weild a mallet, attempt to smack a round ball and generally behave like an upper class twit on one. Naturally, I expressed my dismay.
"No, no, you misunderstand. You, like me, would be a non-playing member. And the thing about the Polo Club is that they have this amazing chef…"
Ah, yes, well, that's was clearly a very different matter. And then, I remembered that, indeed, I had heard about this chef…
He was a gentleman of Indian persuasion. His name was BJ, and while all of his food was highly regarded, he was particularly famous for his mulligatawny soup – a dish that had great appeal in mid-winter months, not unlike the ones we are experiencing as I write this. Because nothing counters the discomforts of a fierce winter quite like a steaming bowl of mulligatawny.
In fact, I joined the club and, over the following months, demolished rather a lot of BJ's famous soup, as did the other members. The difference, however, was that I persuaded BJ to give me his recipe.
Now, mulligatawny is not, as a lady of a certain age informed me just just last week, a soup of Gaelic extraction. She had assumed this because her nanna, who used to make a fabulous version of it, allegedly, was Irish. Or Scottish. Or something.
Mulligatawny is a soup from southern India. The name means "pepper water" in Tamil and it is, essentially, a rich broth bulked up with red lentils, seasoned with curry and other spices, and fired up with black and/or cayenne pepper.  It often contains chicken and sometimes other meats, and is enriched with coconut milk and either served or further thickened with rice.
You may well have a hand-written recipe for mulligatawny in an old family cookbook. But don't bother to make it. Because the recipe you have is probably as appalling as the one you will find in one of those charming but lethal Presbyterian Women's Missionary Union of Victoria cookbooks which have been around, shortening the lives of innocent Victorians, for a century.
For the latest PMU bible's mulligatawny, we are invited to hack a tomato, an apple and a couple of onions to bits, fry them together fiercely, add a mixture of plain flour and curry powder, slosh in a few cups of any stock you have to hand and simmer this vile sludge for an hour. And that's it.
English food scribbler Michael Smith, on the other hand, invites us to finely slice and fry a chicken breast in butter, stir in some curry paste and some rice, cover with rich chicken stock, simmer for 20 minutes and finish with sultanas which you have plumped in rum, desiccated coconut and fresh coriander leaves. Not bad…
More diligent research, however, takes us to the wonderful Madhur Jaffrey whose recipe is deliciously correct — built, as this soup should be, around red lentils cooked with turmeric in chicken stock. Potato is then added, the soup pureed, cubes of spicy, fried chicken used to add substance and the whole thing fired up with cayenne pepper and eaten with rice on the side. Yum.
But when winter bites and I feel a need for a mulligatawny that would unseat a Sepoy at 100 paces, I turn to none of these recipes, but to the recipe given to me by BJ. For this, heat a litre of good chicken stock. Add a large, ripe tomato, halved, 1 tbs chopped coriander leaves and 1 tbs of good, Indian curry powder. Bring to a gentle boil, add 100-200g of washed red lentils (depending how thick you like it — I opt for the thicker version), and simmer for 20 minutes.
In a second, larger saucepan, melt 30g of butter or ghee and sweat a small, diced turnip, a chopped, large onion, a chopped stick of celery, three cloves of garlic and a few slices of fresh ginger. Cook gently for 10 minutes, add the lentil mixture and a dozen cracked, black peppercorns and cook for 30 minutes.
Add a couple of decent glugs of tinned coconut milk, season to taste with salt and pass the entire mixture through a sieve to liquidise and strain. Return this puree to the cleaned pot, add 300g diced, cooked chicken, heat through, top with a few fresh coriander leaves and serve with lemon or lime wedges which you squeeze into the soup just before you eat it.
Accompany your mulligatawny, on a cold and blustery day, with a bowl of steamed basmati rice and a cold beer and try to serve it modestly and quietly.
Also, avoid polo, which is a foolish game.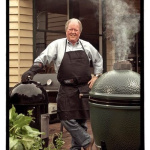 Author:
Bob Hart
BOB HART worked in Fleet Street in the 1960s as a showbiz writer and columnist. After a spell in marketing he returned to Australia and turned his attention to another great love: food. He has written a number of books on the subject and the latest, Bob Hart's Barbecue Unplugged, will be in shops in late September.
Comments
comments
0 comments