---
Reading Time:
6
minutes
THE WEEK THAT WAS: Chief writer RON REED looks back on the first week in the life of sportshounds.com.au – and despite tennis tool Bernard Tomic's deplorable behaviour there was a lot to like.
JUST when you thought Bernard Tomic couldn't become any more of an embarrassment to Australian tennis – to Australia, full stop – the unlikeable young punk outdid himself. And he has now, I think, reached the point of no return. His fellow enfant terrible Nick Kyrgios might – just might – yet pull his act together in time to fulfil his undoubted potential on the court and to win people over to his side in much the same way as Lleyton Hewitt once had to do, but Tomic shows no real signs of doing either. He seems beyond help now, with even his father John – notorious for his own erratic behaviour – saying he's ashamed of the carry-on.
Tomic got up people's noses enough with his pitiful performance at Wimbledon where he virtually tanked his first round match and then said he wasn't trying because he was bored, which earned him a $20,000 fine from unimpressed officials of the world's greatest, and proudest, tournament and cost him his racquet sponsorship. But at least there was some latitude from free-thinkers who were prepared to concede that if he wants to squander his God-given gifts that way, he is within his rights. It is his business.
But what followed the next day took offensiveness and total lack of self-awareness to an altogether new level. He told the Sunday Herald Sun: "You probably don't like me but, at only 24, you guys can only dream about having what I have at 24. End of the day, don't like me or whatever, just go back to dreaming about your dream car or house while I go buy them." In other words, you lot – the fans who pay their meagre (by his standards) money to watch him play – are not worth a second look from his lofty vantage point on life. It's the old two-finger salute and one day it is going to come back and bite him hard.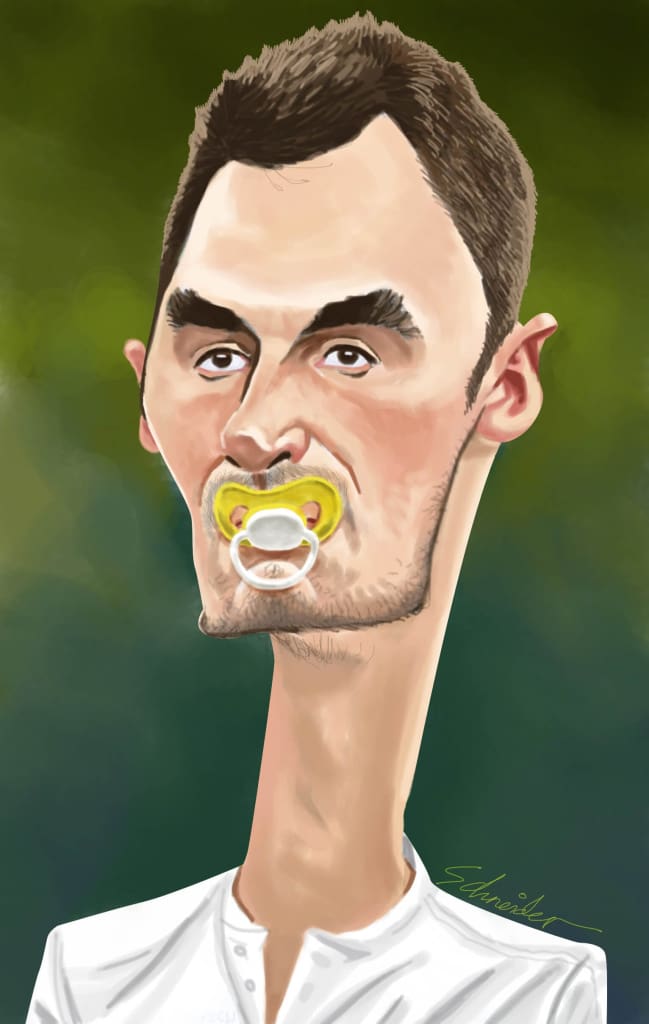 The experts say Tomic is capable of winning Grand Slam tournaments but it is obvious he can't even be bothered enough to train properly, to keep himself properly fit. His body isn't right and neither is his head. And while he says he is "only" 24, time is passing him by rapidly. His ranking is now back out to somewhere in the vicinity of 100 and if it keeps going backwards, so will the super-size bank balance that he is so happy to flaunt. If he doesn't turn this around, he is going to be a very sad case when tennis over for him, whether or not he manages to hang on to his money.
Happily, there was more class displayed elsewhere during what was a rough week for Australian sport on the international scene. Not only did we win just one match, male or female, at Wimbledon, the Tour de France turned into a disaster when equal favourite Richie Porte's race ended with a high-speed horror smash during stage nine. And in a lesser – certainly less painful – setback, Australia's big hope for the prestigious sprinters' green jersey, Michael Matthews, was consistently outclassed by German star Marcel Kittel. But before it became clear that Matthews was being left behind in the bunch finishes that decide the second most coveted title across the three week marathon, he sent Porte a get well message. From his hospital bed, Porte put his own pain and disappointment aside by replying: "Bring that green jersey home and I'll be the happiest man in the world." It's called camaraderie – or mateship, if you like – and even though Porte and Matthews ride for rival teams, it is an admirable feature of this tough sport, especially where Australians are concerned.
Incidentally, it wasn't totally bad news for Porte.  Cadel Evans has backed him to bounce back. Evans knows plenty about injury-ravaged campaigns, having his ruined in the two years before he finally became the first Australian to win the world's toughest bike race in 2011. Porte has his heart set on becoming the second. "All of the top riders – it probably counts for top sportspeople in general – at some point have a major setback that really sets them back. More often than not they come back better. So hopefully that's going to be the case for Richie."
And while we're on the subject of class, not many footballers retire with such universal acclaim for how he has conducted himself as a player, a clubman and an all-round good bloke as Hawthorn's Luke Hodge. Sportshound Chris de Kretser, a no-holds-barred Essendon fan, has confirmed that even opposition supporters have always had the utmost respect for him. So have the players of every other club. Enough said.
And so, naturally …
FOOTY PLAYER OF THE WEEK
LUKE HODGE: Not that he's done anything out of the ordinary this week other than to announce that it's his last season – which is no surprise, of course – but adding game No 300 to those four premierships, two best and fairests and umpteen other accolades means that he's the only candidate.
BIG LOSER
BERNARD TOMIC:  forget his first round defeat, the best of them have those. His arrogant, immature response has sent him plummeting to a point of no return with Australian tennis fans. He'll wake up one day and regret it.
BIG WINNER
RICHIE PORTE: Richie Porte. Don't we mean big loser after the gun cyclist crashed out horribly from the Tour de France? No, that was such a monster prang that he was lucky to live to tell the tale.
BOLLOCKS OF THE WEEK
It was reported in Brisbane that the Horn-Pacquaio fight pulled a TV audience of 500 million. Experienced TV observers in Melbourne say the giant American outlet ESPN had just over 3 million. So where were the other 497? These fanciful numbers get trotted out as fact far too often.
YOU HEARD IT HERE FIRST
Sportshounds' IAN CALLEN told you that cricket's problems weren't limited to the pay war – a grassroots plot was aimed at overthrowing the Cricket Victoria board of directors. Next day, the suburban newspapers caught up. The big ones still hadn't.
Sportshounds' MARK HARDING wondered, only half tongue in cheek, whether the world's best player Novak Djokovic might benefit from getting injured for a while _ "I'm flattered that he read it," Harding said after the great man did exactly that mid-match.
THEY SAID IT
"End of the day, don't like me or whatever. Just go back dreaming abut your dream car or house while I go buy them." – Tomic, of course.
"He's my son, I love him _ but I'm ashamed at how he's approaching his business. It's not good what he's doing." – Tomic's father John.
"If Kyrgios was here now, I'd knock him out." – Lawrence Samway, father of young British tennis player Chelsea Samway after a night out with Australia's other tennis bad boy Nick Kyrgios.
"I'm lucky to come away with the injuries I have." Richie Porte knows his horrific crash in the Tour de France could have been a lot worse.
"These days it seems they're willing to risk their lives." – Australian cyclist Michael Matthews thinks there is a limit to putting it all on the line in the chaotic finishing sprints.
"It's scary to think what she's achieved so far – in 50-odd games she has 11 centuries, that's just incredible." – Former English women's cricket captain Charlotte Edwards is in awe of Australian star Meg Lanning.
"Instead of saying 'I think I won the fight', now a heap of other people, professionally, think I won the fight." Boxer Jeff Horn is vindicated after an official review decides the judges got it exactly right in awarding him the fight by two rounds against Manny Pacquaio.
"He is a wonderful human being. He is the kind of guy I want coaching this club." Collingwood's cult-figure fan Joffa Corfe goes into bat for embattled coach Nathan Buckley.
"I think everybody has read and heard enough about things that do not involve people scoring runs or taking wickets. Me included." – Former Test captain and current Cricket Australia director Mark Taylor is as fed up as everyone else with great pay war.
"We always welcome any opportunity to play the Australians at cricket and show them a thing or two, how it's done." – British Prime Minister Theresa May doesn't want the Ashes to be called off because of the pay stoush, either.
"Tell the guy with the long hair up in the stands its pretty hard to walk away from it." – Queensland's (and Melbourne Storm's) Billy Slater, whose State of Origin rugby league career may or may not be over, has some advice for injured team-mate Jonathan Thurston, who definitely is finished.
"I'm not the same fighter I was 10 years ago .. or five years ago … or two years ago, but I've got enough to beat you. He can choose which way he wants to go – either on his back or on his face." – Unbeaten boxer Floyd Mayweather has some typically arrogant trash talk for cross-combat opponent, UFC superstar Conor McGregor.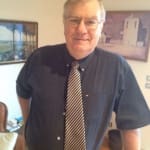 Author:
Ron Reed
RON REED has spent more than 50 years as a sportswriter or sports editor, mainly at The Herald and Herald Sun. He has covered just about every sport at local, national and international level, including multiple assignments at the Olympic and Commonwealth games, cricket tours, the Tour de France, America's Cup yachting, tennis and golf majors and world title fights.
Comments
comments
0 comments