---
Reading Time:
3
minutes
BOUNDARY UMPIRES are the most anonymous people in footy – with one memorable exception, Graham Carbery, who has just died. RON REED learns that he finally agreed to tell the story of his clash with a controversial superstar just in the nick of time:
GRAHAM CARBERY, probably the only football boundary umpire ever to become remotely famous, has died – just as he was being brought to public attention all over again. Carbery's name will forever be linked with star player Phil Carman, who was suspended for 20 weeks for head-butting him in a sensational incident while playing for Essendon in 1980.
After all these years, Carman – one of the most brilliant players of his era when he began his career with Collingwood before stints with the Bombers, Melbourne and North Melbourne – has finally collaborated in a biography, Fabulous Phil, which was published by Brolga Publishing recently. Sportshounds met him while he was out spruiking the book and was part of a big crowd of lunch guests as he told the story again, saying there had been a lot of theatre about the incident.
Read more: Fit and Frank is Fabulous Phil
As that was happening, Carbery was in hospital having heart surgery. He died last Wednesday, having declined an invitation to meet Carman again, in rather less dramatic circumstances. He also would not meet the author, Queensland writer Matt Watson, but did consent to a 37-minute interview on the phone, which became a pivotal part of the book.
It was the only time since the week it happened he had ever spoken on-the-record about the clash, which he had always tried to forget, and Watson has written about it on the website The Ramble.
Carbery was gay, which was an issue for him when he was involved in the macho world of footy, with umpires' director Allan Nash apparently among those who had trouble coming to terms with his sexuality. He was subjected to homophobic abuse from footy fans at a much more unenlightened time for the game and society. That helped Watson find him. After months of Internet research he came across Carbery's advocacy work for the gay and lesbian  community and was put in touch by the president of the Australian Lesbian and Gay Archives. He also discovered Carbery had written a book about the history of the Sydney gay and lesbian march.
Carbery always thought this work was a much more important component of his life than the head-butt, which is why he refused to talk to journalists about it, finally relenting only because Watson had once worked with the ABC. He knocked back The Footy Show several times.
Carbery died without reading the book, Watson says. "I'm sure that won't upset him. He died without meeting Phil again. That won't upset him either. Carbery wanted to leave the incident in the past. He could have lived off the infamy. He chose not to.
"Graham Carbery stood up to Phil Carman. He stood up to the taunts and insults from VFL crowds. He stood up to Alan Nash. And he stood up to an unforgiving society.
"Carbery should be remembered for standing up. The head-butt was but a moment in his life …"
Watson rang Carman to tell him of the death. He sighed. "I never got the chance to thank him for the interview and to apologise for the head-butt. He didn't want to meet me."
Shortly after, Carman sent Watson a text: "Going for a counter-lunch to have a drink for him." It was a melancholy full stop to one of footy's most infamous stories.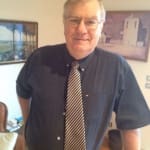 Author:
Ron Reed
RON REED has spent more than 50 years as a sportswriter or sports editor, mainly at The Herald and Herald Sun. He has covered just about every sport at local, national and international level, including multiple assignments at the Olympic and Commonwealth games, cricket tours, the Tour de France, America's Cup yachting, tennis and golf majors and world title fights.
Comments
comments
0 comments