---
Reading Time:
5
minutes
Richmond fans are a breed apart and TRULY deserve to see finals action this year, writes CHERYL CRITCHLEY: 
Following Richmond over the past 37 years has had its advantages. I will think of them one day. But for now, consider a few facts. When Richmond won its last premiership in 1980, I was 14 and a proud member of the Official Richmond Cheer Squad. Malcolm Fraser was Prime Minister, the Swans were still South Melbourne and Ivan Maric would not be born for almost six years.
Kevin Bartlett didn't quite have hair, but ran rings around Collingwood, arms aloft after each of his seven goals, in that famous 81-point drubbing. Perched in the cheer squad, three rows from the front at the Ponsford end goals, it was the best day of my life.
As the sun set on that glorious victory at the MCG, who would have thought we'd witnessed Richmond's last Grand Final success for at least 37 years?
It seemed so natural then for the Tigers to make the Grand Final.  After all, they'd won four flags in the first eight years of my life (1967, 1969, 1973, 1974) and lost one (1972).
In 1980, my mate Teresa and I stayed up all night on Grand Final Eve watching Channel Seven's football marathon. Faces painted, hair sprayed and duffle coats displaying dozens of badges, we then headed to the G with our friend Melinda and our seven-foot high flag poles.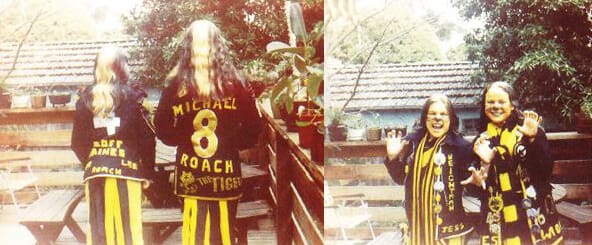 Richmond made the Grand Final again in 1982, beaten by Carlton in a game made memorable by a female streaker who managed to rile the normally ice-cold Bruce Doull. Then the rot set in.
Year after year it was the same old story … tumble further down the ladder, sack the coach, lose members, sack the coach, lose money, sack the coach, win the wooden spoon, sack the coach…
It got to the point where we were happy if Richmond was less than 10 goals behind at half time. But we Tiger fans are a hardy bunch, and you won't keep us down, no matter what.
Despite winning just two finals since 1982, over Essendon in 1995 and Carlton in 2001 (I was at both), the core group of Richmond supporters and their families have not wavered.
Nothing will put them off – not even Alan Bond's brief stint as president in 1987. Bondy left after three weeks and we won the wooden spoon that year. But the loyal fans stayed and have brought their children with them.
We all live for that next taste of success, which has been dangled in front of us so many times I've lost count. Few other clubs' fans would have displayed the genuine fanaticism of Richmond supporters if their team had been as bad as ours for so long.
Tiger tragics are simply a breed apart.
We're not like some Geelong and Hawthorn types, who sook if they lose a few games after winning three Grand Finals in quick succession. Our team has won two finals in 35 years and we still turn up with bells on.
The Tiger Army will literally bring the house down if we win even one final this year. The fact that we drew a crowd of 94,690 to the 2013 elimination final against Carlton after a 12-year September drought says it all.
That infamous game was one of the worst losses I've had to endure. Not only was my team forced to play the mortal enemy after Essendon was kicked out of the finals, we led by 26 points at half time before capitulating. Only Richmond fans have the intestinal fortitude to survive a knock like that. We're used to it.
It helps when your husband supports the same team. When Brian and I married in 1997, we inserted "in premiership and wooden spoon years" into our vows, had Richmond dolls on our cake and left the reception to the Richmond theme song.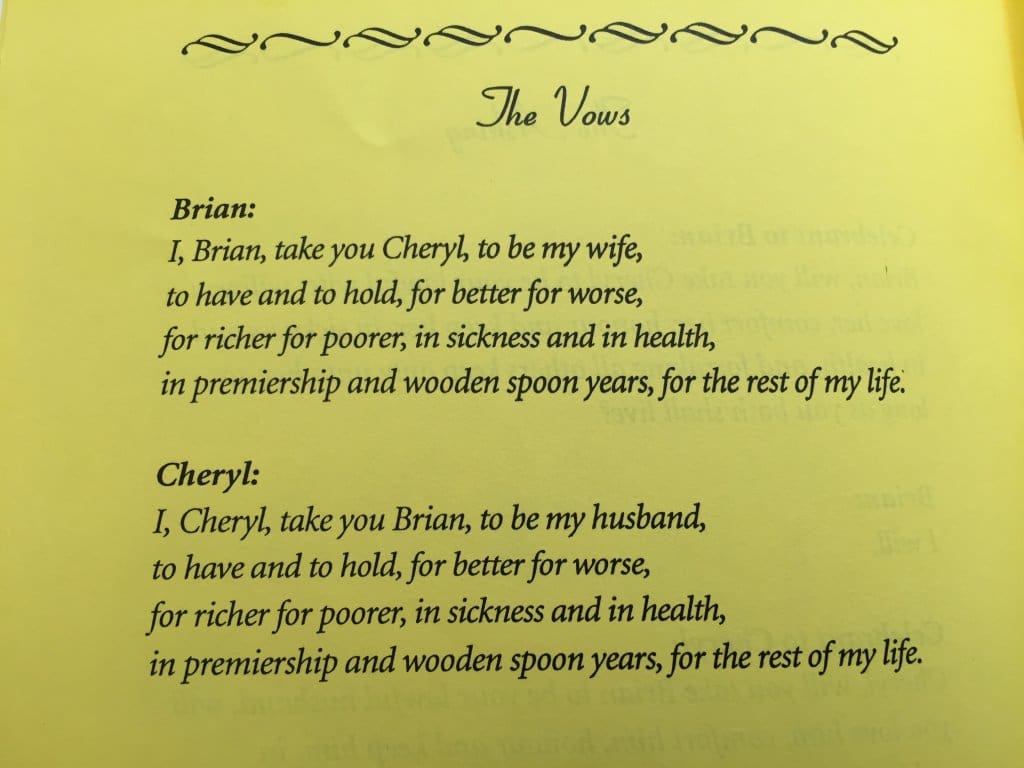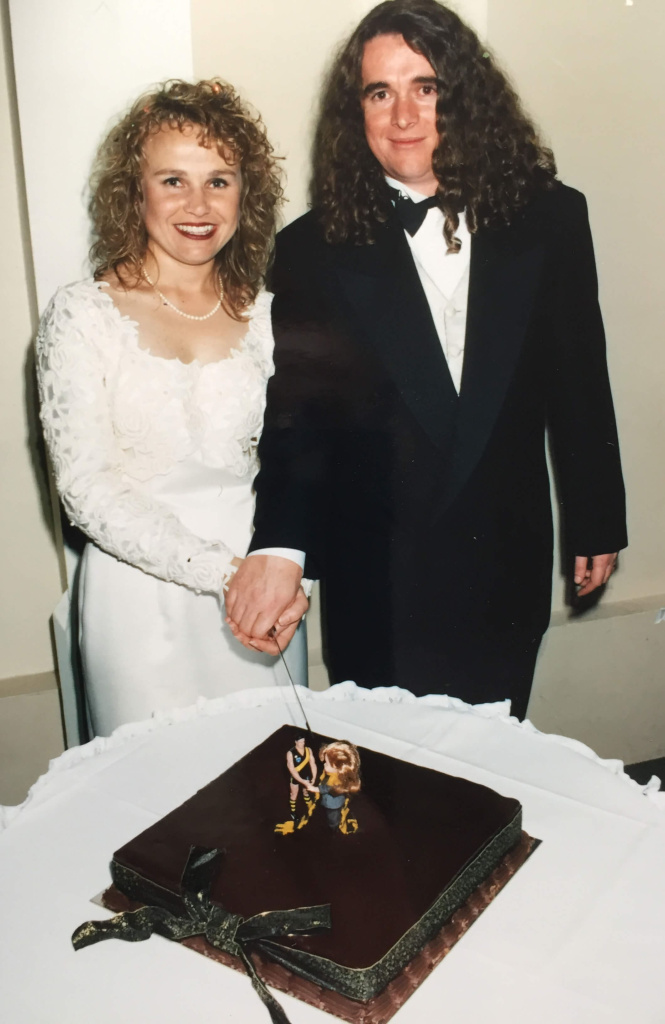 Guests received Richmond fridge magnets and a jar of Tiger Turf, a souvenir created when they widened Punt Rd near our famous old home ground. No-one thought this was strange.
Our three kids, now 14, 16 and 18, all attended games from birth and the oldest, Jess, was in the Richmond merchandise catalogue with Richo when she was a toddler. My only failure as a parent is that the youngest, Ben, has always hated footy.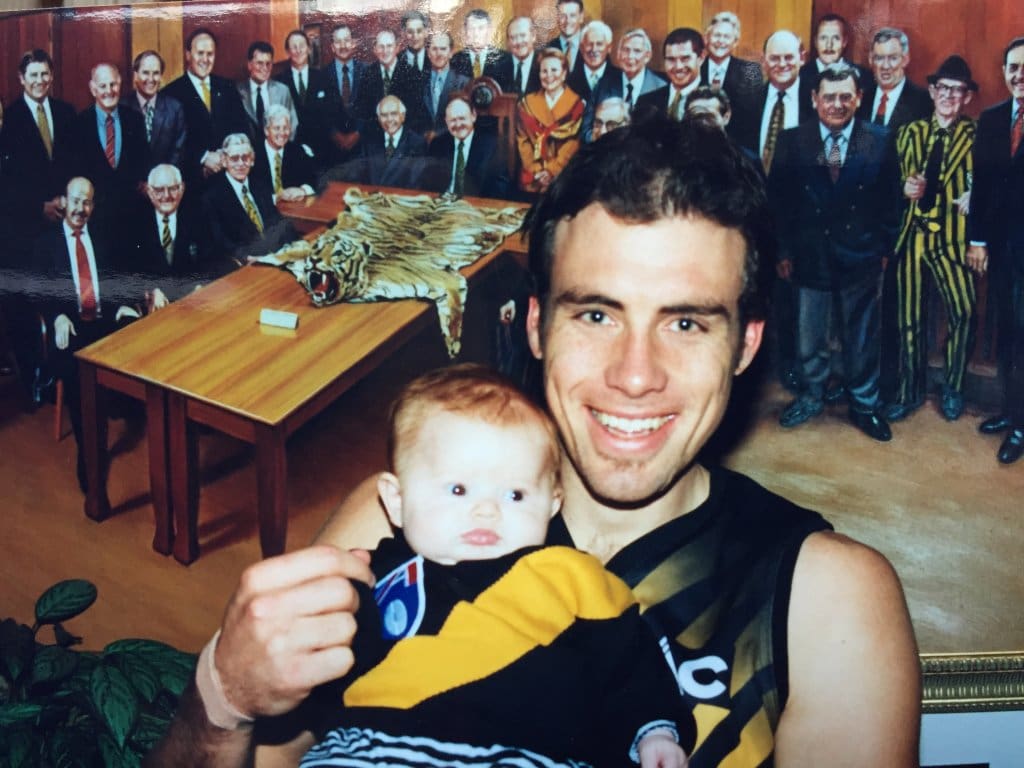 But can you blame him? None of my kids has seen their team win a final. Jess was two in 2001 and can't remember it. Ben would rather have his eyes poked out than go to the footy and Bec, 16, didn't even bother watching our great win against Port Adelaide on the TV.
Maybe they'll come on board if their team becomes a serious finals contender, although I'm not hopeful about Ben as he has never actually watched a game. When he was small he played with his trains, graduating to reading books and playing on his iPod.
When Richmond's most recognisable player, Dustin Martin, visited his primary school a few years back, Ben had no idea who he was. Given the heartbreak we've had in recent years, maybe that's not a bad thing.
Countless false dawns have made Richmond fans a cynical mob, but just wait if we make the finals this year. If we taste September success, the Tiger Army will make Collingwood's 2010 premiership celebrations look like a Sunday picnic.
Things are looking good so far, but as any Tiger type will tell you, we never relax. I can't draw breath until we're 10 goals up at the 30-minute mark of the last quarter. Years of disappointment will do that to you. But you never lose hope.
And even if we do make the finals and flop – again – we'll still be there, week in week out. Because, as we've known for the past 37 long seasons, there's always next year.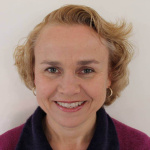 Author:
Cheryl Critchley
Cheryl Critchley is a freelance journalist, AFL Fans Association vice-president and Richmond member who attends games with her husband and three kids – if she can drag them along. She also wrote Our Footy: Real Fans vs Big Bucks (Wilkinson Publishing).
Comments
comments
0 comments