---
Reading Time:
5
minutes
PETER COSTER was at ringside to witness what may have been "the most hellacious eight minutes of combat in modern boxing history":
This is Paradise. That's the name of the town next to Las Vegas, a false paradise where overly excited women throw their panties at Tom Jones on stage at Caesar's Palace and illusionists Siegfried and Roy turn themselves into wild animals at the Mirage until a white tiger spoils the act when he grabs Roy by the head and drags him off stage. Roy recovers, but most people think it's part of the show.
That hasn't happened yet. It is 1985 and the tigers are behaving themselves as the flight from Los Angeles lands in the shimmering heat at McCarran Airfield near where flying saucers are said to have crash landed with aliens aboard.
"Yeah, it's a weird town," says the cab driver as he takes me to the Las Vegas strip where the real action is in the car park. "You don't know who you'll see." Las Vegas has become the new Madison Square Garden, the historic House of Stoush in New York.
Jake LaMotta, the Raging Bull of the movie in which Robert De Niro plays the former world middleweight champion, is getting married in the Caesar's Palace car park.
Leon Spinks, who took the world heavyweight title from Muhammad Ali in one of the greatest upsets in boxing history down the Strip at the Las Vegas Hilton, gives me a friendly grin with his gold-plated front teeth. He woke up in a motel room with the last set missing. "Life's a gamble," he laughs. "You don't know who you'll run in to."
The following night will see Marvelous Marvin Hagler (he changed it by deed poll and misspelled it) fighting Tommy Hearns (whose nickname is The Hit Man) for the world middleweight title.
Everyone, it seems, is making money out of the Hagler v Hearns fight. An ageing blonde waitress with a crepe-like cleavage tells me the tips she is picking up will take her on a holiday to Europe. She wants to get out of Las Vegas.
I have a ringside seat for the fight care of the promoter, Bob Arum, who tells me in his cramped downtown LA office that he "likes Ossies" and hands me a ticket.
In Las Vegas, where the illusion is you will make money at the tables, the Hagler camp shuts the door in my face. Marvelous Marvin doesn't want anyone to see him training.
He's angry because he believes people don't show him enough "respect". Hagler is a natural middleweight, although shorter than Hearns who is a welterweight who has moved up through junior middleweight to become a whip-thin middleweight. Hagler has lost only two of 60 fights and Hearns only one of 40.
The door to The Hit Man's training sessions at Caesar's Palace is open to the scribes and I watch Hearns's sparring session in awe. Hearns hits so hard surely no human being can withstand his piston-like punches. Hagler must go down.
I am one of the capacity crowd of 15,000 who will watch the promised chaos in the car park.
Arum is as good as his word. My seat is three rows from the ring, just removed from the spatter zone. Boxers shed blood.
In front of me sits someone I recognise as a champion many regard as the greatest pound-for-pound boxer of all time.
I lean to the side and, yes, it is Sugar Ray Robinson. The former world middleweight champion of the world turns to smile when I ask which fighter he thinks will win. The woman sitting next to him turns and says, "Mr Robinson favours both fighters."
Sugar Ray keeps smiling but there is a softness in his eyes that his opponents never saw. He is unmistakably affected by the 200 professional bouts he fought in one of boxing' longest careers. His 173 victories included the world welterweight championship before moving up to take the middleweight crown.
Is this a portent of what might come, I wonder as I look at Hearns and then the shorter and seemingly granite-hard Hagler, who is a natural southpaw who sometimes leads with either hand and does so in the fight.
The atmosphere is heavy with cigar smoke and too much testosterone, as if you could actually smell the hormones exuding from the pores of the crowd that has become a collective beast.
The noise is deafening as the first round starts.
This is the most celebrated first round in boxing history, according to those who were there and those who have watched it since on endless replays and now YouTube. Arum called it The Fight but has changed his line to The War.
The first round is ferocious. Ring Magazine called it "the greatest round in boxing history."
It was primal. The crowd noise rose to a crescendo as Hearns hit Hagler with an impact that would have rendered a heavyweight unconscious. Hearns hit Hagler so hard that when he returned to his corner he told trainer Manny Steward he had broken a finger in his right hand. Still he continued to hit Hagler.
Hearns said he could not hear his ring men pleading, "Box him, Tommy, box him."
The only voice Hearns heard was his mother's. Not a voice in his head, but his mother's voice at ringside, shrieking, "Hit him, baby! Hit him!"
Her baby hit Hagler until His face was a mask of blood, probably from a cut caused by the blow that had broken Hearns' hand.
Hagler said later he wanted Hearns to throw the right hand that had knocked out 30 of his opponents in his first 32 fights.
Manny Steward had told us, "Tommy comes into the ring like a leopard let loose to feed."
Hagler was unimpressed, saying he could "eat up" his punches. He is a glutton.
When the fighters were being introduced in the ring, Hagler was pounding his face with his fists. His head jolted with the self-imposed blows.
"If it had gone on for much longer, cracked a wise guy at ringside, "Hagler would have stopped himself."
Two factors might have helped Hagler, not that Hearns ever sought an excuse. He had hurt his right hand in training in Miami before the fight and had to stop sparring. The day before the Las Vegas fight, he allowed an overly enthusiastic member of his entourage to give him a leg massage. Hearn's legs were like spaghetti compared with those of Hagler. Hearns said he felt them give way during the second round.
Like the first, the intensity was beyond what two men could be expected to maintain. But it seemed the momentum had swung towards Hagler.
The third and what was to be the final round started with Hearns hitting Hagler with his right hand, but the power was gone. Still, his punches were enough to start the blood flowing from the cut on Hagler's face. The fight was stopped briefly while the ring doctor examined the cut with Hagler then mounting a renewed attack; perhaps in fear the fight might go to Hearns on a technical knockout.
Hearns was driven backwards under the onslaught and slid helplessly down Hagler's body towards his feet as if in submission. He could not rise in time to beat the count after eight minutes of mayhem that left the crowd as stunned as Hearns.
The feeling after the fight was visceral. Those who dislike boxing or call for an end to men and now women trying to render each other unconscious in the ring, with its more obvious and distressing results, would be repulsed by what happened.
The fight brought Hagler $5 million and Hearns only $200,000 less. Jim Lampley, who in 2003 hosted Legendary Nights: The Tale of Hagler-Hearns, said it was, "the most hellacious eight minutes of combat in modern boxing history, a confrontation so starkly violent it took away the breath of hardened ringside observers".
This not-so-hardened observer felt the rush and then the sadness that accompanies something so primitive that it should have been left behind when human beings ventured from the cave.
In London, watching the Ali-Foreman world heavyweight championship fight 10 years earlier on a satellite feed from Zaire (having missed a seat on the press plane flying to Africa) the roar of the crowd was like a beast from the jungle.
Whatever is said about boxing, it remains that only the brave or too often the foolish step into the square ring. But, as Leon Spinks said, life's a gamble and you gotta roll the dice.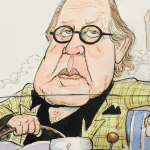 Author:
Peter Coster
PETER COSTER is a former editor and foreign correspondent who has covered a range of international sports, including world championship fights and the Olympic Games.
Comments
comments
1 comment